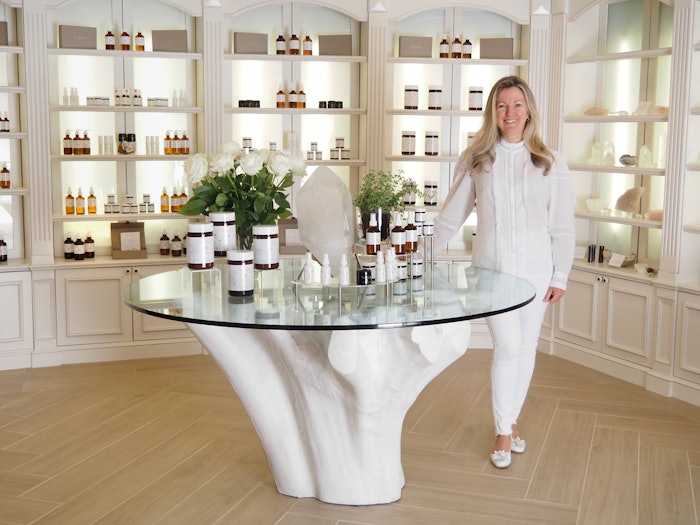 Tammy Fender: Delray Beach, FL
Want to know how to design an organic spa space? Read our conversation with Tammy Fender to learn how she created a natural oasis for clients.
1. Tell us about the aesthetic of your spa's interior and the emotion you are looking to evoke from customers?
I love interiors that make the most of the light, with soft, natural hues and organic textures. We wanted to create an immersive space that was soothing, light and also etheric.
So much healing happens in our treatment rooms. Our approach is designed to put the heart at ease with a very soothing, nurturing space that would allow our clients to slip into relaxation.
2. What inspired your design components and process?
Finding a space overlooking the sparkling Atlantic Ocean has been a huge blessing for us, and I strive to honor the beauty of nature with all that we do, whether through the spa interiors or the precious plant remedies used in our treatments. Creating an atmosphere that is in harmony with nature is integral to the work we do.
3. What is the most important thing to remember when designing a successful spa space?
When people come to a spa, they are seeking relaxation, Often, they are also here for healing on many different levels. Spa spaces can be minimal and serene, but I see how meaningful it is to incorporate elements of nature, too. Nature is our most powerful healer, and that presence resonates.
4. Does your spa have any unique features or design aspects?
Our oceanfront location brings the power and serenity of the Atlantic into the space, especially as we conduct morning meditations out on the terrace. Each room is also named for certain crystals and healing stones, and I feel that every treatment room carries a certain energetic vibration. We've also installed an incredible salt room, which offers a direct connection to elemental nature.
5. What advice would you give to someone who is designing their spa's interior?
The materials you choose are so important. In transformational spaces, nature is our greatest ally. Using beautiful natural materials creates an environment where people can relax and restore, coming back to themselves.