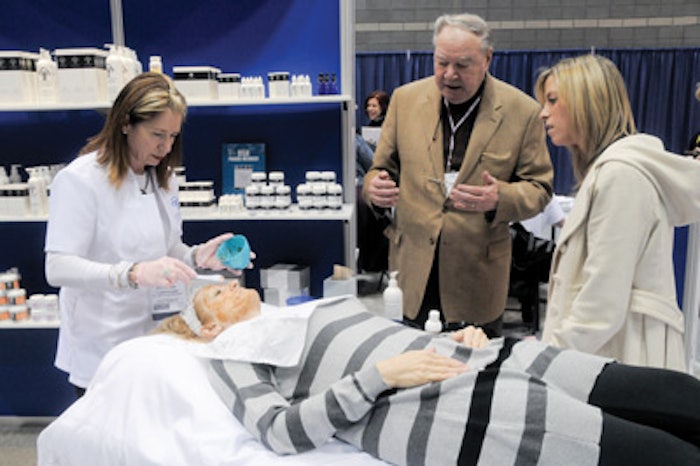 For the past six years, thousands of practicing estheticians and spa owners from across the country have traveled to America's Expo for Skin Care & Spa® for the latest in education, products and events that improve their skills and businesses.
In 2009, America's Expo again will be held in conjunction with America's Beauty Show, March 28–30, 2009, at the expansive McCormick Place Convention Center in the heart of Chicago, the Midwest's most exciting city.
This is the ideal location to host both America's Expo and America's Beauty Show because the events, education, product orientation and purchasing, networking, and socializing are all geared toward enhancing the skills and acumen of the well-rounded professional attendees. Spa owners, managers, directors, estheticians, massage therapists, medical therapists and dermatologists will have access to everything they have wanted to know at America's Expo's classrooms and booths, and registration is now open at www.AmericasExpo.com. Additionally, the Web site offers information on classes, speakers, exhibitors, on-site events and more.
The sheer scope of this event is mind-boggling. More than 150 exhibitors that deal exclusively with spas will be on hand, as well as many more companies that offer products and services for various facets of the beauty industry. Attendees are able to peruse all of the more than 500 booths at the co-located event, providing a comprehensive destination where suppliers will be exhibiting their newest products, latest techniques and most exciting promotional pricing.
Given the downturn in the economy and the need for spa owners and professionals to find new and exciting client opportunities, America's Expo is a must-attend. And spending some time in the America's Beauty Show exhibit area will also serve estheticians well, as all the major and new salon service companies will be there to answer questions, as well as help attendees discover what's new and enjoy the shopping experience.
There is one more important reason to be in Chicago March 28–30. America's Expo is totally different from any skin care event in other cities in the United States or abroad because skin care professionals, known expressly by their esthetician and spa owner peers, plan the education platform. And who knows better than another professional what spa pros need to grow their business?
America's Expo producers—Skin Inc. magazine, Cosmetologists Chicago and the American Association for Esthetics (AAE)—are dedicated to providing spa professionals with the superior education they require through this most highly advanced skin care event. And hosting it in their home base of Chicago, a city mingling the friendliness of neighborhoods and business prowess of Fortune 500 companies, helps make this event the industry destination you can't miss this year.