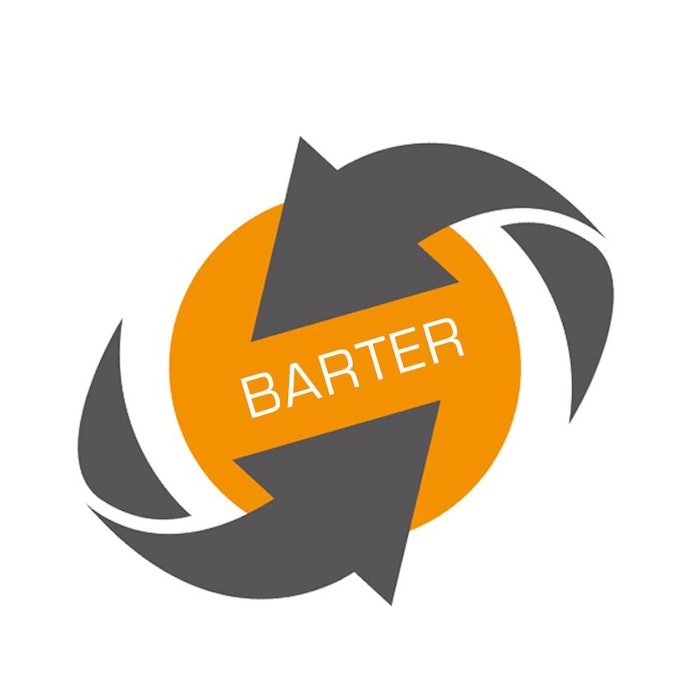 In today's progressive climate where many start-ups lack solid working capital, bartering might be just the right monetary alternative to help businesses meet some of their needs. Here are some ideas before starting to barter.
Determine the give and take
In order for bartering to work, both parties involved have to have something the other wants. To begin, get a sheet of paper and divide it in half. On one side write existing needs, such as logo design, business card development and press release copy editing. On the other side, write what can be offered in exchange.
Think about skills, services and goods that you have to offer, and not just the ones used in daily operations. For example, are you a fitness instructor? Perhaps offer a group exercise class to another business' team in exchange for a tax coaching session. Also, consider time and skills. Don't over promise or over extend too much. Try to create a balanced exchange, but leave some wiggle room for negotiation.
Assign a monetary value to the skills, services and goods being offered, and write it down on the list. It will come in handy later when a barter transaction is initiated. A word of caution for spa owners: Be careful of offering spa services in a barter, unless you are the individual providing the service. This type of interaction is counterproductive, because you will have to pay your therapist for the services.
Get the word out
Now its time to position the opportunity so that a deal can be initiated. Start by contacting people you know, and then sift through old business cards and connections made from past networking events. If certain individuals have what you need, focus efforts on your skills being offered. Most individuals are interested in what they will get, so it is best to play up what you have to offer when trying to seal a deal.
Consider trying an online platform, such as BarterQuest (www.barterquest.com), to position the deal. BarterQuest is a site exclusively developed for the purpose of bartering transactions.
Seal the deal
Even though there is no money involved in bartering, it is a business deal, so keep it professional. Spell out the terms of the agreement in writing. Include the exact exchange, dates and all other pertinent details. Remember that this is a business investment, and it should be protected.
Other considerations
As you become more acquainted with bartering, you will see that it can definitely add value to your business. Here are a few other considerations to think about.
Start small. Some of the best opportunities for bartering are with small businesses and individuals. Larger companies will barter, but only for larger deals and stakes.
Stay persistent. It might take a lot of emailing and reaching out initially to structure the right deal, but stay persistent and don't pull the opportunity just because no one is responding right away.
Brand yourself. It is perfectly okay to request resumes, portfolios and references, and remember to have yours handy, too. Remember that you are selling yourself just as much as the other person, and you want to look your best.
Report barters. The IRS requires for barter exchanges to be reported. Barter exchanges are considered taxable revenue, and therefore, must be reported. Be sure to consult a tax professional for advice on reporting.
Bartering is a great way to have business needs met. It is an excellent alternative to opening lines of credit and traditional loans, too. If you are a new business, short on cash reserves or just looking for a creative way to get your business needs met, then bartering might be just right for you.