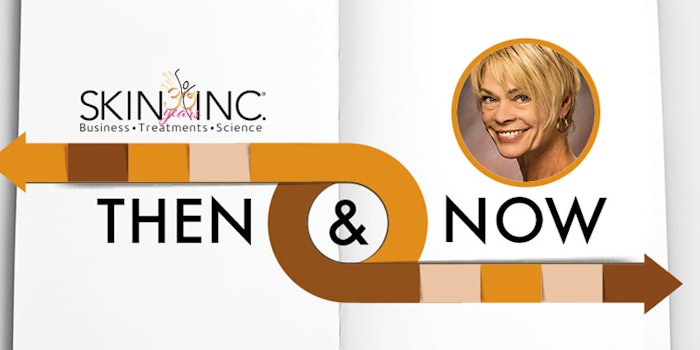 "I am a 62 year old woman, recently released from a decade of unexpected, deeply traumatic events that have left me with a face I do not recognize. I have always taken care of myself, followed anti-aging lifestyle advice was an early fan of facials. At 50, I was the living example of the cumulative and lasting benefits of professional skin care. After one decade of caregiving, cancer and crushing losses, I am now an example of the cumulative devastation of stress. I know it's a long process, but I am seeking the guidance to build my overall health—mind, body and soul—for the life ahead of me. I'm open to surgery, but what does esthetics offer that I can begin now to support the rest of my progressive, positive changes and personal goals for true wellness?"
A client could call a spa today with this question, and an informed professional will know how to help. This is powerful indeed, and it makes me proud. It also makes me grateful. The quote above is not hypothetical; it is me.
UPDATE: Esthetics Evolving
In 1989, I was 33 years old. In 2019, here to update my essay in celebration of this achievement by Skin Inc., the pride I feel for this business has brought me to tears more than once. This publication consolidated esthetics into an industry in no small way. Through the incorporation of objective, non-supplier education for "girls who give facials," esthetics in the United States was allowed to grow toward being a profession. This approach was for serious practitioners, not for "the gum chewers."
Skin Inc. was beautiful, in keeping with the editorial quality and classy production of the other Allured publications, which offered chemistry know-how and corporate news in the upscale retail cosmetics business. Skin Inc., the brain child of Jean Allured, was anchored by brilliantly written, extensive articles on skin structure and function, written by a nearly-unknown doctor whom Jean's father, Stan Allured, had met through the Society of Cosmetic Chemists—that would be Peter T. Pugliese, M.D., who is my father.
And so began a labor of love, an odyssey really, of two families, to bring everything in our collective skills to the esthetician who was willing to work toward excellence. Each issue was delivered right on time, with fresh inspiration and direction, specific business advice, a quiz, product knowledge, and a feature on a salon that was already exhibiting a commitment to the real work we must do as practitioners.
UPDATE: The Holistic Picture
To this day, the very words that are italicized from that original essay are true. People go to a spa because they feel better about who they are every single time they cross your doorstep.
Today, the view of wellness is broader than ever, and quite individualized. We deal in the spheres of mind, body and soul all day long. In today's scary world, we must have the receptors to see that things have changed for many, many people. A wunderkind of the high-powered 80s may have spent 30 on the fast track to retire rich and ready to relax. Then, on a normal day, everything changed. "Mom's had a stroke?" "My little brother is dead?" "Did you just say I have cancer?" "You want a divorce?"
There are no predictable "stages" of life anymore, so our menus can't be designed for those in their 20s, 30s and over 40 anymore than skin is dry, normal or oily. An ex-Marine, now a widower, goes on a first date at 85, nervous and innocent. A girl of 22 is worn out and jaded from years of abuse, drugs and hardship. We take a medical history, but must be aware enough to ask the right questions, and then listen for what they can't say. We can provide a treatment for today and through our continuing education and networking efforts, we can also provide references and referrals to other practitioners, for services outside our scope of practice. This inclusive, holistic role is particularly impressive to me. Thirty years ago, I interviewed a dermatologist who emphatically stated he "would never send a patient to a girl who just got out of beauty school."
This is the power of esthetics today, in fulfillment of the vision Dr. Pugliese placed in the minds of the attendees in his earliest classes. "Why do you need to know anatomy, physiology, biochemistry?" He saw the future of medical care and knew that a physician of the "new millennium" wouldn't have the time, or the billing code, for 20 minutes of a woman's insecurity about a wrinkle.
UPDATE: A Force For Good
As a country doctor, Dr. Pugliese approached patient care not to treat a symptom. Rather, you are caring for a whole human being. That, my friends, is the real power in any service business—to completely understand what it is to serve. Medicine, as our family has painfully learned, no longer does this. It's an odd reversal—doctors deal with one broken part and don't have time to listen to us expound on our feelings. THAT IS WHAT A LICENSED ESTHETICIAN CAN DO BEST.
People get broken. While we acknowledge that God does the healing, we in the service professions are ethically bound to the first rules of medicine.
Ask them where it hurts.
Do no harm.
Refer what you cannot treat.
Let that patient/client leave with the best information possible.
Help her achieve what SHE wants most for herself.
The power is in your hands, transferring the benefits of your knowledge, skills and awareness of a strategic network of complementary wellness modalities. While we do not have a unified esthetics license in the U.S., in our own quiet way we have become an industry, and fostered force for good, state by state. That little piece of paper gives us license to touch a human being's face and life. As a family, the Puglieses continue to teach, and embrace the truth that we can impact our nation's collective health while we enhance the well-being of the draped individual in the chair today. Knowledge may be power, but it is the application that matters. So today, remember, you will touch someone's life. Pretty powerful, aren't you? I've always thought so. We are again at a new beginning, and I cannot wait to hear what you do in the next 30 years.