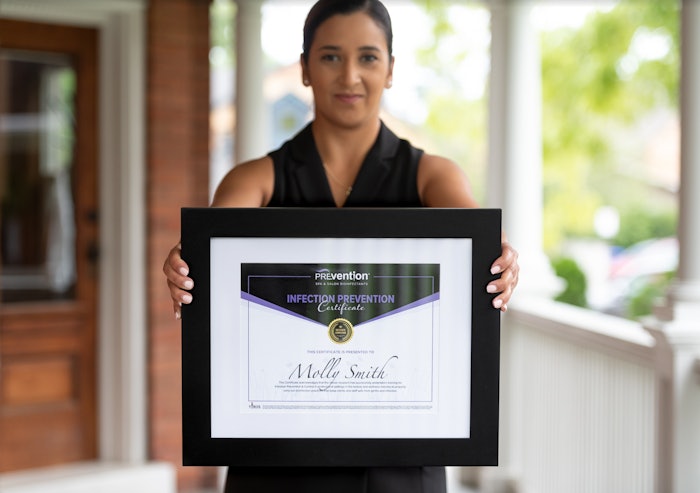 Photo courtesy of Virox
Virox Technologies, creators of Prevention Disinfectants, introduced a complimentary course designed to help skin care and spa professionals create and maintain a germ-free workplace. 
This online training course, designed by a team of infection prevention experts, provides fundamentals and sanitation practices to meet state board guidelines and equip users with information to help combat bacteria, viruses and emerging pathogens. 
Related: Virox Launches Prevention Disinfectants
The course takes about 30 minutes to complete. After they've finished the course, spa pros have the opportunity to personalize their own certificate and share it with clients to demonstrate an increased commitment to workplace safety. 
 Certified Skin Care Professional Benefits
Implement an effective Infection Prevention Plan for your spa.
Identify the risks germs pose to you and your clients' health and safety.
Determine what to look for when selecting the ideal disinfectant.
Get sanitation best-practice training tailored to your service or role.
Obtain a personalized certificate in your (or your spa's) name. 
"Germs can be easily transmitted in a busy practice," says Dan Woolford, Virox senior director of sales and marketing. "We created this course to ensure skin care and spa professionals are armed with the most up-to-date education and tools required to germ-proof their service and treatment areas."
Virox built upon the success of its previous infection prevention course that featured the line of Rejuvenate disinfectants and more than 26,000 certifications to date. With this addition of new and improved Prevention Disinfectants, spa professionals have the fastest, safest and easiest solution to put their enhanced infection prevention knowledge to work for them in their practice.