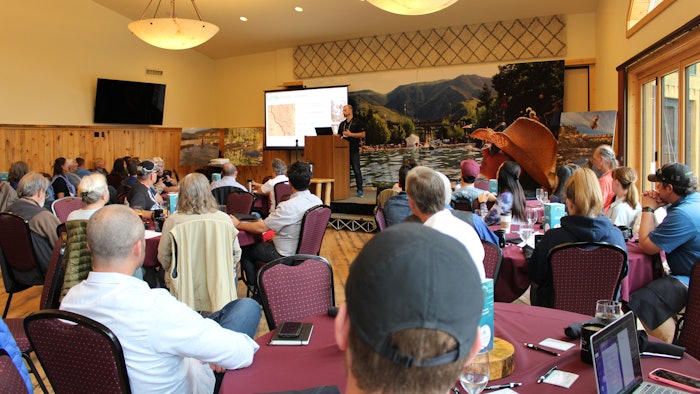 Photo Courtesy of Hot Springs Association
The fifth Hot Springs Connection conference will take place on January 8-11, 2024, at the Murrieta Hot Springs Resort in southern California. Topics and tours during the event are designed specifically for facilities directors, operations managers and frontline and administrative staff members across the thermal mineral pools, spas and resorts industries. Exhibitors, vendors, suppliers and consultants will be available throughout the event to discuss and demonstrate various products and services. 
Related: 3 Wellness Treatments Using Mineral Spring Water
With more than 10 speakers and facilitators, a full spectrum of topics will be covered. One of the featured speakers is Dr. Roy Vore, a microbial physiologist who specializes in recreational water management, float tanks and regulations of aquatic venues. Dr. Vore will address water sanitation methodology. Alternatives such as flow-through exchange systems are of great interest to this sector.
Geothermal geologist Gerry Huttrer will discuss various subjects including geothermal water quality, quantity and flow; well drilling; controlling corrosion and scale; as well as proper wastewater discharge and disposal methods. He will also cover snowmelt, heating domestic water, and supplementary heat.
A slide show of projects from around the world will highlight the most recent expansions, new construction and restorations. Experienced builders will compare different techniques when working with geothermal water and describe how they retrofit historic facilities.
Internationally recognized motivational speaker, trainer and author David Aaker, who specializes in non-profit trade association management, will conduct interactive leadership training sessions and facilitate roundtable discussions on a wide array of challenges faced by hot springs operators.
In the evenings, guests can gather around the pools with Dr. Marcus Coplin and Professor Jonathan Paul De Vierville, who will lead sessions on mindful soaking, contrast therapy circuits and Dream Circles.
Murrieta Hot Springs Resort will be showcasing its $50 million renovation in an exclusive back-of-the-house tour that will give Hot Springs Connection participants an insider's view of the extensive improvements and upgrades to this historic 46-acre property.
David Dronet, owner and CEO of Murrieta Hot Springs Resort and The Springs Resort in Pagosa Springs, CO, said, "We are very proud to unveil this project to members of the Hot Springs Association."
Participants will also enjoy a visit to the popular Glen Ivy Hot Springs in Corona, CA for lunch and a behind-the-scenes tour. Then there will be time to experience Club Mud, the Grotto and mineral baths.
Hot Springs Association representative Vicky Nash said, "The favorite activities are the site tours. Attendees gain a tremendous amount of knowledge by seeing different design layouts as well as learning about the equipment and procedures."
An optional event will be offered to experience the Agua Caliente Band of Cahuilla Indians' new 73,000 sq. ft. Spa at Séc-he in downtown Palm Springs that includes transportation to and from Palm Springs, tour, dinner and a Taking of the Waters Day Pass highlighting the private hot springs soaking rooms.