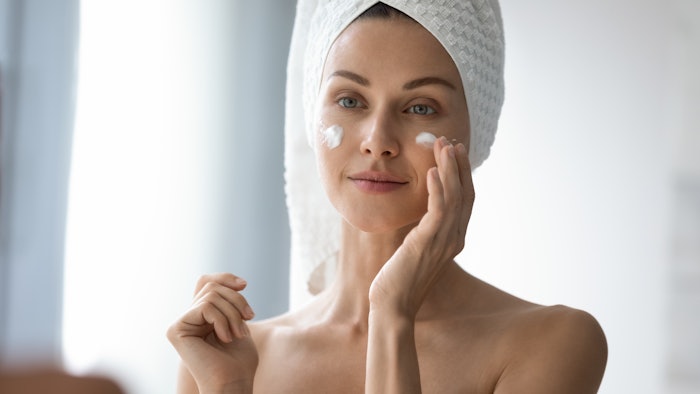 Global beauty retail sales are expected to reach $580 billion in retail sales by 2027, revealing expansion throughout different segments of beauty. The industry is expected to grow at a 6% CAGR between 2022 and 2027, according to The State of Fashion: Beauty, a new report from The Business of Fashion and McKinsey and Company.
The report also identifies five critical dynamics for the industry over the five-year period: geographic rebalancing; the need for indies to scale; merger and acquisition opportunities; Gen-Z's influence on consumer loyalty; and wellness and self-care expansions.
Retail Sale Projections by Segment
Skin Care
As beauty's largest category, global skin care retail sales are expected to grow from $190 billion in 2022 to $260 billion by 2027. The market is driven by innovation and consumer interest in science-based ingredients and efficacy in products, per the report.
Fragrance
Fragrance retail sales are expected to rise from approximately $70 billion to nearly $100 billion, benefitting from further expected penetration in China and growth in the United States.
Color Cosmetics
The color cosmetics industry is expected to continue recovering from the business effects of the COVID-19 pandemic. Retail sales are projected to rise from $80 billion to around $105 billion, with growth largely evenly distributed across price segments.
Hair Care
Hair care retail sales (excluding devices) are expected to expand from $90 billion to $120 billion. As the skinification trend reaches hair care, consumers are now adopting multiple-step hair care routines similar to skin care, which is expected to contribute to the market's growth.
5 Critical Trends
1. Shifting Geographic Priorities within Beauty
Beauty has now cemented its reputation as a resilient industry that can consistently deliver high margins and new avenues of expansion. According to the report, key players in the beauty industry will need to deepen their geographic diversification in order to maintain a reputation as an industry that consistently delivers high margins and new avenues of expansion. Per the report, China's dominance of the beauty industry is decreasing as the United States becomes more competitive and markets in the Middle East and India emerge as hotspots. The report estimates China to reach approximately $96 billion and North America to reach approximately $115 billion by 2027.
While the U.S. and China are expected to remain the industry's heavyweight markets, other markets, like the Middle East and India, could play larger roles in driving revenues than previously expected. 
In the Middle East and Africa, beauty retail sales are forecast to reach $47 billion by 2027, due in part to economic modernization under new government programs and high household income, per the report. India's beauty retail sales are expected to increase to $21 billion by 2027, spurred by increasing levels of disposable income and a younger, digitally savvy generation of shoppers. Brands can also find opportunities by targeting consumers with products and services in luxury beauty, which has the potential to grow from around $20 billion to around $40 billion by 2027, according to the report.
2. The Rise of Wellness
Wellness and self-care have assimilated into the mainstream and consumers are seeking out products that support their aesthetic needs as well as physical and mental health. The majority of consumers from the United States, China and Europe said in the report that they plan to increase spending on wellness products and services in the year ahead.
Today's $1.5 trillion global wellness industry is projected to expand retail sales at a 10% CAGR between 2022 and 2027, and that will be reflected in the rise of product offerings that merge beauty and wellness. McKinsey's consumer survey of six major markets found that sleep wellness, sexual wellness, supplements and healthy snacks and beverages are expected to rise in popularity during the forecast period.
3. Consumer Behavior & Loyalty
Per the consumer survey, 40% of consumers indicated they are loyal to the brands they know and trust, while 69% said they like to try new products at least every six months. The survey also indicated that consumers lean towards in-store purchases as their preferred method of shopping, although it was closely followed by online shopping. Among Gen-Z consumers, 60% are willing to keep buying from their favorite brands.
Beauty shoppers are also focused on sustainability. When asked about the top three aspects of sustainability that matter most when making beauty purchases, survey respondents cited an absence of ingredients that harm the environment, 100% natural formulas and cruelty-free production.
Priya Rao, executive editor at The Business of Beauty, The Business of Fashion, said: "We are witnessing a change in how consumers think about beauty. It's no longer solely about lipstick and skin care but a holistic approach to how these products make us feel about ourselves and the world around us. Our report pairs in-depth research with our expert industry analysis to look ahead at what the market can expect over the next few years."
4. The Difficulty of Scaling
The report indicated that it is becoming increasingly difficult for young and small brands to scale and grow. Of a group of 46 brands with global retail sales between $50 million and $200 million in 2017, only four surpassed $400 million 5 years later.
In a competitive and crowded industry like beauty, emerging brands will need to focus on channel and geographic expansion to continue meeting growing trajectories and gain future market share, as well as staying on top of consumer behavior, per the report.
5. Merger & Acquisition Opportunities 
Beauty brands' average EBITDA margins are around 15-25%, making them attractive to deal-makers and expanding companies. The report indicated that beauty mergers-and-acquisitions activity may not deliver as many megadeals as seen in the past, but the deal-making will continue to be buoyant.
The potential benefits for buyers and sellers remain as strong as ever, playing a pivotal role in strategies focused on international growth, innovation and competitive product portfolios.
Achim Berg, senior partner, global leader of McKinsey's Apparel, Fashion and Luxury Group, said: "The beauty market is on an upward trajectory across all categories and has proven resilient amid global economic crises and a turbulent macro-economic environment. Following a firm recovery since COVID-19, the industry is expected to reach $580 billion by 2027 with retail sales expected to grow by 6% per year. At the same time, we expect this competitive sector to become even more competitive, driven by the continued rise of new challengers."