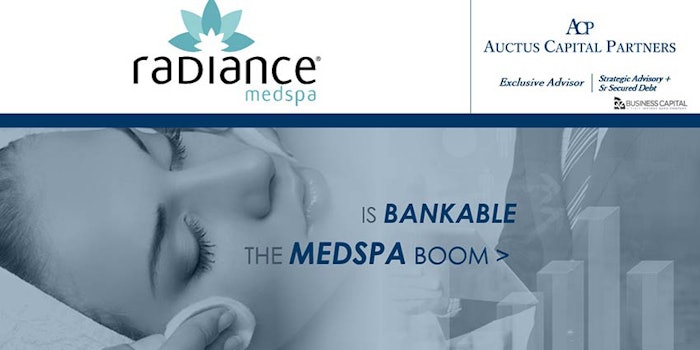 Radiance Medspa announced a partnership with Auctus Capital Partners, a financial services and investment banking firm, who advised Radiance as it was looking to grow, map strategy, restructure debt and secure capital.
Radiance Medspa plans to enter the non-surgical cosmetic medicine arena through its engagement with Auctus Capital Partners. Since its start in 2006, Radiance Medspa has grown exponentially, but because of a franchisor's leaving, the business saw overestimated revenue projections and underestimated start-up costs at its start. Additionally, Radiance experienced underestimated working capital requirements and unrecovered franchise fees.
Now, Radiance Medspa is ranked among the top 200 facilities for Botox and Juvéderm in the United States and for its third consecutive year, Radiance was included on Inc. 5000's list of America's Fastest Growing Companies.
The company restructured its balance sheet, reduced the debt it owed and increased cash flow through its work with Auctus' headquarters in Chicago and satellite office in Palm Beach, Florida. Auctus also helped Radiance raise capital for its ad-hoc business needs.
"When you're ready to grow, it's important to turn to the right people," said Stephanie Schlageter, Radiance Medspa owner and director. "My company was looking to increase profits—and Auctus Capital Partners analyzed operations, finances and business strategy to identify pain points and opportunities. From this, they were able to develop a strategy to address both my short-term and long-term business needs and they reached out to multiple sources of capital to secure the funding structure and terms that suited me and my company."