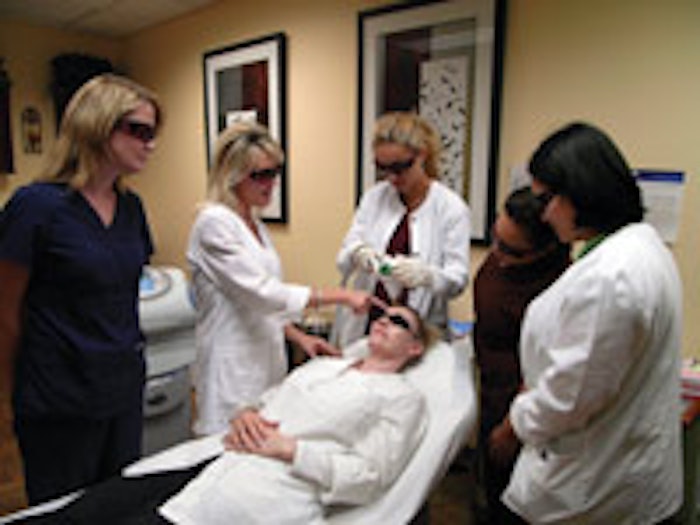 Photo courtesy of National Laser Institute.
Cell phones, computers and GPS navigation systems—these items are all commonplace now, but initially, they were expensive niche products that only a certain segment of the population could afford. The first cell phone offered to consumers in 1984 actually cost almost $4,000. More recently, when the first iPhone was released five years ago, it cost approximately $800. Now, it is just a fraction of that price. In many cases, a lower price point will equal higher sales and profits. And this is illustrated by the fact that Apple, maker of the iPhone, has become one of the biggest companies in the world.
These examples are similar to the evolution of the medical esthetics industry. In 2003, medical esthetics was a relatively new concept, and there were far fewer medical spas than there are today. Because of that, treatments were provided at a much higher price point than they are now. In 2003, a small area of laser hair removal—for example, the underarms—would cost between $300–400 for one session. Now, many businesses offer it for a lot less. This lower price point is a great thing for the industry because it allows more clients to enter the marketplace, helping medical esthetics to become a nearly $9 billion industry.
An increased demand
The popularity of medical esthetic procedures continues to grow because of more affordable prices and dramatic results. Through the use of cosmetic lasers, microdermabrasion techniques and chemical peels, women and men notice visible results in a short period of time. These range from anti-aging wrinkle and age-spot reduction, to skin-tightening, stretch-mark reduction and hair removal. As this marketplace grows, there is an increased demand for skilled medical esthetic technicians. In many states, you do not need to have a medical background to perform treatments. The required training can usually be achieved by attending a short course, which includes didactic classroom education on laser safety, laser science and proper procedures, in addition to hands-on clinical training.
Some technicians have learned to perform laser procedures on the job. The benefit to this is that you can get trained immediately instead of waiting for a course that may be offered only once a month. However, when you train on the job, you are usually only exposed to one training style and one specific laser. Taking a comprehensive course gives you the benefit of learning from several different instructors who train you on several different lasers. A wider range of experience can be gained, which allows you to make educated decisions as you start your career.
Laser career options
Once you have received laser training, the three most common career options are:
Working at a medical spa;
Working at a physician's office; or
Starting your own business by renting a room or building a space from scratch.
Working in a medical spa. If you work in a medical spa, you will likely have a salary structure that combines a base salary with commission and gratuities. Even though your employer will likely provide general marketing for the medical spa, you will want to create your own campaign to bring in additional clients and boost your business.
Simple, savvy marketing techniques are the way to go, and these include the following:
Make full use of social media for announcing specials and services;
Arrange to speak to a networking or community group about the benefits of medical esthetic procedures;
Create fliers to drop off at nearby businesses and apartment complexes; and
Partner with other business owners, such as real estate agents or hair stylists, who can give their clients a gift certificate for an introductory service.
Working in a physician's office. Another popular option is to work in a physician's office. Many doctors seek out trained professionals to administer esthetic services to patients. This helps doctors generate revenue because esthetic treatments are cash-based services. It also allows patients to receive procedures in a setting that they know and trust. The greatest benefit of working in a physician's office is the guaranteed foot traffic. As the physician's clients come in for medical services, they can receive information about esthetic services conveniently located in the same office. The physician and esthetician can also work as a team to help patients receive their desired results.
Starting your own business. If you have an entrepreneurial spirit and want to launch your own business, medical esthetics provides a great opportunity for you to pursue that passion. Many women and men have done this and achieved great success. One of the most important things to consider when starting your own business is obtaining a cosmetic laser. Some of the top lasers cost tens of thousands of dollars. There are several options from which you can choose depending on your expected need and your budget.
Daily rentals—Some companies allow you to rent a laser for a daily fee. This option typically costs more per day, but it offers the flexibility to experiment with different lasers and provides the freedom of not entering into a long-term financial commitment.
Purchasing—Purchasing a laser outright may require financing through a bank loan. This allows for direct ownership of a laser, but this option includes credit score requirements, interest and loan fees.
Lease-to-own—A laser is a depreciating asset and, similar to computers and cell phones, they can become outdated as technology continues to advance; this is why leasing is often the most popular long-term option. Most leasing programs require a three-to-five-year lease. The cost of the lease often has a lower monthly cost than a bank loan and, depending on your contract, you may have the option to trade in the laser for a newer model when it becomes available.
To start your own business without breaking the bank, you must start small. Begin by renting a room, not an entire facility. The room can be in a day spa, gym, hair salon, OB/GYN office or any other facility where you can piggy-back on that business' traffic and market your services to new clients. Consider renting a laser for a daily fee in the beginning to test it out, as well as the consumer response. Start by scheduling your services for one day and, as you bring in more business, expand your services to two days a week, and so on.
When creating your service menu, it is a good idea to stick to simple, sleek, clean designs. A menu for spa services will usually have a relaxing theme, but the services you offer are not about relaxation; they're about getting fast results by using the latest technology. You want the theme of your menu to reflect that.
If you are only using one laser, you can start your business by offering the most popular services: laser hair reduction and laser, intense pulsed light (IPL) or radio frequency skin rejuvenation, which reduces the appearance of sun damage, age spots, rosacea and broken capillaries. Once your business begins to expand, it is a good time to look into renting, leasing or purchasing another machine to offer additional services. These services can include laser vein removal, laser tattoo removal, laser acne scar removal and body contouring. Adding a retail section of products is also a good way to increase earnings.
The next level
Medical esthetics is the wave of the future in the beauty industry. The procedures are noninvasive or minimally invasive, are quick enough to be performed during a client's lunch hour and provide amazing results. Learning the latest industry techniques can help you take your esthetic business to the next level.
Louis Silberman is president and founder of National Laser Institute, one of the largest cosmetic laser and medical esthetic training centers in North America. He is an expert in medical esthetics, a medical spa owner and a nationally recognized author, marketing speaker and business consultant. Silberman can be contacted at 800-982-6817 or [email protected].