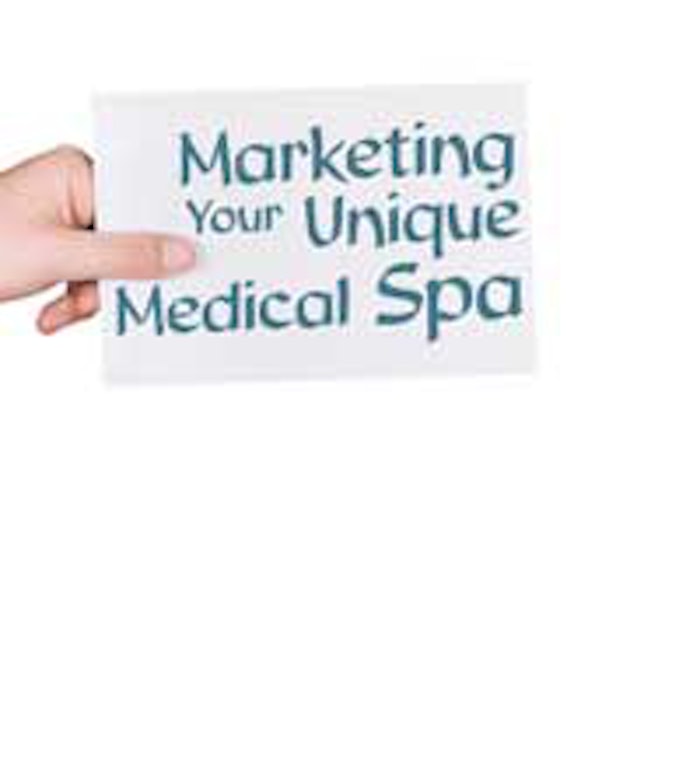 Since 1996, there has been an amazing increase in the number of medical spas. Everyone is opening one, from dentists to general physicians and internal physicians to OB/GYNs. And even though you may want to enter this market, how will your medical spa differ from the one next door?
First things first: If you are considering offering more medical spa services, develop a written survey that you provide to your clients when they are filling out their health background forms asking whether they would be interested in receiving medical esthetic services, such as injectables, skin rejuvenation and laser hair removal from your spa. When making this inquiry, be sure to list all the services that you wish to offer, and ask them whether they would like to be invited to the grand opening or be on the list of the first clients to be called with a special promotion if and when you launch these new services.
It is crucial if you are converting your day spa to a medical spa or opening a new medical spa facility, that you work fully in conjunction with your state's medical and cosmetology boards in order to remain perfectly legal and be prepared for working in an entirely new field. Many details and legalities need to be considered when opening a medical spa, ranging from working with the right physician to determining the scope of practice for nurses and estheticians in the facility. Spend as much time as possible ensuring that you are staying within your state's legal boundaries to avoid unwanted legal action.
Develop a concept
Once you have researched both the legalities and client interest, create a unique concept … something no one else has. It's so important to create a facility that will be different from the medical spa down the street; therefore, you must first make the right choices. Start with one or two rooms within your spa, and create a medical spa environment. This means that the color of the walls and your general decor should convey a certain clinical tone. A maximum of two retail lines should be offered to your clients to serve all their needs, which will bring repeat business. Make sure that you choose to offer a retail line that will support its claims.
Any services you offer should remain results-oriented, and not necessarily be purely pampering services unless you have the space and money. Following are must-have medical spa services.
Skin rejuvenation treatments performed using intense pulsed light (IPL) and infrared or radio frequency, which can also be used for laser hair removal
Microdermabrasion for gentle exfoliation combined with LED light (red, blue and green) and microcurrent, which stimulates facial muscles
Botox
Injectable fillers
Injectable sclerotherapy
If you have room, consider adding body contour devices, using focus ultrasound for body shaping or radio frequency.
Client consultation
Medical spa clients should undergo a personalized consultation during which they can be fully educated about the options that are really right for them, and why one service is recommended over another. Evaluation tools should be used to identify medical spa client needs. Throughout the consultation, clients should receive a treatment plan listing all potential services—invasive and noninvasive—from which they can benefit. A personalized evaluation to enhance a person's physique, skin and overall wellness should be offered, a treatment plan should be completed, and the financial aspect of the services recommended should be covered.
Starting a buzz
Once client interest has been researched, legal and medical details have been hammered out, a concept has been considered and your opening has been planned, it is so important to focus on marketing your medical spa services to get consumers through the door. Following are 22 marketing tips and strategies that will help increase your medical spa's visibility and sales without breaking your budget.
Offer an advanced facial to appeal to clients who frequent your facility for the skin health benefits and, most important, to encourage them to visit the facility once a month, providing a great opportunity to cross-market services. The advanced facial should incorporate microdermabrasion with LED and microcurrent for muscle fitness.
Offer free microdermabrasion services; this will allow you to retail skin care products and recommend services.
Include a complete educational consultation to help clients understand the different available treatment options.
Organize seasonal promotions to encourage clients to try different services.
Organize weekly promotions to create excitement in your facility.
Host educational evenings twice a year to introduce your clients to all the services you offer.
Hold anniversary events every year and invite journalists in order to make it a VIP event.
Send birthday cards to your clients that include a gift certificate or discount on medical spa services.
Perform community service in your area to create branding while helping a good cause.
Produce a loyalty program and other offers that provide medical spa dollars and discounts.
Create a visual spa and medical spa service menu and offer it to all your clients.
Organize pre- and post-operative packages of services and products to your clients who are undergoing invasive and noninvasive procedures.
Create a catalog and organize promotions offering gifts with purchases during the holiday season.
Offer discounts on services for large companies.
Organize a direct mailing to your clients twice a year to promote events and specials.
Create an e-newsletter to educate your clients about your services and products.
Trade gift certificates with flower shops, travel agents and networking groups.
Donate to different charity events.
Network with high-end restaurants, car dealerships and boutiques.
Participate in women's trade events.
Produce a DVD that showcases all your services and products, and show it on a TV in your reception area.
Organize evenings of education in golf clubs and gyms.
Many more ideas can be created without spending much money; however, if you have the budget, do not hesitate to invest in a public relations firm that will prepare a yearly marketing plan for your facility, as well as a spa consultant you can trust.
Due diligence
There are many details involved in transitioning into or opening a medical spa. However, if you do your due diligence, research and stay within all the legal boundaries, consider your competition, stay visible in your community and meet and exceed clients' expectations, you can increase your sales goals and enjoy business success.
Manon Pilon's background spans more than 27 years of professional experience in spa and medical spa operations and management, marketing strategies, and medical spa concept and development with continuous improvement on marketing techniques and motivation methods. She holds senior management positions in companies such as Europe Cosmétiques, CurAge Med, CurAge SPA, CurAge Pharma and Europelab.