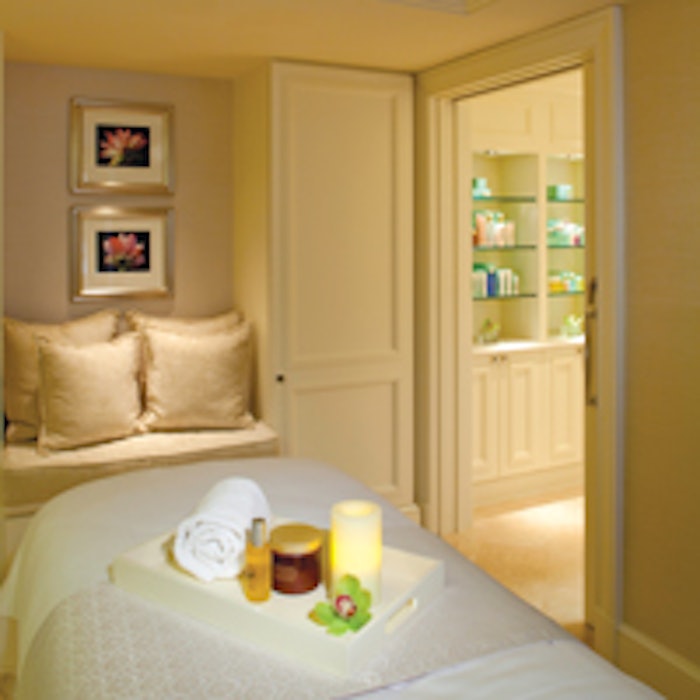 Photo courtesy of Stirling Elmendorf Photography
Do you want to succeed in the spa business or, for that matter, any business? Rule No. 1: Creating a successful business is about much more than having a flashy logo, great idea or fabulous location.
You have to know everything about your key asset—the people who you want to walk through your door. The competition is stiff for small businesses. In 2008, an estimated 627,000 businesses opened, while more than 595,000 closed. The U.S. Small Business Administration also reports that seven out of 10 new businesses exist for at least two years, and only about half survive five years.
Specifically relating to spas, the International SPA Association (ISPA) reports more than 21,000 spas were operating in the United States at the end of 2008. That's an increase of 18.8% above the 2007 figure of 17,900 spas. Day spas dominate the industry at 79% of total spas while medical spas continue to grow at the fastest rate—85% since July 2007.
The numbers don't lie; they paint the picture that the competition is fierce. You have to do the homework on your consumer, and the good news is that it doesn't take a doctorate or millions of dollars to conduct this research.
People-watching
Do they buy organic skin care or use dermal fillers? Do they drive luxury sedans or hybrids? Do they shop at Target, Walmart or Whole Foods? As a spa owner, it's critical that you delve into the minds of those who call your market home.
Don't be overwhelmed and feel as if you need a degree in statistics to conduct this research. The easiest way to figure out your consumer is through observation. Take a look at the stores around your spa's future or current location. Who do they attract? What types of cars are in the parking lot? Are there lots of moms with strollers, businesspeople, or those in their 20s who are single and just beginning their careers? This information is critical in shaping your key messages and treatment offerings.
During this research, look at the customers and compare them to people you know. Then, go to those friends and find out what they like, what urges them to spend, what makes them tick. You'll walk away with invaluable information.
For example, there may be a lot of stores around your spa's location that target those interested in vegan and eco-friendly lifestyles. Those who frequent the area want to make a difference and are interested in modern items that are made using sustainable processes, as well as considering animal rights and environmental protection. These politics and causes that are important to this type of consumer can be considered to build your spa program to match those interests.
It's also smart to forge relationships with other small-business owners in the area by asking them about their clientele. You'll often find that other entrepreneurs are more than happy to share this information and can become trusted partners once your business is established.
Concept and program creation
As you gain a clear understanding of your future clients, your spa concept and program will begin to materialize. They should be unique, inviting and marketable, as well as operationally efficient. Consider the following challenges.
Brand concept—Conceptualize a brand that not only considers your clients and market, but best marries with your company's vision, values and philosophies.
Facility and service programming—Identify programs and services that will meet the desires of the target market. Ensure that your facility's design effectively supports the client experience you are striving for, while also providing everything needed to run an efficient operation.
Architectural and interior design—In addition to being functional, the facility's design should visually communicate your concept and offer a sensory experience.
Signature features—Develop features that will serve as the foundation of the overall concept, and assist in the branding and recognition of your spa. Signature features may involve specific interior and architectural elements, customized treatments and rituals, client service strategies or a collection of private label products.
Spa menu concept—Your concept should drive the selection of products and corresponding treatments for your spa. Early on, create a sample selection of services to ensure that the costs of proper equipment are in the budget.
Case studies
Three recent openings demonstrate the creative, unique and customized programming that can be offered when owners know their consumer.
The Spa at Wind Creek, Atmore, Alabama. The spa opened in September 2009, and offers a feast for the senses with treatments that are comfort food for the mind and body. Wind Creek Casino and Hotel guests are normally in their mid-50s, interested in gambling and are drawn to the resort's on-site cooking facility. It was deduced that many of The Spa at Wind Creek's guests would be first-timers seeking an experience that smells, looks and feels nice.
The culinary tie-in opened the door for a plethora of truly tantalizing offerings. With mouth-watering names, including Spiced Brown Sugar and Vanilla Bean Stress Relief and Energizing Lemongrass baths, The Spa at Wind Creek is marketed as a place of refuge from the everyday, and as a delight for the senses.
To add to the comfort food programming, all treatments begin with a mood-enhancing ritual incorporating chocolate essential oil. Plus, a personalized product bar is on-site to help guests customize their own products to take home after finishing their services.
Vita at Henry Ford West Bloomfield Hospital, Detroit. The wellness center opened March 2009 and is one of the first wellness facilities in a U.S. hospital of such significant size, caliber and services. Located inside the new hospital, Vita serves patients, their families and the community as a one-stop shop of wellness and preventive care, focused on a lifelong approach to wellness.
Vita bridges traditional medicine with complementary medicine to create the ideal conditions for sustained wellness. The program, integrative therapies and classes were reviewed by a scientific committee made up of physicians, scientists, nurses and other care professionals, making sure each experience within Vita is safe and suited to fit patients' needs. It offers an innovative approach to health care that combines traditional Western medicine with Eastern philosophies, healing treatments, and educational opportunities for women, children and families. Vita's individual services, and group classes and activities include the following.
Vita Restore—Classes, consultations, integrative healing methods and treatments on topics including stress and sleep solutions, managing menopause and weight, and teen power
Vita Lifestyles—Includes health coaches to assist with developing a wellness plan that includes a fitness routine, regular health screenings and a healthy, organic approach to eating
Vita Body—Includes acupuncture and traditional Chinese medicine (TCM), chiropractic services, biofeedback and several types of healing massage
Vita Mom—Safe and effective treatments to help ease the discomforts of pregnancy, as well as restore and renew the body's pre-pregnancy form
Vita Specialties—Wig and makeup consultations for those who are undergoing treatment for cancer
The Spa at The Jefferson, Washington D.C. The spa opened in September 2009 with the overall concept influenced and inspired by Thomas Jefferson's preferences, travels, hobbies, mannerisms and his creation, Monticello. The Jefferson is a luxury property that attracts many businesspeople, and this market expects service that is informal yet elegant, sophisticated and delivered in an effortless manner.
The spa staff focuses on identifying ways in which to personalize the experience for each guest. One way of doing so is by allowing clients to select from time blocks. These blocks start at three hours and go as high as 12-hour increments. With the help of a spa valet and treatment specialist, guests can craft a personalized experience that may include spa services, room service, a nap, watching a movie or even reading a book.
The Spa at The Jefferson's dedicated valet has job tasks similar to a concierge, spa reception hostess, room service, bellman and housekeeping. The spa valet is the first face-to-face person the guest has contact with, and serves as the gatekeeper to the exclusive spa encounter.
Another touch point for personalization is The Jefferson Après Spa Ritual for hotel and day guests. The ritual includes a spa valet coming to guests' rooms or meeting them in the hotel lobby and escorting them to a quiet area. Amenities such as a robe, slippers or sandals, a selection of spa aperitifs, spa hors d'oeuvres and signature-scented hand towel are given and explained. The guests are then met by the personalized treatment specialists who pick them up before their scheduled service time. During the walk to the spa, the treatment specialists seek to better understand the current mood and needs of the guests in order to further personalize the service.
An irresistible program
These three spas serve as examples for why getting to know your clientele will help your business meet its needs, resulting in success. Start by doing some people-watching and take notes regarding what the consumers in your market appreciate and desire. Once you find this out and develop a strong concept, take a look at all the aspects that shape your spa and make sure the concept is carried throughout the details. As The Spa at Wind Creek, Vita and The Spa at The Jefferson prove, you don't have to offer run-of-the-mill services and try to appeal to all the people all the time. You just need to know the basic drivers of your clientele and work to create a program that proves to be irresistible.