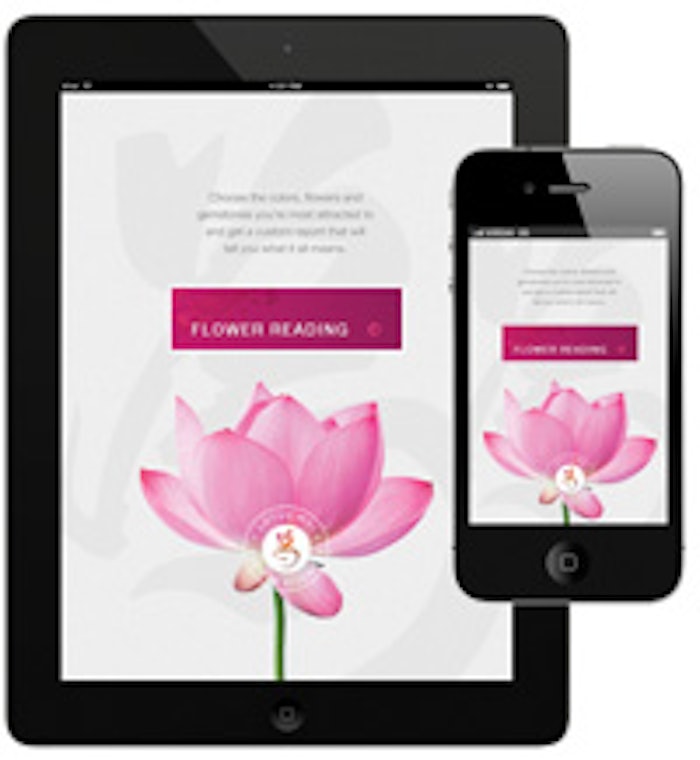 The transformative mobile tool allows the user to choose among different colors, flowers and gemstones. The app is the brainchild of Lotus Wei founder and flower alchemist, Katie Hess, a leading authority on plant-based energy healing. Featuring personalized flower readings, the app also allows users to track their moods and progress as well as download inspirational messages to motivate and inspire.
Renowned innovation expert John Kao predicts that spas will develop more powerful, longer-term spa-client connections that will be enabled by a host of new technologies, including an explosion of health gadgets 2.0 like mobile tracking apps. "Lotus Wei's app takes our 'choose your flower' concept to the next level," says Hess. The mobile tool works equally well for individuals and spas wanting to take advantage of trend towards customizable wellness and spa programming."
The Lotus Wei app contains 3 major sections
Flower reading. Flower Reading first quizzes users on their favorite colors, flowers, and gemstones, then offers a personalized flower reading based on your preferences. "You are always attracted to what you need most," says Hess. The app also recommends which Lotus Wei flower essence blend is most appropriate for your emotional and physical state.
Flower alchemy. This section is for people who are using Lotus Wei's products and want to track their results. The Transformation Gallery allows you to store before-and-after photographs. "We find that most people who first start to take flower essences see a remarkable change in their faces within 30 days," says Hess. You will also notice that you get important insights--you can jot those down in the Insights section. Flower Power allows the user to track moods. At end of the month, you get a line graph showing your results."
Special message. The Special Message Section features over 100 inspirational messages such as "you're among friends," "drop the tension," and "recognize the strength in being gentle."
"Special message are like fortune cookies without the cookie," says Hess. "Miraculously, people pick exactly the ones that mean something to them. Each time you touch the button Special Message on the home page, you receive a message."
Lotus Wei's spa partners are using the app as a tool to determine what spa treatment a client needs most. "We are in the process of integrating the Lotus Wei App into our spa treatment protocols," says Michelle Kelthy, Spa Director of the Ritz-Carlton Naples. "We are always looking for tools that innovate and personalize the spa experience. The App allows our clients to choose a custom blend based on their needs. The use of flower essences is an upcoming spa industry trend. The energetic healing properties of flower remedies work on a vibrational level and continue to transform our guests long after they leave the spa."
To download the free Lotus Wei app, Visit iTunes or the Apple Store.
About Lotus Wei
Lotus Wei is an organic line of bio-energetic flower essence and essential oil blends formulated to reduce stress, improve sleep and accelerate personal growth in today's modern busy lifestyle. Founder Katie Hess travels worldwide hand-collecting exotic flower essences and infusing them into organic massage oils and exquisite self-care products. Each of the six collections of serums, elixirs, mists and natural perfumes —Inspired Action, Infinite Love, Quiet Mind, Pure Energy, Inner Peace and Joy Juice—have specific healing properties. Devoted Lotus Wei clients report immediate positive effects on mood and state of mind.
Lotus Wei has a cult-following with celebrities and eco-conscious consumers. In Jan 2013, Lotus Wei was featured in Oprah magazine's 'O List'. The retail collections and customized healing protocols are featured in luxury hotels and resorts worldwide, including Canyon Ranch, Four Seasons, Orient Express, Ritz Carlton and Well & Being at the Fairmont Princess. For more information, visit www.lotuswei.com.