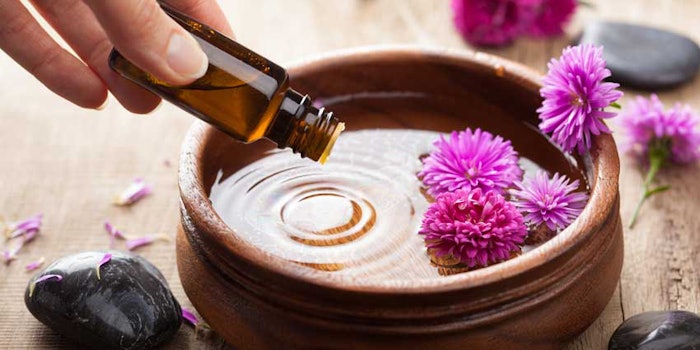 There are many steps a spa can take to set itself apart in terms of branding. Whether it's a change of lighting, decor or treatments, one specific change can make sure clients keep coming back–scent. 
While other senses require some form of brain processing, the sense of smell will create an immediate reaction. Thus, setting the ambiance of a spa with different essential oil blends and aromatherapy can provide an extra relaxing experience for clients. 
Farah Abassi, Aroma360's founder and lead aromachologist, discussed the top ways for spas to purposefully use scents to boost client retention. 
1. Create a Signature Scent
Make a unique scent that evokes feelings of tranquility and serenity. Make sure this scent is also consistent with the décor and incorporates some unique elements of the spa.
2. Use Essential Oils
Essential oils provide health benefits as well as smell nice, so make sure to include essential oils in your aromatherapy for guest to reap in the benefits. When diffusing the scent, make sure to use a cold air diffuser to preserve the therapeutic benefits of the oils.
3. Incorporate the Signature Scent
To brand your spa with this scent, be sure to incorporate it throughout your spa. Put this scent into the cold towels and bathroom products such as shampoo, soap and body lotion to strengthen the scent memory.
4. Use the Scent in Retail
Incorporate the signature scent into some retail products such as candles, linen sprays and reed diffusers to generate additional revenues and allow guests to create the spa ambiance in their home.
5. Give Gifts
Give guests a small take-home gift that incorporates the signature scent somehow. Whether it be a small fragrance rollerball, a sample linen spray or temple cream, it will strengthen the emotional connection the guest has with the experience.
BONUS
Some great spa scent combinations include:
Blue Cedar, Lavender
Lemongrass, Basil
White Bamboo, Lotus Flower
Vetiver, Lavender, Ylang Ylang
Eucalyptus, Rosemary
Green Tea, Lemon Flower and Jasmine
Bergamot, Grapefruit, Lavender
Thyme, Basil, Mimosa
Grapefruit, Mandarin, Mint