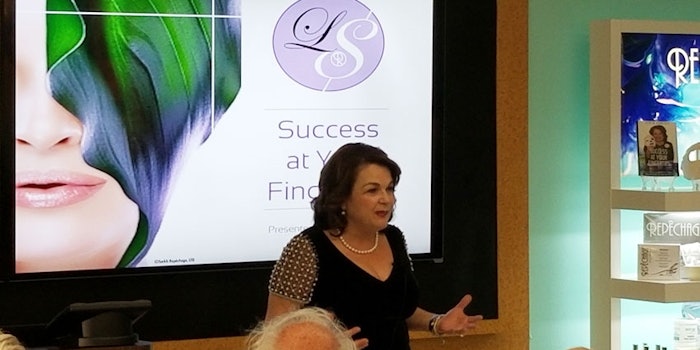 Lydia Sarfati, founder and CEO of Repêchage, recently hosted a Power Lunch at the company's Secaucus, N.J., headquarters, offering more than 100 beauty professionals from India, Ghana, Italy and beyond insights on how they can boost their businesses in the coming year. The takeaway: From social media to no-cellphone policies to retail strategies, spas have more tools than ever to offer their clients experiences that will keep them coming back and spending more.
1. Your Social Media Moment of Truth
Before a hair salon client will use a stylist they don't know, their first move is to check that stylist's Instagram feed. The same is often true for a skin care client considering a new spa—what does its social media presence say about the experience she or he can expect? This moment of truth is why social media is so critical.
Scanning a selection of spas' Instagram feeds, Gordon Miller, CEO of Hairbrained, noticed that most businesses had few followers.Given the high-touch and intimate nature of the industry, he said, owners are missing out on a significant marketing and client-engagement tool.
Miller suggested that successful professional social media feeds typically focus on highlighting the experience offered by the spa, with some light, relatable personal details sprinkled throughout—for instance, photos of pets. In the end, he said, it's not so much about the science or process of the treatments, but rather the way it will make the client feel when they come to your business.
This low-cost experiential marketing has leveled the playing field, said Miller. Small spas can easily outperform larger organizations by focusing on what they do well and focusing their energy there, whether it be Instagram, YouTube tutorials or even Facebook Live broadcasts.
While social media can be the first point of contact or a decision-making factor in the path to securing that first client appointment, it's just as critical that spas ensure that they are easy to find through search. The key to visibility? Rankings and reviews.
Spas must make sure that their social media, websites and search engine marketing are optimized so that their business turns up at the top of the results every time on every platform. Miller offered the following tips:
Encourage visitors to post Yelp, Google and Facebook reviews, but don't pay for rankings unless you have a strong strategy behind doing so.
Train your staff on social media best practices.
Test your business. Search for spas in your town. Do you come up first or, at least, in the first three results?
Measure reviews. How many do you have? How many does the competition have?
Use overt sales pitches sparingly. A general rule of thumb is 75% experiential content to 25% promotional materials.
When the public engages one of your spa's platforms, respond quickly.
Offer digital amenities like online booking to ensure you capture consumers who may be doing their scheduling outside of business hours.
Follow other social media accounts that reflect your values as a business and which create goodwill with your audience (charities, non-profits, etc.).
2. Put the Phone Away
That's why Bowie instituted a no cellphone policy for her staffers during working hours. Her strategy was to, in Bowie's own words, "lie" to the team by claiming the ban was just a one-month test. This allowed the staff time to get used to the idea and to see its benefits in action.
Bowie's first attempt failed, she said, because she stowed devices in the receptionist's desk. Inevitably, staff would drift to the desk and surreptitiously check their devices. So Bowie took everyone's phones and stashed them in her own station on the salon floor. No one would dare sneak a device from there.
Aside from lunch breaks, staff went phone-free for the "trial" month. To support the social media feeds of the staff, the salon takes photos of the employees and posts it to the corporate Instagram.
Following the first month of the experiment, Bowie reported that:
Employees were upselling more;
Staff were more helpful to their busy colleagues;
Productivity increased;
The level of customer service rose exponentially;
Retail sales jumped, with the salon now averaging one unit per client; and
Client communication improved.
While the clients responded well to the improved experience. As Bowie said, "Our focus is you."
3. Simple Ways to Enhance Your Experience
Make it happen. Every client is a good client, the CEO explained. Whether they are demanding or unpleasant, customers will respond to positive energy and a smile. Positivity can convert even the toughest client if the spa owner gives them what they want, how they want it and when they want it.
Look the part. What does your spa say to your customers? Sarfati encouraged spas to enhance the client experience with trustworthy touches like ironed sheets and robes and fresh flowers. Employees, meanwhile, should be friendly team players, well-groomed and educated enough to engage visitors in conversation. Spa owners should stablish an etiquette; for instance, should clients be greeted as Mrs./Ms., or with their first name? Make sure each client is welcomed, that their coat is taken, that they are offered a drink and have a fun selection of reading materials to choose from.
Optimize the experience. Sarfati noted that every section of your spa should be designed to generate revenue. For instance, the retail space shouldn't be presented out of reach behind a desk or locked inside a cabinet. Consumers want to touch and feel and experience products.
Stop hiding. Spas often lack the energy, music and excitement of hair studios, said Sarfati. With spas tucked away, out of plain sight, many of their benefits are also hidden. That's why spas need to have a facial bar or other service out in the open to show off the experience. This, paired with events, can increase awareness and engagement.
Ask the right questions. Retail should account for about 50% of a spa's gross sales. To reach this sales percentage, spas should never ask their clients "do you need anything today?" The response will almost always be "no." Customers must be solicited with a more open question, said Sarfati: "What are your concerns today?" This leads to a discussion and consultation and, often, a sale. Recommendations are the spa worker's professional duty, said Sarfati. Clients look to you for the best solutions to their problem.
Rebook now. Similarly, clients should be asked if they would like to rebook before they leave. Without a set appointment, the client will be exponentially harder to bring back for a repeat visit once they are out your doors.
Beat the internet. Spas and salons are high-touch, experiential businesses, giving them a significant edge on e-commerce. Still, Sarfati stressed that business need to continue to create unique experiences to drive business, including kid-friendly events, quality hand, scalp and face massacres, express services and at-home visits booked through the salon. In addition, spas should be leveraging traditional tools for visits, including gift certificates, seasonal marketing, gift sets, shelf talkers and free product samples.
Avoid superstars. Every individual on your team is no better than any other, said Sarfati. Creating superstars on a staff is dangerous, she said, because when that star leaves, your business leaves with them. It is therefore crucial that every staff member is thoroughly trained.
Profile your customers. Don't try to sell anti-aging to a young consumer, said Sarfati. Understand each client's needs and what they want. Millennials may be more partial to express treatments, but generation Xers will be your most time- stressed clients. Baby boomers, meanwhile, may want to be pampered, while clients 70 and above may seek relaxation, a soothing touch, and could respond better to the use or warm oils vs cold creams. To address the needs of men, spas can offer shaves and after-shave treatments.
Look out for the next opportunity. With the rise of medical spas, even conventional business can offer pre- and post-operative treatments and leverage relationships with doctors to encourage client visits.