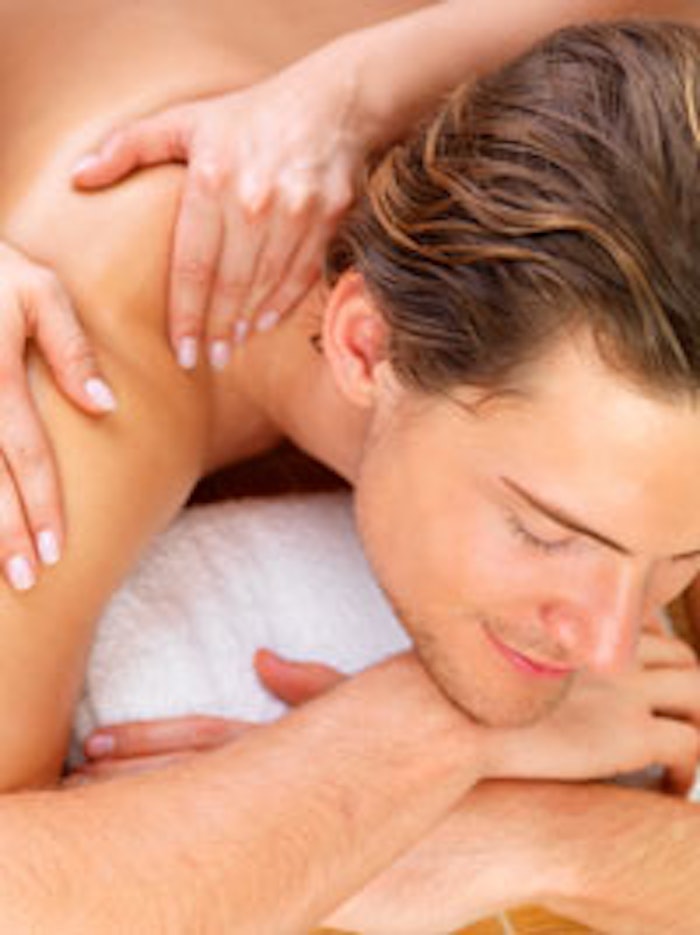 Golf and spa professionals are fantastic marketing allies. Golf is a growing sport, with more than 60 million people worldwide playing on a regular basis.1 Golf will be played at the 2016 Olympic Games in Rio de Janeiro, Brazil, after a 112-year hiatus from the event. The Professional Golfers' Association of America (PGA) and the golf industry as a whole are actively finding new ways to attract and retain players, and improve the growing sport of golf.
What does your business have that golfers need?
Women and men who play golf are a natural match for your spa services. The demographic that plays golf has time, is focused on health and wellness, and has the financial resources—the average household income of a golfer in the United States is $95,000, and the average amount of golfers that have a net worth above $100,000 is 79%.2
Skin care. Golfers spend hours a day outside—an 18-hole round of golf takes an average of four hours. They have an enhanced need to protect and hydrate their skin. Create treatments on your skin care menu that highlight skin protection and anti-aging, and provide them with retail products to keep in their golf bags, such as moisturizer and lip care with SPF.
Muscle health. Create a massage specifically for golfers, or tailor your sports massage to the golf client in your marketing efforts. Golfers have a tendency to be tight in their lead hip (the left leg for a right-handed player), and back and shoulder flexibility is important to the golf swing and should be a focus during massage. Medial epicondylitis, also known as golfer's elbow, is another condition that benefits from deep tissue massage.
Fitness. Fitness programs can be tailored to golfers for specific golf conditioning. Golf conditioning programs are helpful six weeks before the season opens. For New Englanders, this is in March, but facilities in warm climates can have year-round programs. If your facility has a strong focus on fitness for your clients, consider creating a program specifically for golfers, including sports massage to maximize muscle use and recovery, and to ultimately play a better golf game.
How can your business connect with golfers?
Marketing to golfers can be an easy strategy to reach valuable consumers.
Get your golf shoes on. You know where to find them: at the course! Make a list of the golfing facilities in your area. Stop by, or send them a brochure and a note describing your services to share with their clients.
Call the club pro. Each course has a club pro who provides golf instruction to his clients. They analyze swing patterns, notice biomechanical problems and design progressive lesson plans. Pros can suggest massage as a resource to their clients, and love to know someone who is adept at helping golfers. Offer the pro a free session to see how your services will help their clients.
Host a golf event. Plan an outing with a local golf club that your clients and the club's members can sign up for. Schedule your group for a round of golf and then either set up a mobile spa in the club's event facility, or have them come back to your spa for treatments, cocktails and appetizers. The event can act as a great marketing topic; you may receive a reduced-group rate at the course; and it will help strengthen your wellness branding. The course will be pleased to attract more women to golf, and to break the stigma that golf is too hard and takes too long to play.
Golfers and spa services are match play. If you haven't thought of marketing to golf-specific clients, take a moment to map out a course of action. It's a hole-in-one!
REFERENCES
(All accessed Dec 6, 2013)
Editor's note: Learn more great marketing tips from Sara Daly during the Advanced Education Conference Program at Face & Body® Midwest. Register today! www.FaceandBody.com/midwest/register

Sara Daly is president of Waterfalls Day Spa in Middlebury, Vermont, and founded the Vermont Wellness Professionals Network. She is a consultant to wellness practices on marketing, and writes and speaks extensively on wellness. She can be reached at waterfallsdayspa@
gmail.com and on Facebook.