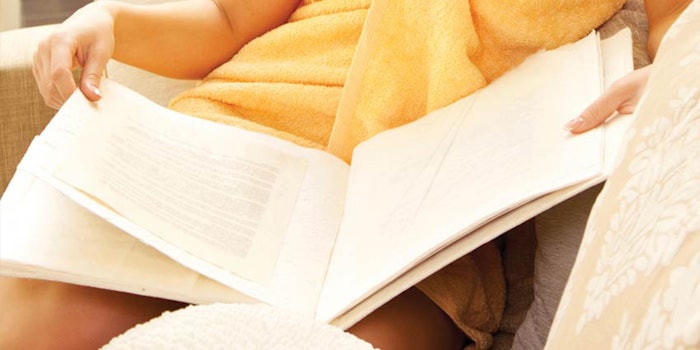 When done correctly, spa menus can sell a client on who you are as an esthetician, an expert and a business. It can even sell treatments for you. A practical menu will help guide clients on what services to book, but it can also be a useful addition to your marketing efforts.
1. Features vs. Benefits
Some basic marketing principles can apply to menu creation. Standard marketing follows a fundamental guideline to describe a product/service that is being sold. The formula is simple—when listing a feature of the product/service, always include a benefit of that feature. This model explains to the customer what's in it for them because ultimately, that's the major motivator for someone to purchase a product or commit to a service. See a few examples in the Features and Benefits sidebar.
The feature/benefit formula can apply to anything you're trying to sell, as long as you remember that a feature is what your product and treatment is and the benefit is what it does for your client.
Instead of, "This rejuvenating facial is packed with powerful antioxidants like vitamin E, lycopene and resveratrol," consider adding the benefit with it. Your client needs to know why they should care, so you must explain the benefit and focus on selling the result.
So, take "This rejuvenating facial is packed with powerful antioxidants like vitamin E, lycopene and resveratrol," and add "Help combat free radical damage that leads to sun spots, aging, and dullness. This facial will leave your skin refreshed, nourished and hydrated."
When we put this all together, it's a much more compelling description.
"This rejuvenating facial is packed with powerful antioxidants like vitamin E, lycopene and resveratrol, which help combat free radical damage that leads to sun spots, aging and dullness. This facial will leave your skin refreshed, nourished and hydrated."
3. Choosing your Market
Another marketing principle is writing copy for your demographic. If you're an anti-aging expert, your primary target market should be clients over 30. If you don't like waxing, take it off your menu. If you're particularly passionate about men's facials, make a special section to attract male clientele. Whatever you're passionate about and want to focus on, let your menu spotlight it and help do the selling for you. This is your space to showcase exactly what you want.
4. Make your Treatments Come Alive
Does your spa have a particular theme or design concept such as: a tropical feel, an urban oasis, a clinical concept or even a zen vibe? Play into the sensory of it. However your spa is set up, make sure to reflect it in your menu wording. Play off the branding of your location and business, so it is all tied together seamlessly. For example, instead of describing a facial's ingredients for a treatment, consider describing the sensory experience they will encounter, as shown below.
"Aromatherapy and the serene sound of water begin this harmonizing 60-minute journey to bliss. While improving your circulation and ridding your skin of impurities, your senses will be invigorated from a unique combination of restorative organic ingredients and traditional Eastern acupressure. The facial ends with an energizing scalp massage to quiet the mind and balance your meridian."
5. Becoming the Tour Guide
A menu should show clients what you offer, and guide them to what you'd like to sell. For example, if your signature facial is a customized 90-minute treatment with the option (and time) for add-ons and ability to fully tailor it to your client's unique needs, highlight it. This is a high-profit facial, so guide your clients right to it. You can do this by creating a box around it, placing it front and center inside the menu, or by highlighting it and placing it in a different color.
6. The Golden Triangle
Marketers refer to the area in the middle, to top left and right as the "golden triangle." Our eyes first set on the middle section, and then read left to right, so it makes sense to use this area to our advantage. This area is where you'll want to strategically place the services you want to sell the most.
7. Categorically Correct
Categorize treatments to make it easy on the eyes. Some basic categories, like "Packages, Facial Treatments, Body Treatments, Waxing, and Add-ons," work well. Add-ons and upgrades should always be last on the menu. You could take an even more playful approach and create unique categories such as "Bye Bye Blemishes, Walk Away Wrinkles, and See Ya Later Spots." After you've divided your services into categories, make sure they are balanced and don't offer too many choices. We want to make it easy for clients to choose, not the opposite.
8. Be Clear With Pricing
It is a respectful practice to display the cost for a service in your menu. It helps clients anticipate the costs before they come in. A good place to put pricing is right below the treatment description. Instead of using $119.99 as a price, which implies a bargain, a simple, rounded number works better. Experiment with leaving the dollar sign ($) off the menu and just using the number. Some studies say people spend more without it.
9. There's No I in Team
Remove the words "my" and "our" from your menu entirely. Remember, what's in it for me? Clients want to envision themselves with the treatments. Let them feel ownership by using words like "you'll, your, you," etc.
10. Provide Visuals
Using images is a nice way to highlight treatments and to help your clients picture themselves in your treatment room. Sometimes skin care manufacturers have photos you can use, or you can also download free images from www.pixabay.com and www.pexels.com. Just make sure you follow usage policies and choose photos that complement your menu, not overpower it.
11. Protect your Policies
Using the back portion of your menu to outline your cancellation policy and booking requirements can be a helpful tool in teaching your clients about your business structure. Make sure to appear welcoming, but firm. Your clients want an esthetician, not a drill sergeant.
12. Make It Pretty
It's human nature to be attracted to esthetically pleasing designs. In terms of designing a menu that reads well in someone's hand, there are several outlets that make it easier to organize with pre-made templates. Companies like VistaPrint or Zazzle offer some nice templates. Even Microsoft Word has a few good starting points for beginners.
13. Don't Squint at Print
Font needs to be easy to read. Good fonts for print are Arial and Times New Roman. Skip reducing font size to pack more information in. If you're running out of space, reduce the amount of text, or eliminate some low-profit or unpopular services entirely. Now is a great time to remove services you dread doing. If it doesn't bring you joy, there's no sense in trying to bring joy to your clients with it.
14. Less is More
Try not to cram too much information onto the menu. Giving the eye some white space (areas where there is no text or photos) can be relaxing for the brain and can give it a more professional look. Just because the space is there on the page doesn't mean you have to use it.
15. Quality is Queen
The quality of your menu is a direct reflection on the quality of your services. Paper selection, ink colors and even folding lines (if applicable) are as important as how you describe your services. If your budget doesn't allow for color-printed menus, use a nice paper as a compromise. If you can afford it, consider having your menu designed by a graphic designer or professionally printed. There are many affordable print shops across the United States. You can also find talented graphic designers using websites like www.fiverr.com and www.freelancer.com.
16. Mistakes that Last
Typos and grammatical errors can ruin your credibility and the perception of the quality of your business. Look over your menu several times before printing, and ask for a few more sets of eyes if you can. The last thing anyone wants is 500 treatment menus with a big fat typo in the first section.
17. Call Me, Baby
One important addition that can be easily overlooked is contact information. Make sure your name, address, website, phone number and email are all included on your menu. If there is a preferred contact method you have, direct them. If you offer online scheduling, let your clients know.
18. Research Is Development
Take a look at the menus of successful spas, and see if you can pinpoint why it works. Is it easy to read? Does it guide you to what to choose? Take the pros and cons of each menu you collect and create a menu that stands out.
Boost Your Bookings
Designing an effective spa service menu can be a fun way to showcase your expertise and creativity, but it also has the potential to become a helpful tool to help boost your bookings and do the selling for you.