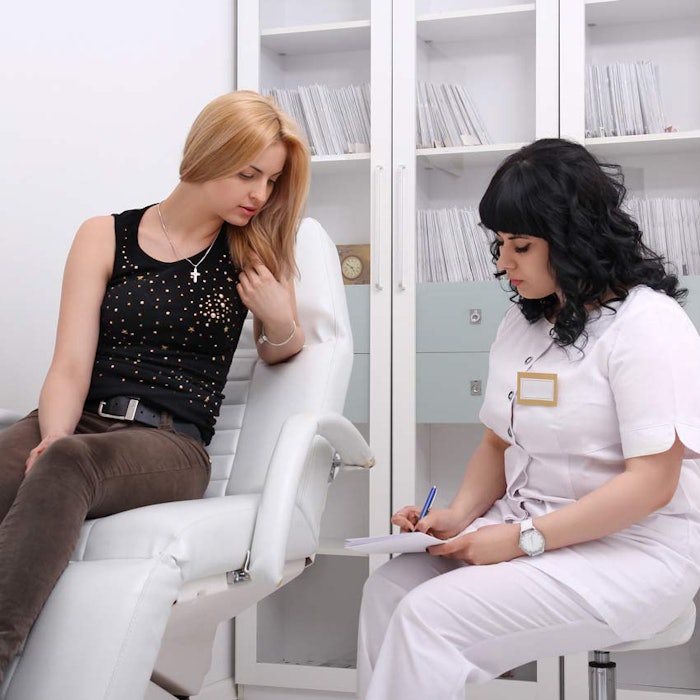 What if I told you there's something that could significantly increase your bottom line that you are doing every single day that costs nothing? It's called conversation. With potential clients, there needs to be a specific type of conversation—one that leads to lucrative, long-term business relationships. It all starts in the consultation room.
As a spa, salon or med spa owner/employee, I'm sure you're familiar with free consults. Hopefully, you're already doing them, because nothing speaks louder than free to potential customers. But consults should be so much more than just a service provider's dog-and-pony show. They are an ideal place to build trust. I call it the "magical three Cs of free consults: Conversation + Credibility = Converts.
The Typical Free Consult
In the spa industry, the consult typically centers on before and after. Clients want to improve the appearance of their skin, hair or body, and their spa professsion wants to convince them they can help. The spa professional might share some success stories of other clients, or use a skin scanner to show the client how their treatments, services or products would make a difference. The client gets excited, and the spa professional offers a special deal or package. Hopefully, the client makes a purchase it.. One down, 10,000 more to go.
What's Wrong With Typical
There are basically two types of customers—discount shoppers and regular price shoppers—and a one-size-fits-all consult doesn't work for both. Once discount shoppers have accepted your special offer, why would they want to purchase another service or package from you next time at full-price?
Regular price shoppers are less concerned about price, but your challenge there is to sell to them without making them feel pressured into buying. The ultimate goal of the free consult, then, is to use conversation to get to know the customer.
The Art of the Free Consult
Think of the free consult not as a sales tactic, but as an artform. While you'll want to showcase your latest and greatest technology/products, and try bringing clients to your level of passion and enthusiasm, nobody likes being sold to. So the big question is, how do you accomplish these goals?
The answer is to focus on the client not just the sale. Spend about 65% of the consult simply schmoozing with them and more importantly, asking them about themselves. What do they do in their free time? Do they have pets or kids? Do they have a favorite TV show? What's their everyday skin care routine? Clients are inevitably more comfortable in a sales situation when they feel like it's not all about them making a purchase.
Don't forget that consults can be emotional for the potential client. They're showing you their perceived flaws and asking you to help correct them. They might feel vulnerable about cellulite after having a baby, or embarrassed by acne scars. When you present yourself as a potential new friend, taking time to bond with them, people will more likely open up to you. A philosophy I encourage in my company is "loving and lasering." It's a way to remind employees that we're passionate about our clients, and that inevitably comes through to them.
Taking Free Consults to the Next Level
You can certainly get results by offering free consults one-on-one, but offering them as a free event has the potential for much greater, faster revenue. The key is not to lose the intimate, customized approach you offer on an individual basis, but to capitalize on the power of numbers.
Hosting an evening cocktail party is an excellent way to bring in numerous people who want to know more about looking their best. It creates a sales arena, but you don't want it to feel that way. Instead, create the ambience of an educational seminar that's disguised as a "girls' night out" or a "wine and cheese party."
Of course, nobody wants to have a free consult in front of dozens of strangers, where their age spots and fine lines are projected onto a big screen. Your potential clients would fly out of the building. Build consults into the event on an individual basis, in a separate room just for that. If you're party is large enough, have a few private rooms set up with a consultant in each one.
Once everyone's had a chance to mingle, enjoy appetizers and drinks, then conduct your free consults. Afterward, bring your guests together for some live demos, educating them on your services and building on the excitement introduced in the consult room. Give away some treatments by drawing names. End the evening with exciting offers, always including an extra perk or benefit for purchasing that evening. It doesn't have to cost you anything out-of-pocket. Consider negotiating free products with one of your vendors on a larger order.
The Three Cs of Free Consults: Conversation + Credibility = Converts
1. Assign a value. People love getting something for nothing, but they also want to know it has real value. Assign a dollar amount to your consults. You're giving them your time, space and expertise. Include the price on your menu for the consult and skin scan. Then, discount that amount from their purchase, which must be at least the price of the consult.
2. Don't be pushy. Think of the free consult as the starting place for what you hope is a lifelong relationship with that potential client. Avoid pushy sales tactics like the plague.
3. Advertise on social media. When hosting a free consult event, use social media to advertise it, with a link to an RSVP page on your website. Encourage guests to bring friends, and offer a free or discounted service or product just for attending. You can also use social media to hold contests, where the winner gets a free skin consult worth $.