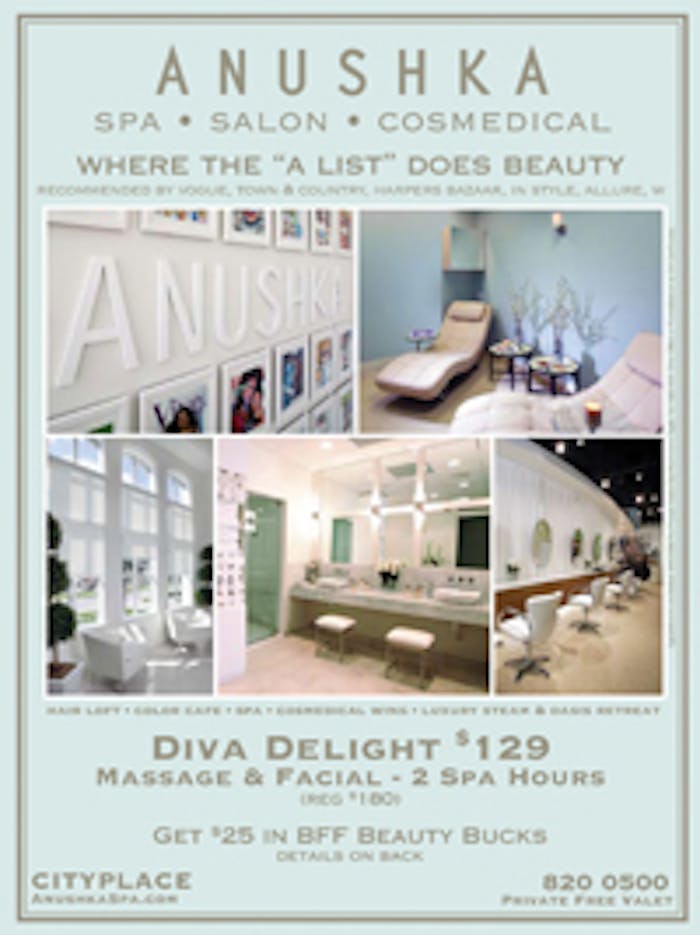 You survived the downturn of 2008–2009 and made it through 2010. Your next challenge is recapturing the momentum for 2011 and beyond. But consumer spending is still in a holding pattern in many markets, forcing those in the spa industry to think more carefully about what clients really want, as well as how to give it to them.
A stand-out business
To establish a strong point of difference, one effective promotional strategy that works in any economic climate is to enhance customer service. Rather than hastily reacting to an onslaught of discounted treatments and aggressive product promotions, consider reworking your service offerings to add more value.
Many spas and medical spas have turned their sales volume around by giving clients more for their money. Whether it is through vouchers for future treatments, a series of two-for-one specials or holding 10% off Botox days, people love to get more than they thought they were getting. And a gesture doesn't even have to be grand to be effective. Something as simple as offering a complimentary hand massage with a skin treatment or a trial size of a new eye cream can go a long way to enhance client loyalty.
It's also important to keep your business at your clients' top-of-mind. According to Janice Worth, owner of Anushka Spa and Cosmedical Centre in Palm Beach, Florida, "We try to communicate to our 15,000 clients approximately eight times a year by sending beautifully designed 6-by-8-inch mailers to their homes. Our September and October pieces accounted for driving about 15% of overall revenue in those months in actual advertised promotions, and the dollar volume generated amounts of about $45,000–60,000 in revenue. However, we also see there has been an approximate 15–20% uptick in clients who have been dormant for three to six months. Just putting our face in front of them reminds them to make an appointment."
What to try
There are a myriad of creative options available when trying to appeal to the new reality of consumer belt-tightening, and cross promotions can offer many benefits to clients while also introducing them to new services. Typically, promotions should also only be offered for a limited time, and they should be changed frequently to avoid getting stale. If you offer the same promotion for months on end, you are essentially lowering your fees rather than using the special promotion as a way to generate new interest. Consider adding something into the treatment fee to entice clients, such as a complimentary lash enhancer with every facial peel. The additional service will likely not end up costing you more, and it serves to build goodwill with your clients.
Treatment-bundling is another proven method that can be implemented to benefit loyal clients and keep schedules full. You can start by identifying which services are the least profitable. For example, a light-based treatment for redness that takes 15 minutes to perform may bring in much more revenue than cellulite therapy that ties up a treatment room for 90 minutes. Therefore, you may want to bundle less profitable services with more time-compact offerings, such as laser or light treatments or dermal fillers. Also, have them booked together or paid for at the same time.
You can bundle treatments with products, too. As retail falls under the category of passive income, offering clients a complimentary product as a bonus with a full-priced treatment is an ideal way to maximize their experiences. For example, including a broad-spectrum sunscreen with high SPF with every fractional resurfacing treatment serves the dual purpose of emphasizing the need for sun protection post-laser treatment and improving compliance.
Worth comments, "Even in Palm Beach, clients love to get something extra. We recently offered a special microdermabrasion manicure bundled with every laser treatment. And another very successful promotion we've used is to have clients bring in their old eye cream and then upgrade them to a more advanced eye product by offering 10% off the retail price. This allows us to introduce them to our skin care brands." It also generates retail sales.
Incentivizing clients
Nowadays, the luxury concept may conjure up images of the conspicuous consumption and out-of-control self-indulgence that landed the economy in this global crisis, so it's important to emphasize that skin maintenance therapies aren't only about pampering anymore. Consumers buy into the concept that taking care of their skin and appearance goes hand in hand with an integrative approach to health and wellness. By raising the awareness of the long-term benefits of the therapeutic services you offer, clients will be encouraged to invest in preventive and maintenance treatments even if they're cutting back on discretionary spending.
Spas and medical spas can remain relevant to their clientele by adding introductory services at lower price points and refocusing on results-oriented treatments for clients who may have less money to spend. And to get the most out of these new offerings, it helps to modify your marketing and promotions to adapt to new consumer concerns and priorities.
For example, if your monthly facial and micro-dermabrasion clients cannot afford to keep up with a $250-plus service, consider ways to incentivize them in order to make the treatments more budget-friendly. Most spas and medical spas offer substantial price breaks for those who sign on for a series of repetitive treatments and pay for the package in advance. So, the popular strategy of including a free treatment with every package of four purchased, offering a complimentary manicure or makeup application with every series, or including a free home care product can really aid in boosting business.
And although everyone is clamoring for new clients, it is equally important to take extra special care of your loyal customers who have been faithful throughout the years. Referral cards are a tried-and-true way to reward loyal clients. For example, giving current customers 20% off a facial service for every referral they bring in can help drive new business into your spa. With today's atmosphere, you cannot wait for people to come to you—you need to reach out to them.
Again, to generate excitement among clients and incentivize them to come in, a call to action has to have a specified time period. Open house events offering a 20% courtesy discount on all treatments booked at the event can be very effective during slow periods, or you may also consider offering a complimentary skin care product to every client who brings a friend to an event. "We always include 'Bring a Friend' on all our invitations to encourage clients to come in with their girlfriends for our special Saturday champagne brunch events," says Worth. "The secret to success is to keep it interesting, fun and to teach them something new."
Using technology
Spas and medical spas also are having to come up with other creative ways to fill empty appointment schedules and slow periods, and one of the most cost-effective marketing channels is e-mail marketing. Many have seen great success with e-blasts designed to drive traffic to a well-designed website, which ideally includes a facility's complete menu of services, online scheduling capability and online shopping featuring the products sold at the spa.
Worth notes that many of her business mailers are also e-mailed to clients who have opted in to learn about the spa's newest deals via the Web, and often, the e-mails generate quite a response. "The e-blast that was sent for our most recent event was extremely successful," she explains. "We hosted an event to launch Sculptra Aesthetic, which had just gotten FDA approval. We had about 30 women join us for a featured presentation by our medical director and our esthetic director. Five of the attendees brought five new clients, and we prebooked approximately $11,000 in treatments, which were then administered during the next week. We also booked two cosmetic surgery procedures and sold approximately $1,000 in retail at the event."
Additionally, by utilizing Twitter and Facebook as part of an integrated marketing campaign, spas and medical spas can generate buzz for their facility and increase the uptake on special offers. There is no denying the reach that social media has anymore. Every day there are more spas offering last-minute deals on open appointments and treatments, promoting discounts for gift certificates and product promotions via posts on Twitter and through Facebook ads, pages and groups.
But these kinds of promotions have to be compelling to resonate with this audience. For example, free shipping is probably not exciting enough to generate interest. However, 15–20% discounts on products or services, free samples, seminars and open house events tend to create the greatest pick-up.
Listen to customers
Good customer service is the lifeblood of any business. Promoting special offers to bring in new clients is not enough to grow a thriving spa unless you can get some of those clients to come back to you. Skin care is a repetitive service business, and without a loyal clientele, your facility might not be profitable for very long. If you're not seeing clients returning, you may have a service disconnect.
The impression clients have about your spa may begin when they click on your website, flip past an advertisement in the local paper, or when they call in to book an appointment. Many spas are understaffed, especially in light of overhead reductions, and that means the team on board may be overburdened. The end result of not having enough staff is not serving clients appropriately, including long wait times and inconsistent care. Make sure that a well-trained staffer is picking up the phone when new customers call to inquire about a treatment or make an appointment, as well as to greet them when they come to your business.
A steady flow
To maintain a steady client flow, maximize every opportunity you have to impress them and exceed their expectations. It is arguably easier to get clients to come to your spa or medical spa once than it is to sustain them, especially when you are faced with increased competition. The best way to distinguish your business from all of the others is to have an exhaustive approach to customer service that aids you in forming a close bond with clients. The goal is happy clients who are eager to tell their friends about you and send referrals.
They may not always tell you, but people notice when you make an extra effort, and they will tell other people about your facility. In the end, delivering good quality service is likely to bring in more new customers than even clever promotions and price slashing.
Wendy Lewis is president of Wendy Lewis & Co Ltd., a global esthetics consultancy founded in 1997 in New York, with locations in London and Palm Beach. Lewis also is the author of 10 books, including Plastic Makes Perfect: The Complete Cosmetic Beauty Guide (Orion, 2007), and is a frequent guest lecturer on esthetic practice development, cosmeceuticals and global beauty trends at conferences worldwide. She serves on the advisory board of the HBA Global Expo, and is the founder and editor in chief of www.beautyinthebag.com.