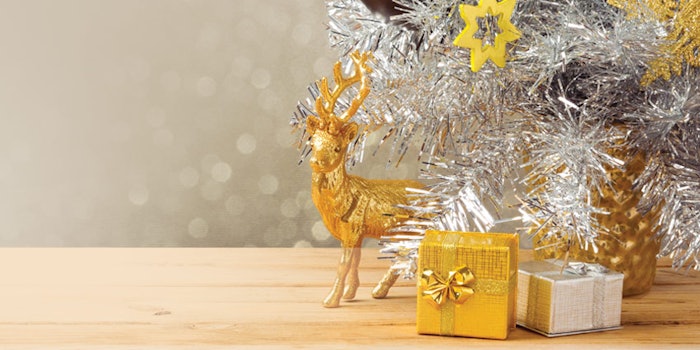 Planning and putting up holiday décor in your spa or clinic can either be a fun endeavor, an aggravation that pokes at you until you get it completed or a nightmare. For those of you who are creative, it's a much anticipated activity. For those of you who can't tie a bow on a wrapped box to save your life or are procrastinators, it's something you wish would just go away. Regardless of your talent in this area or your perspective, the best way to tackle décor is to have a plan. The following five steps can make your life easier when it comes to creating a festive environment during the holiday season.
1. Select a theme. Decide if you want to repeat the theme that you did last year or create a new look. You will need to also choose if you want to stay on-trend or go "traditional." Will you use wreaths, garland, florals in urns and trees, or will you think outside of the box? What about vinyl graphics on windows? Check out Pinterest for ideas, shop your local wholesale florists or send a team member to a gift show in your area.
2. Choose areas. Select the areas you want to decorate such as the storefront, vestibule, reception area, retail area, corridors and waiting rooms. Also, think about walls, windows, ceilings, fixtures and tables.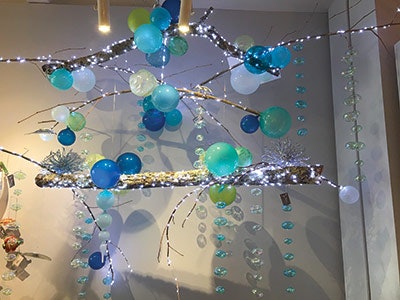 3. Determine a budget. Determine if you can you reuse any existing props or if the supplies will all be new. Go back and see what you spent last year on holiday décor, making note if it will be increased this year. Along similar lines, decide if you are investing in a look you will use for a few years or will dispose of or donate after this year. Try not to use the same décor for more than three years.
4. Create a calendar. So you have deadlines, create a calendar with the following dates:
Plan décor theme (September),
Order and purchase the materials (October),
Install (early November), and
Take-down (early January).
5. Select your team. Determine who will do all the items in #4.
Décor Trends
This year, holiday decor is taking on a few unique looks, as detailed here.
Organic and natural materials. Branches, pinecones, botanicals and berries are seen in varying colors. These elements are paired with unfinished wood, logs and "live edged" boards.
Glass. Clear and colored baubles, ornaments and "rain drops" are growing in popularity, creating a more sophisticated, fresh look. Colored, iridescent and available in a variety of sizes, these contemporary pieces can be used to decorate trees or wreaths or just hang suspended in multiples to create a crystal or ice theme. Glass terrariums also continue to be popular. Hang them in macramé holders and fill with natural greens and a few sprigs of red berries. Suspend from the ceiling in windows or over reception counters for a fun spin on the typical terrarium.
Metallics. Mix and match gold, brass, silver and nickel, whether polished or matte. Spray painted garland and branches, along with metallic ornaments and wrapping paper with metallic glitter all make for an attention-getting, festive look.
Soft Greens. The big color shown at the Atlanta Gift Show this year was soft green, particularly, frosted mint greens and dusty sage greens. Evident in evergreens and other plant materials, perhaps this trend grew out of the still popular succulent trend. Mint paired with white makes for a fresh, crisp look, and dusty sage with browns and creams, makes for a softer, natural look.
Lighting. LED string lights are still the rage, as are battery operated candle flames. Twinkling lights are fine for window displays, but avoid them inside your business environment as they can become a distraction if overused. If you're trying to attract attention to a retail display, it's fine to place some in that vicinity, but don't stray beyond.
Combining Trends
Once you know the trends, it's fun to combine elements to create complimentary looks. For instance, the new, softer, non-traditional greens work well with gold and silver. Glass ornaments hanging off of natural branches create a unique contrast of materials that will attract the eye. Bowls of iridescent balls and pinecones will for sure capture attention. The key is not to combine too many visual elements and textures. Stick to a theme and repeat it throughout your spa, salon or clinic. If you decorate your wreaths with berries and twigs, then decorate your garland and trees with the same. Consistency and simplicity are key to creating décor that people will notice and enjoy. Too many elements and the décor can become cumbersome and overwhelming to the viewer.
Brand Your Décor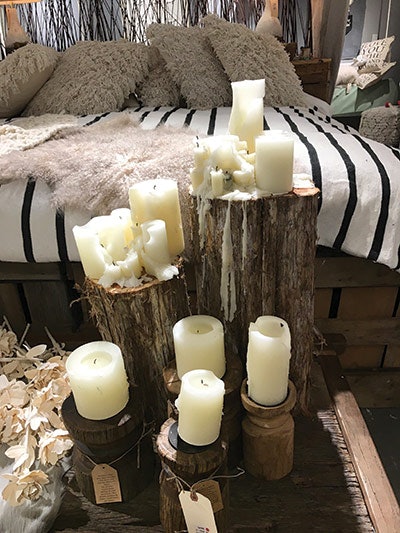 Want to incorporate your brand color into your décor? This is easy to do if you can find the following elements in your business color: ornaments, candles, table runners, ribbon and wrapping paper (to wrap "fake" gifts"). If necessary, spray paint twigs or the edges of wreaths. Just don't overdo it. It's meant to be used as an accent and should not conflict with another color in your theme. It is best to use it sparingly with supportive and neutral decor.
Out-of-the-box Décor
Most people think of the traditional Christmas tree, round wreaths and evergreen garland when they think of holiday décor. Think of them, then think again as if they didn't exist. You're in an industry that is more upscale and fashion-forward. You're about making someone more beautiful. Let's bring that concept into the décor. Replace standard garland with tree branches suspended horizontally and decorated with lights or glass balls. Instead of round evergreen wreaths, create square ones out of pine cones and stick several sprigs of berries in at the top. Take old glass jars and spray paint them in metallic paint, fill them with soft greens and line them up on a shelf. Alternate them with wrapped gifts in metallic paper or with soft green ribbon for even more visual interest. Find, or make, flat holiday pillows to match your theme, and put one on every chair in your waiting room.
Focal Points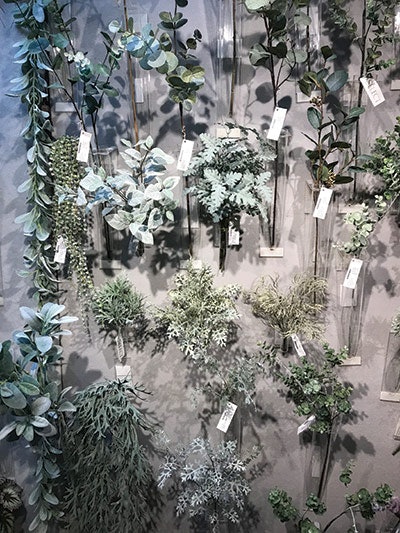 It's important to create a center of interest, an area or a display prop that attracts attention when one first enters the space. It should induce a smile or be inspirational. Perhaps it's unexpected? Strategically locating your focal points and coordinating display elements is key to creating a well-balanced holiday interior. Start with a larger piece, then move to the smaller support pieces. For instance, fill large urns with big tree branches for the main focal point, then fill wood bowls with pine cones or glass balls and place them on tables or shelves. Finally, wrap smaller branches with strings of berries around your doors into corridors and service rooms. It's important not to put something on every wall or on every table and shelf. Be selective as to where you want your patients' and customers' eyes to land.
Have Fun
So, to keep the idea of putting holiday décor up from becoming a last-minute nightmare, make a plan: select a theme, determine areas to decorate, create a calendar, determine a budget and select your team. Look at recycling old props to keep costs down or invest in on-trend décor that will last three years. Define your focal points and support areas. Make the day of installation a fun one—bring in (spiked?) eggnog, turn up the holiday tunes and make it look beautiful.