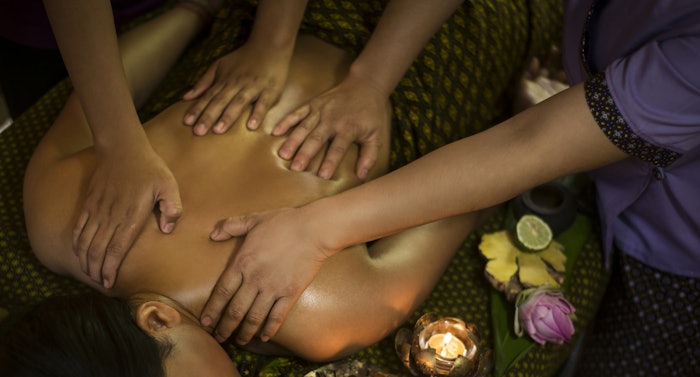 Travel Awaits listed seven must-see spas around the world, featuring luxurious spas in Europe, Australia, India, the Middle East and North America.
Related: End of the Year Spa Openings
Al Messila Spa, Doha, Qatar
Al Messila Spa offers treatments that are infused with 24-carat gold. The Golden Opulence package features a full-body exfoliation with crushed gold, a massage with 24-carat gold hot stones and 24-carat gold body oil and an AMRA Gold Facial that uses 24-carat gold face stones.
Anantara Spa, Jebel Akhdar Resort, Oman
Anantara Spa's signature treatment is its Frankincense Ritual—a 90-minute session that showcases the frankincense fragrance through warm compresses, deep tissue massage and inhalation of the smoke to reduce stress levels and enhance sleep.
The Ritz Club, The Ritz Paris
The Ritz Club at Ritz Paris features an Art Deco turquoise-tiled indoor pool and various treatments, including La Renaissance, which combines a full body scrub with a buffing treatment.
Silky Oaks Lodge, Daintree, Australia
The Silky Oaks Lodge is in the Daintree Rainforest in Northern Queensland, the oldest rainforest in the world. Its signature offering, Silky Oaks Relaxation Ritual, is a two-hour treatment with a rebalancing massage and facial.
Ananda In The Himalayas, India
Ananda in The Himalayas features spa treatments and wellness activities like yoga, meditation, physiotherapy and emotional healing. Its signature treatment is the Abhyanga, a traditional Ayurvedic therapy that includes a four-hand massage and an ancient treatment that involves oil being poured over the forehead to help open the "third eye."  
L. Raphael Salon, Four Seasons Hotel, New York City
L. Raphael Salon at the Four Seasons Hotel in New York City features one of the most expensive spa treatments in the world—the L. Raphael Oxy Star Anti-pigmentation treatment—a facial that costs $1,000. It uses ice-cold oxygen and white truffles to fade sunspots and aging spots, leaving skin soft and smooth for three weeks.
Sense Spa, Rosewood Mayakoba, Riviera Maya, Mexico
The Sense Spa is surrounded by a green jungle in the Rosewood Mayakoba. Its signature treatment is the Kuxtal Sensory Garden Ritual—a three-hour experience that starts in the sensory garden, with guests finding a connection to one of the Mayan plants in the garden, which is then used to create a customized treatment that focuses on wellness in four levels: physical, emotional, spiritual or mindfulness.