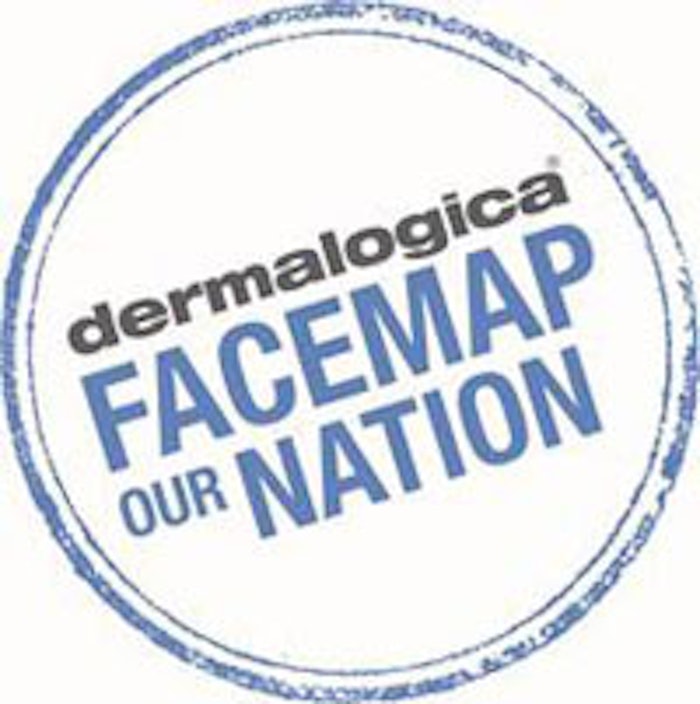 Face Mapping, the innovative skin analysis technique which forms the basis of Dermalogica's education-based sales model, takes the spotlight during a four-month skin care education campaign, Face Map Our Nation, to be offered at Dermalogica accounts from July 1, 2014 through October 31, 2014.
Face Map Our Nation encourages skin therapists to optimize their expertise and improve the public's awareness of skin health. Dermalogica accounts interested in participating will receive free event marketing materials, including Dermalogica's "Event in a Box," which includes t-shirts, buttons, Face Mapping prescription sheets and other promotional collateral. In addition, Dermalogica Professional Skin Therapists have the opportunity to participate in the Face Map Our Nation contest where they have the opportunity to win one of four prizes, including the grand prize, a trip to Dermalogica's 2015 Congress taking place in Las Vegas. Simply submit completed Face Mapping sheets now through October 31, 2014.
Tracey Sameyah, United States general manager for Dermalogica, comments, "Face Mapping is the heart of our brand because the experience brings together the defining elements of our work: a scientific approach, technical knowledge of the skin, the transcendent power of human touch, and face-to-face communication with a professionally trained skin therapist. And our research demonstrates that for stockists, Face Mapping results in sales growth, even though we offer it to the client free of charge, with no pressure to buy. The numbers speak for themselves: 82% of clients who receive a Face Mapping session return to buy two or more products."
Face Mapping, one of Dermalogica's signature concepts, takes only a few minutes, does not require disrobing, and is offered exclusively by Dermalogica-trained skin therapists free of charge at authorized Dermalogica locations. The unique concept is based on Eastern Chinese medicine which divides the face, neck and décolleté into 14 zones, associating areas of the face with internal organs. According to this system, activity in the skin of these facial zones reflects the condition and activity within the body and entire being. In combination with this methodology, professional skin therapists inquire each client regarding their lifestyle choices and habits including smoking, tanning, stress levels, etc. This complete skin analysis allows the therapist to observe and note specific conditions as well as understand the cause, providing her with a road map that will ensure each client achieves his or her skin care goals. All of the findings are recorded on a visual "map" of the client's face, creating a graphic document that allows the therapist to monitor and evaluate progress in areas of concern at future treatment visits.
Accounts are invited to download the Face Map Our Nation application form via www.business.dermalogica.com to receive a complimentary Event-in-a-Box and to have their event listed publicly on www.facemapnation.com. Events on www.facemapnation.com will be publicized via social media, consumer emails and consumer event marketing to help drive awareness for local events. For more information on Dermalogica, please visitwww.dermalogica.com.