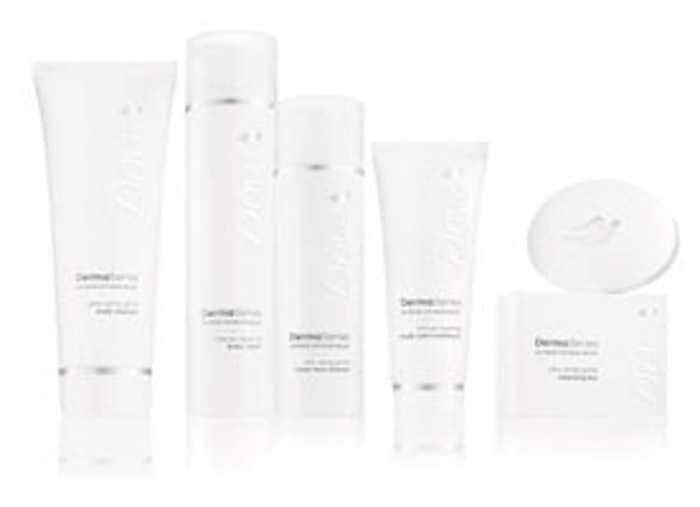 Women who suffer from the symptoms of extremely dry skin often experience discomfort and self-consciousness, which affects their daily lives. In fact, 72% of women in the United States say that their dry skin makes them look less beautiful1. Many have searched for solutions and tried endless products, only to find that they are sticky, fragrant or worse, ineffective. Dove, the global beauty brand, is addressing these concerns with the new Dove DermaSeries, a full range of premium cleansers and creams that provide superior care for extremely dry, compromised skin. The skin care collection was developed in partnership with dermatologists and is most effective when used as a two-step daily regimen, providing both immediate relief and long-term skin barrier repair with continued use. Dove DermaSeries uniquely combines clinical efficacy with a superior sensory experience to finally provide women with a beautiful product they will enjoy using for their dry and compromised skin.
Dove DermaSeries is the first premium skin care line from the brand and builds upon its heritage in mildness and superior care. This innovative product range created in partnership with dermatologists combines the brand's leading technologies and its commitment to developing the highest quality products that meet women's needs. Dove collaborated with leading dermatologists to leverage their skincare expertise, experience treating severe skin dryness, knowledge of the best ingredients and understanding of patients' specific issues. The result is a breakthrough product range that both dry skin sufferers and dermatologists can rely on to relieve dry skin symptoms. In fact, 9-out-of-10 dermatologists said they would trust Dove DermaSeries for patients with dry skin2.
One of the partner dermatologists who contributed to the development of the premium Dove DermaSeries line and provided critical insight into understanding extremely dry skin is the renowned Ranella Hirsch, MD, a Fellow of the American Academy of Dermatology (FAAD). "Dry skin is a pervasive problem that can manifest as redness, itching and uncomfortable tightness," says Hirsch. "It was such a wonderful opportunity to be able to help create a product line that specifically addresses these core concerns while delivering an exceptional user experience. I'm delighted to partner with Dove on the DermaSeries line and to have these products to recommend to my patients as a beautiful way to alleviate dry skin symptoms."
The Dove DermaSeries contains clinically-proven ingredients that alleviate the symptoms of dry skin conditions and deliver a beautiful sensorial experience. These ingredients include glycinate, an extremely mild cleanser that provides the gentlest cleanse with a rich, creamy lather and stearic acid, a skin-natural lipid to help replenish moisture lost during cleansing. The creams are lightweight, non-sticky and non-greasy and absorb quickly into skin for an enjoyable experience.
"We are proud of the technology and innovation behind Dove DermaSeries," says Steve Miles, Global SVP at Unilever. "We believe the range offers genuinely superior skin benefits through products that both look and feel beautiful."
Dove is introducing an exclusive, patent-pending breakthrough technology, PPAR Activation Complex that addresses the unique skin care needs of those with extremely dry, compromised skin. The formula found in the Dove DermaSeries creams, combines 12-hydroxystearic acid (12-HSA), a fatty acid that works twice as well as stearic acid, glycerin (a potent humectant) and natural emulsifiers to activate PPARs, proteins found in the skin. PPARs and 12-HSA work within the deepest surface layers to help in the formation of better quality skin cells, creating a better quality hydration barrier. Thanks to the PPAR Activation Complex, the DermaSeries creams moisturize better than leading prescription creams.
"Dry skin sufferers are often very familiar with product ingredients. They actively seek out cleansers and creams that will alleviate symptoms while truly caring for their sensitive skin without irritating it," says Beth Pearson, Unilever Research & Development scientist. "We have used the most caring ingredients to formulate Dove DermaSeries to ensure the most gentle cleansing and intense moisturization. Our research has been dedicated towards creating a superior product range with state-of-the-art technology. We developed the proprietary PPAR Activation Complex to create a highly efficacious formula that offers a superior experience through the sensories of the product. We are proud that these products provide superior moisturization to prescription creams and top dermatologist-recommended brands."
The premium Dove DermaSeries skin care collection includes ultra-mild, non-irritating cleansers and intensely rich, hydrating creams that are most effective as an easy-to-use two-step daily regimen. The formulas provide compromised skin with both immediate relief and long-term skin barrier repair with continued use.
Dove DermaSeries will be sold at select retail partners nationwide beginning this month. For further information, please visit www.dove.com and www.unileverusa.com.
References
Source: Mintel, 2012
Ipsos, independent dermatologist survey, 2013
AC Nielsen (2010)