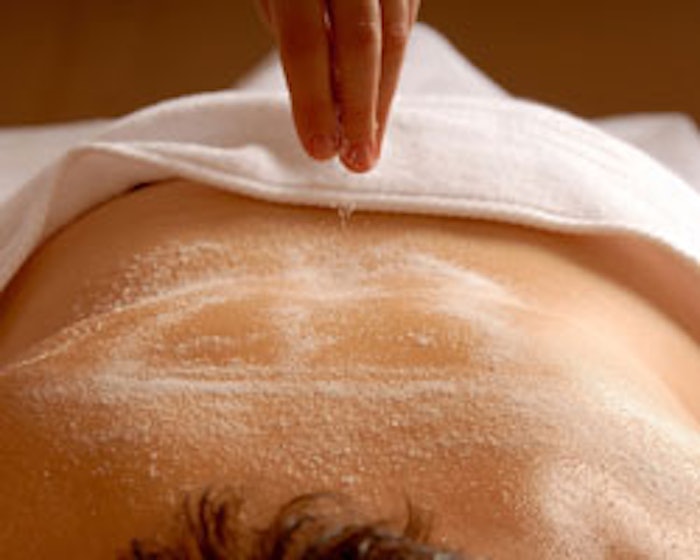 Today, April 22, is Earth Day. Read on to learn how spas all around the world are incorporating locally grown ingredients and adding eco-friendly angles to their treatment menus.
Guerlain Spa, New York City
The Guerlain Spa in the Towers of the Waldorf Astoria New York recently unveiled skin care services featuring pure royal bee jelly, but to advance the Earth-friendly experience further, this spring the Guerlain Spa has launched "Urban Island Escape," a treatment that incorporates extra virgin organic coconut oil and the hotel's Top of the Waldorf Rooftop Honey. The spa' local roof-to-spa concept also includes a "Milk, Haute Honey and Rooftop Herbs" manicure/pedicure, using honey and home-grown herbs, such as rosemary from the 20th floor garden. www.guerlainspas.com
Mirbeau Inn & Spa, Skaneateles, New York
The award-winning Mirbeau Spa in the Finger Lakes features treatments that pay homage to the region's famed wineries while keeping products localized. The "Honey & Wine Wrap" includes a warm blend of wine and honey providing intensive moisture to the skin, protecting against dehydration. The "Crushed Cabernet Scrub" uses a blend of grape seed, honey and brown sugar to create a scrub that invigorates and refines, to stimulate microcirculation and drainage of excess toxins. www.mirbeau.com
Park West Hair Design & Spa, Canandaigua, New York
This elegant Park West Spa nestled on the shore of Canandaigua Lake boasts a "Wine Wrap" that brings out the best in the Finger Lakes farm-to-table movement. The tantalizing body wrap treatment utilizes the powerful antioxidant and exfoliating properties of local grapes. The wine wrap is the perfect treatment for sun damaged, dry and aging skin. It removes dead skin cells, deeply hydrating and fades age spots due to over exposure to the sun. www.parkwesthairdesignandspa.com
JW Marriott Grand Rapids and the Amway Grand Plaza, Grand Rapids, Michigan
Grand Rapids, Michigan has been named Beer City USA's top Beer City for the second year in a row. In celebration, the JW Marriott Grand Rapids and the Amway Grand Plaza are offering beer-infused spa specials for guests to pamper themselves and experience the beer culture of the city. The "Brew and Renew" treatments include a pedicure with beer tasting or body polish and massage with local hops and barley and local craft beer to exfoliate the skin. www.ilovethejw.com, www.amwaygrand.com
The Westin Hilton Head Island Resort & Spa, Hilton Head Island, South Carolina
Perched off South Carolina, The Westin Hilton Head Island Resort & Spa's newly $30 million renovated resort boasts a sense of casual coastal elegance with a touch uniqueness rising from the region's characteristics. The resort's Heavenly Spauses Lowcountry inspirations for body treatments such as pineapple, coconut and melon infused exfoliations followed by a kaolin clay mask to purify the skin as well as exfoliations with white tea, seaweed masks followed by kamani oil. Hilton Head is set in an island where guests can kayak in the marshes, paddle board in the bay along oyster marshes and more. www.westinhiltonheadisland.com
Cavalieri Grand Spa Club, Rome, Italy
Rome Cavalieri's Cavalieri Grand Spa Club is offering a "Tribal Hammam Treatment by La Cremerie. The treatment uses precious Argan oil, known for thousands of years as "liquid gold," and is inspired by ancient beauty rituals with a tribal massage performed with brushes.The treatment is particularly suitable for stimulating cell renewal and is ideal for tired, dull and dehydrated skin. www.romecavalieri.com
Ohtli Spa, Marina Vallarta Puerto Vallarta Jalisco, Mexico
The Ohtli Spa at CasaMagna Marriot Puerto Vallarta Resort is one of the very few resorts in the world that grows its own agave azul on property and produces its own proprietary brand of tequila. Maintaining a farm-to-spa table approach, the harvested agave is also used in spa treatments such as the Agave Syrup, Cornmeal & Sea Salt Scrub, a gentle exfoliation consists of some of nature's most plentiful and powerful resources. Light grains of cornmeal and coarse sea salt remove dead skin cells while the agave syrup in a light coconut oil base seals in moisture and soothes the skin. www.puertovallartamarriott.com
Kuö Spa, San Jose, Costa Rica
Intimately located on a 30 acre coffee plantation, Costa Rica Marriott Hotel San Jose's Kuö Spa incorporates beans directly from the property's plantation into their "Costa Rican Coffee Scrub," designed with a mixture antioxidant rich coffee beans in order to reduce the appearance of wrinkles and cellulite. Kuö Spa is designed after indigenous coffee plantations and local volcanoes, providing a unique experience while staying at the elegant 16th century colonial hacienda. www.kuospa.com
Zen Spa, San Juan, Puerto Rico
Sheraton Puerto Rico Hotel & Casino's Zen Spa boasts an earthly coffee-infused treatment for travelers called "The Executive Man." Designed to relieve stress from head to toe, the treatment includes a "Cappuccino Buff" that uses a ground coffee exfoliating scrub, an aromatherapy deep tissue massage, a deep-cleansing facial, the signature gentleman's manicure, a callus-reducing pedicure as well as a sauna and steam treatment. www.sheratonpuertoricohotelcasino.com
AWAY Spa, Vieques Island, Puerto Rico
W Retreat & Spa – Vieques Island's signature AWAY Spa features a variety of seasonal and freshly prepared treatments for guests to indulge in local culture while overlooking the Atlantic Ocean just eight miles off the coast of Puerto Rico. One noteworthy treatment is the new "Papaya Pineapple Scrub," a freshly prepared combination of papaya sourced directly from the island along with pineapple and finely crushed grape seed in order to improve elasticity for a naturally radiant glow. www.awayspavieques.com
Biras Spa, British Virgin Islands
Treatments at Biras Spa at Biras Creek Resort include organic warm algae wraps, scrubs using natural salt from Salt Island and rehydration treatments with freshly picked aloe from the gardens on property. In addition to treatments like these, Biras Spa uses Decleor products, which harvest and formulate their natural products and essential minerals by extracting them right from Mother Nature. www.biras.com
How is your skin care facility celebrating Earth Day? Share on Skin Inc.'s Facebook and Twitter!