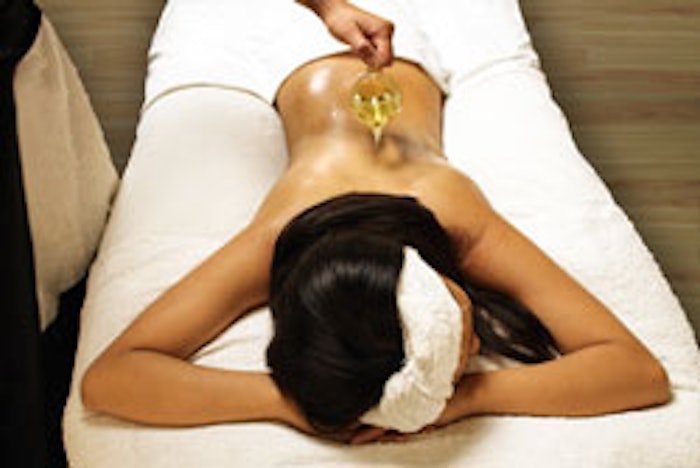 The Global Spa & Wellness Summit (GSWS) announced the winners of its 2013 Student Challenge, a unique competition where students from major academic institutions create spa and wellness concepts of the future. Contestants in this year's challenge were asked to create a concept that encompassed authentic Indian spa culture but could be rolled out globally. First-place honors were awarded to the Institute of Hotel Management, Aurangabad (IHM-A), for its "Arvees Spa Solutions" and the Spasthya brand, which in Hindi means "enlightened health and life." The winning design was created to reach underserved locales and help ordinary people integrate wellness socially by teaching health, hygiene and practical wellness like healthy cooking classes.
Tied for second place was the Indian School of Business, Hyderabad, for its "Saartha" concept (which means "groups traveling together"), targeted at the numerous group celebrations and weddings in India. The other second-place winner was The University of Delhi, New Delhi, for its "Sparsh" concept (meaning "touch" in Hindi) that addressed stressed-out urban workers in India.
"All of us in the industry have a great deal to learn from the students who compete in the annual Student Challenge," said Sallie Fraenkel, executive vice president of the GSWS. "IHM-A's concept stood out for creating a socially progressive spa concept that can be implemented in emerging nations."
The Student Challenge was sponsored by five leading businesses that support the future leaders of the spa and wellness industry: Chiva-Som; Four Seasons Hotels & Resorts; The Gharieni Group; Klafs; and Orient-Express Hotels, Ltd.
The judges panel was comprised of top executives from each sponsoring company and included: Sheila McCann, general manager, Chiva-Som; Simon Casson, regional vice president, general manager, Four Seasons Hotels & Resorts; Sammy Gharieni, founder, The Gharieni Group; Adrian Egger, managing director, Spa Division, Klafs Group; and Filip Boyen, vice president, chief operating officer, Orient-Express Hotels, Ltd.
For more information on the winning entries, visit www.globalspaandwellnesssummit.org/index.php/summit-2013/student-challenge-india.
About the Summit
The Global Spa & Wellness Summit (GSWS) is an international organization representing senior executives and leaders from over 40 countries, joined by a common interest to drive economic development and understanding of the spa and wellness industries. Delegates from diverse sectors, including hospitality, tourism, health and wellness, beauty, finance, medical, real estate, manufacturing and technology, attend the organization's annual Summit, which is held in a different host country each year. After just seven years, the GSWS is now considered the leading global research and educational resource for the $1.9 trillion spa and wellness industry. It is known for introducing major industry initiatives such as SpaEvidence.com, the world's first online portal to the medical evidence behind common spa and wellness therapies. For more information, visit www.gsws.org.