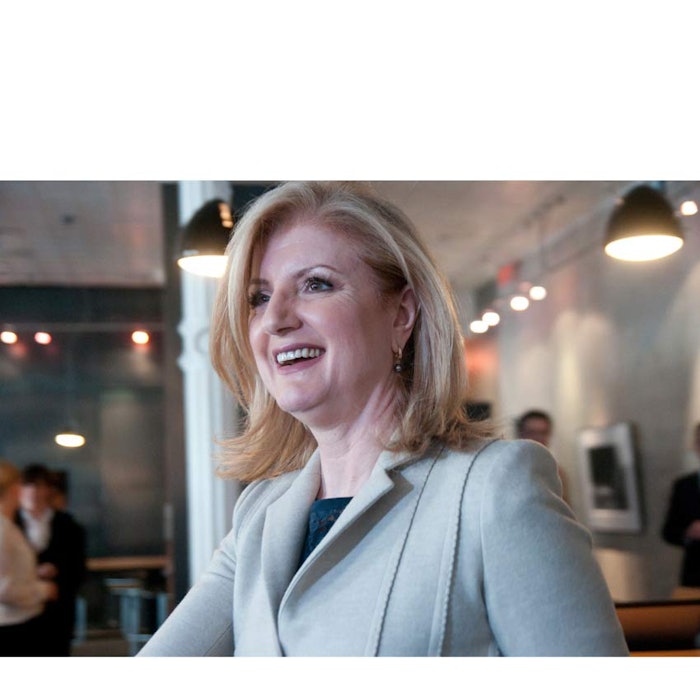 Burnout begone. That's one of the missions of Arianna Huffington's new company that focuses on wellness,
Thrive Global
, which closed its Series A funding round and is slated to launch after the November election. 
"Change is desperately needed if another generation is to avoid the burnout that all too often comes with success today."  — 

Arianna Huffington
Specifically, Thrive Global said its mission is to change the way we work and live by ending the collective delusion that burnout is a necessary price for success. 
"Since publishing 'Thrive' and then 'The Sleep Revolution', I've dreamt of taking the next big step to help transform the way we work and live," Arianna Huffington said in a recent announcement. "Change is desperately needed if another generation is to avoid the burnout that all too often comes with success today."  
Who's on Board
Lerer Hippeau Ventures led the Series A funding round (Kenny Lerer was the co-founder of The Huffington Post and Eric Hippeau was HuffPost's CEO at the time of its acquisition by AOL). Also, Fred Harman, who is joining Thrive Global's board, is HuffPost's largest investor. 
Other investors include: Blue Pool Capital, Greycroft Partners, Advancit Capital, Female Founders Fund, technology and health philanthropist Zoë Baird, Chairman of Berggruen Institute and Berggruen Holdings Nicolas Berggruen, Joanna Coles, Bridgewater founder and CEO Ray Dalio, Chief economic adviser to Allianz (Pimco's corporate parent) Mohamed El­Erian, Thrive Market Co­founders Nick Green and Gunnar Lovelace, Oak Investment Managing Partner Fred Harman, artist Isabella Huffington, NBA All-Star Andre Iguodala, and entrepreneur and philanthropist Sean Parker.
"The woman who changed the way we consume media is now changing the way we work and live," said Dana Settle, founding partner at Greycroft Partners, one of the lead investors in the round.  
Measuring Employee Retention, Well-being
Thrive Global will launch after the election in November, partnering with thought leaders including author and Wharton professor Adam Grant. It will use Wharton People Analytics to measure the impact of its services on employee retention, well-being and productivity as well as organizational culture.
Dr. Ali Rezai, neurosurgeon and Director of Neuromodulation at The Ohio State University, will provide recommendations for improving and enhancing brain health and optimizing brain performance. 
Partnerships 
Thrive Global will hold key partnerships with Altus (physical training), Bob Roth and the David Lynch Foundation (meditation coaching), Sense by Hello (sleep education) and Thrive Market (food and nutrition), USC Keck School of Medicine professor Dr. David Agus, Aetna CEO Mark Bertolini, Fred Harman and Lerer. 
Thrive Global President Abby Levy will be joining the board, which is chaired by Huffington, who will also be Thrive Global's CEO as she steps down as editor-in-chief of The Huffington Post.