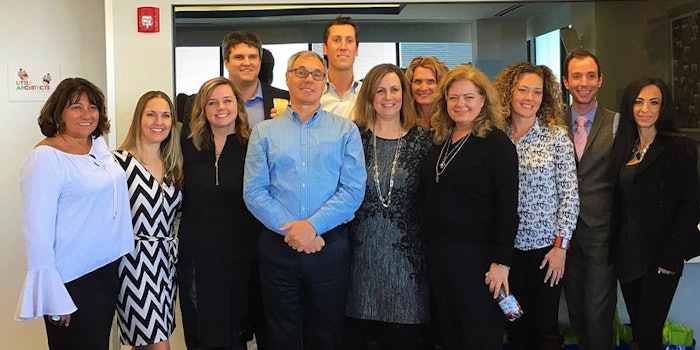 Jindilli body and face care hosted "Immersion Days" for their staff and industry experts on Mar. 2-3, 2016, at their corporate headquarters.
"The goal of the Immersion days was to literally immerse our team in all things Jindilli and spa," said Cherie Jackson, Jindilli's chief brand officer. "In addition to providing greater knowledge of where our products come from and the benefits they provide, we received priceless insights from experts who shared industry trends and data, as well as an 'in the trenches' perspective of spa operations."
Katie Anderson, managing editor of of Skin Inc. magazine, gave a presentation on spa industry trends via Skype. Nancy Griffin with Contento Marketing, Jindilli's PR rep, shared the latest research from the International Spa Association.
Griffin then moderated a discussion with William Wesley Myers, director of spa at the luxurious Chuan Spa at The Langham, Chicago, and Cassandra Stratton, corporate massage director at Mario Tricoci Hair Salons & Day Spas. These spa veterans offered strategies to strenghen the bond between spas and suppliers. "I felt it was essential for our team to understand the day to day challenges of our customers so they can be a valuable resource partner" said Jackson.
Both Myers and Stratton stressed the importance of doing your homework before requesting a meeting with a spa director. Myers and Stratton said that even if they love a product, it might not make it through the rigorous selection process. Be able to clearly communicate benefits and results—this information will need to be passed down the line. Myers expectation is for vendors to sample full-size product to all staff during trainings, while offering generous employee buying programs. Stratton does not expect full-size products for the more than 100 therapists in all 12 of Mario Tricoci's Day Spas, but mirrored Myers' opinion that staff must use the product to convey excitement about it to the guest.
After a healthy lunch, Lynille Steffenhagen, Jindilli's director of training and product development, educated the group on the clinical benefits of the product line and the extensive on-site and online spa training program for luxury spas worldwide.
Day two featured yoga, treatments, a team-building exercise, and informal breakout discussions. By the fireplace at the home of Jindilli's CEO, Jim Richards, he recounted his vision for the company's future, of which sustainability and wellness are at the core. He also shared the recent purchase of a macadamia nut farm in Australia, where Jindilli is replanting thousands of trees. "It was a pleasure to host our marketing and PR consultants, sales reps and industry experts in Chicago. We are so impressed with the depth and talent engaged with our growing company," said Richards. "This full immersion experience will help grow Jindilli's treatment and retail presence in the spa market, and ensure that we become an even stronger partner."