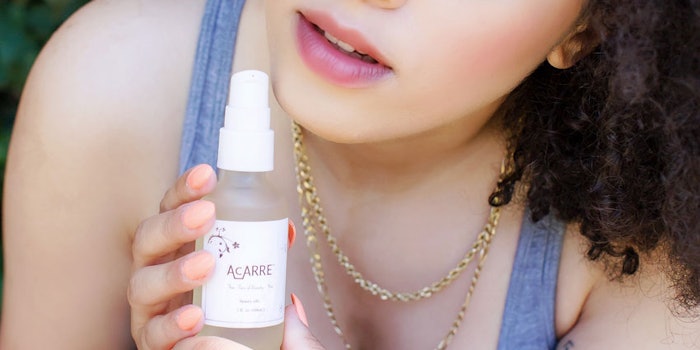 AcARRE, a natural and prestige brand of multi-use beauty products, is hosting a Multicultural mix and mingle event on March 23, 2019 at Class & Co in Brooklyn, New York to debut its first exclusive pop-up shop and interactive spa experience.
The event is being hosted by Tatum Crenshaw of All Things Boss, and it will start at 4 pm. The first two hours will be open to editors, bloggers and influencers to experience AcARRE and see how their multi-use dry oil can be used. After 6 pm the event will then open to consumers for two more hours before closing. 
Special guests and beauty experts and brands Rudy Miles, founder beatybyrudy, LAMIK Beauty, beauty brand designed for women of color, and D.I.D. Nail Paint will be attending the event as well. These brands and experts will be providing exclusive skin care services and consultions at their AcARRE Beauty's custom wellness stations. There will also be an esthetician attending the event to demo the Multi-Use Dry Oil and how it can be used at each different station and on different people. AcARRE wants guests to be able to celebrate natural beauty and wellness while mingling with industry professionals. 
AcARRE aims to celebrate natural beauty and wellness at the event through highlighting their multi-use dry beauty oil. This oil draws inspiration from African and Pacific Island origins using plant biodiversity to help nourish the skin.