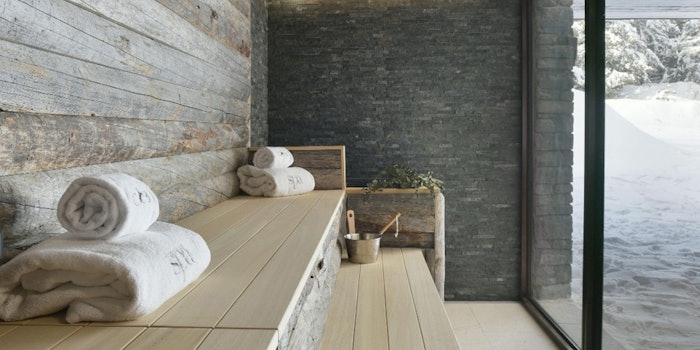 As we all dream of traveling again, you can add these six spas located in France to your list of must-visit places. Spas all around France, from the French Alps to the Mediterranean Sea to Provence are on the list that Travel Awaits has curated. 
1. Hotel Chais Monnet And Spa
This spa is located inside the five-star Hotel Chais Monnet and Spa in Cognac.
The spa offers treatments and massages from Codage and KOS Paris, two quality skin care brands.
Treatments range from draining and slimming services to an exfoliating treatment using sugar from Mauritius Island to a travel detox massage focusing on the back, neck, and scalp. The spa even offers custom-designed serums and tailored massages and facials. 
The complex is equipped with a half indoor, half outdoor pool, sauna, Jacuzzi, steam room and fitness center. 
2. Cheval Blanc Courchevel
Located in the French Alps, Cheval Blanc's Guerlain Beauty Experts offer programs of pure pampering. Guests can partake in body sculpting treatments as well as facial treatments and deep massages. 
A classic Guerlain treatment, The Black Imperial Facial Treatment, combines two technologies, Black Immune and Jet Peel, to provide a high-precision anti-aging treatment. 
The spa is equipped with five treatment rooms with one exclusive treatment room for two: the Orchidée Salon as well as a sauna, hammam, swimming pool, whirlpool and outdoor Russian banya.
3.Auberge Du Jeu De Paume
The spa, located in Chantilly, sits on a multi-acre property and offers five treatment rooms including one double treatment room, a Turkish bath, sauna and relaxation pool.
The Signature Treatment of the Auberge du Jeu de Paume offers a sweet and unique journey through different flavors which includes an exfoliating treatment followed by a relaxing massage and finished with a whipped creamy body mask.
It also offers spa packages such as the Relax & Gourmet Day Spa offer which includes a 30-minute massage, access to the wellness area, a gourmet break served at the bar or on its sunny patio.
4. Sofitel Biarritz Le Miramar Thalassa Sea And Spa
The resort is located in southwest France on the Atlantic Ocean and offers phenomenal views and services. 
The spa divided all treatments into six categories that focus on certain wellness objectives such as: energy, serenity, detox, recovery, radiance or a build your own option.
These programs can last anywhere from a single day up to six days of services. For example, the Grand Journey Break includes includes a four treatments a day: polishing facial, cotton bubble treatment and Kos seawater drainage treatment, for one to six days. 
5. Evian Resort
Evian Resort includes a luxury spa, located on the south shore of Lake Geneva, with 1,200 square-meters devoted to body and mind.

Programs have been created using products by Biologique Recherche and high-quality facilities including treatment rooms, relaxation rooms, pools, hydro-circuit and more.
The Evian Resort offers care for Mom and Baby, Detox and Vitality, Duos, Kids, Teens and hair care. All are adapted to your needs and realized by professionals.
For the spa's Detox and Re-energize programs, it can last two to four days and include various treatments such as detox, drainage, purifying and revitalizing treatments, a range of world-inspired body scrubs using Himalayan salts, salts and mud from the Dead Sea, and physical activity with a private coach.
6. Baumaniere Hotel And Spa
This spa is an intimate place of 500 square-meters, in a wooden and airy design located in Provence, South of France. 
The spa offers treatments that are traditional to the region, with services that highlight the benefits of olive oil. This includes the olive scrub: an exfoliating cream containing apricot kernel, olive and bamboo powder to rid skin of impurities, to clear and mate and even a facial care based on the benefits of the olive tree.
Other services include Sisley's Phyto-Aromatic Treatments known for its use of essential oils and plant extracts, as well as massages, men's services and tailor-made programs.