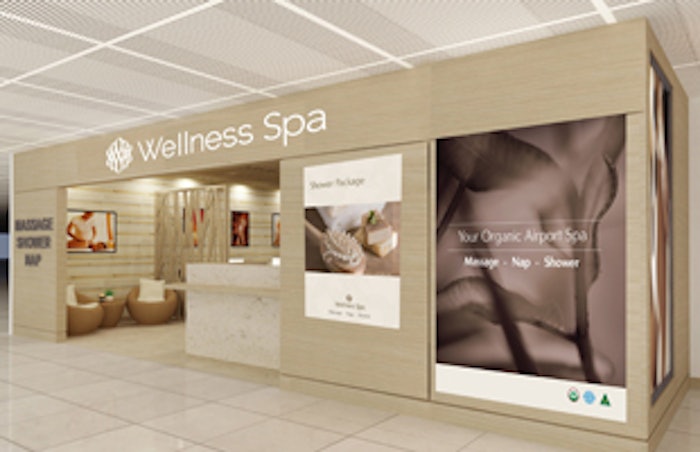 Wellness Spa, the only organic airport spa concept, has landed in Singapore Changi Airport, Terminal 2 Departure Transit Lounge. Travelers flying into, departing from or transiting through Singapore Changi Airport can now indulge in a menu of organic spa massage treatments specifically tailored to address travel woes and ailments.
Wellness Spa provides a welcoming haven in the airport, inviting travelers to unwind, relax and escape from the airport hustle and bustle. Signature treatments include an Organic Foot Spa Treatment that involves a soothing foot soak and massage complemented with organic cuticle oil and cream. A Shower and Refresh Package comprises a gentle neck and shoulder massage and power shower with access to the Wellness Spa's full amenities and relaxation area. Other treatments include Oxygen Therapy by Oxyvital, Chinese Body Massage and Aromatherapy Massage.
Founder and CEO of Plaza Premium Lounge Management Limited, Song Hoi-See says, "We designed the organic airport spa concept to create a relaxing oasis at the airport, it's very well received in Hong Kong International Airport since 2011 and has greatly changed the way travelers perceive their airport experience thus increasing the time spent at the airport. Together with our Meet and Greet service in Singapore Changi Airport, we hope to see the same change in perception here, travel ling should be pleasure, not pressure."
The Wellness Spa is open daily from 6 AM to 1 AM to coincide with the flight schedules at Singapore Changi Airport. With a range of treatments of varying lengths available, this inviting sanctuary offers something for everyone. Passengers in transit or with delayed flights, for example, can indulge in comprehensive treatments while on-the-go executives can drop by for a quick pre-flight pedicure or much-needed neck massage.
Wellness Spa is managed by Plaza Premium Lounge Management Limited, the world's largest network of pay-in airport lounges.