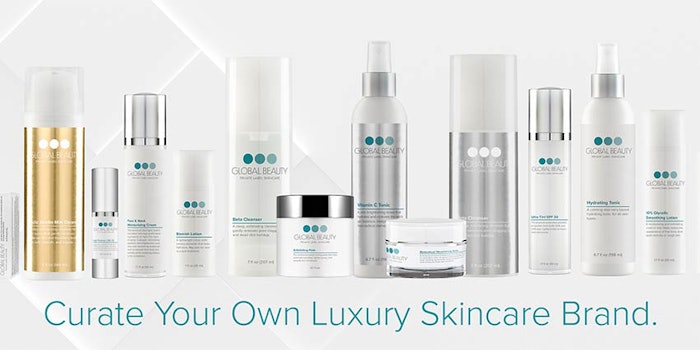 Global Beauty Private Label Skincare has announced a 2020 rebrand introducing upgraded packaging, deluxe labels and new products available for private label.
The brand launched upgraded packaging with two distinctive collections: the Pure White Collection features a fresh, clean look and lends itself extremely well to a simpler esthetic providing a great canvas for colorful label graphics; and the Platinum Collection, a real standout, offers silver accents for a prestige presentation.
Additionally, deluxe labels are also available with the rebrand. A brand is not complete without a tangible look it can market, and superior label technology coupled with the elegant packaging will help private label products pop on the shelf or online. Gold and silver metallics yield a similar look to foil but at a fraction of the cost.
With the rebrand also comes Global Beauty's newest innovations, launching throughout 2020. These new product launches focus on delivering therapeutic results. The minimum order quantity is 18 units per SKU.
With over a decade of testing and development, founder and CEO Ellen Clark has developed a portfolio of premium, cruelty-free formulas designed to support a variety of skin conditions. Global Beauty has been proven to be the low cost and high ROI solution to private label skincare.
"There isn't a better time to introduce luxury private label skin care into your business," Clark said. "We thrive on helping spas and medical offices differentiate their retail offerings."