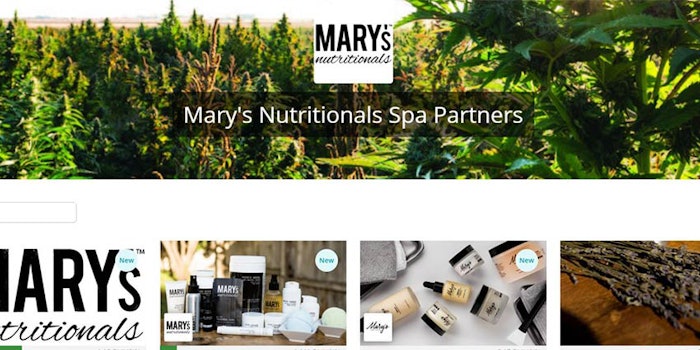 Mary's Brands has launched an online employee training platform to increase brand and product competencies and improve retail sales.
Spa and retail staff at Mary's properties now have full access to visually-appealing, bite-sized education, and can monitor progress on their computer, tablet or phone.
To effectively manage the training process, spa directors can log on to see who has taken the different courses. At the end of the training sessions, participants receive a coupon code for a full-size product of their choice.
The training modules include brand overview, company philosophy, product knowledge and treatment protocols using the full-spectrum hemp extract with naturally occurring CBD-infused products. Since 2015, Mary's has been creating innovative CBD-infused products.
Spas and resorts nationwide select Mary's as the brand of choice in hemp-derived CBD, including some of the world's largest spa operators.
Upholding Mary's industry-leading accountability, all products are in-house and third-party laboratory tested to ensure purity, potency and consistency. Products are all-natural and vegan, as well as free of gluten, parabens and harmful chemicals.
"There is a lot of confusion around CBD, so proper training is especially important," Phillip J. Zamudio, Mary's Brands global vice president of sales, said. "We are excited to be able to instantly deliver product training to our spa and retail network's frontline staff to improve sell-through and the guest experience. Providing online education also reduces our carbon footprint."
"Mary's Nutritionals is a great partner," said Carly Immen, corporate spa director of Milagro Spa & Salon. "The company's online training has been a huge help in getting the whole team—from estheticians, to massage therapists and nail professionals—trained up and ready to roll with the entire Mary's line!"
"At The Pearl we believe in having partnerships that support each other's core purpose," said Lindsay Houghton, Social Media Director at The Pearl Modern Spa and Boutique. "Together we can help our clients and staff reach their full potential and have a better quality of life through self-care and daily wellness. Mary's new educational platform has combined convenience and fun with educational videos + quizzes, along with the ability to earn free products for participating. One of our core values is education. However, we have a large staff and often it's tough to get everyone together for in house trainings, so this just works for us. And it makes sense—the more our staff uses a product -the more they'll recommend it to our clients. It's really as simple as that!"