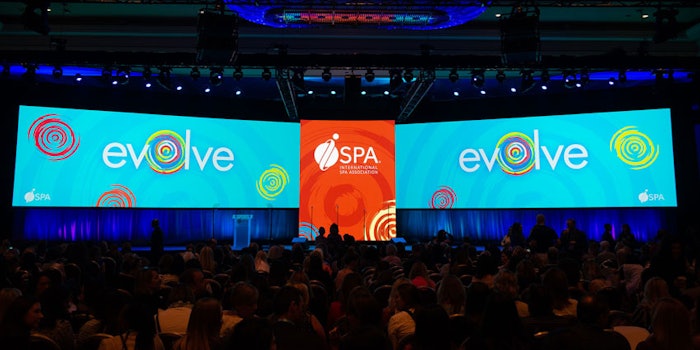 ISPA wrapped up their 29th annual Conference and Expo on Friday September 13, 2019. While the more superstitious may find that ending an event on Friday the 13th could be unlucky, attendees left the event feeling lucky for all of their blessings, including to have experienced the education, networking and fun at this year's event. 
This year's "evolve" theme really stuck out to us at Skin Inc., as we are constantly working to evolve ourselves and our content to better help guide and motivate the spa professional. With the new year right around the corner, the idea of evolving, growing and thriving is a theme that many can relate to both professionally and personally. "This year's ISPA Conference & Expo challenged our attendees to evolve in all aspects of their professional and personal lives and we look forward to seeing the innovations that are created from this year's event," stated Lynne McNees, ISPA president. 
Skin Inc. decided to provide a quick run down on what really stuck out to us at this year's conference, and what motivated us during our stay. 
An Experience Worth Having
To no surprise, the experience center at ISPA was just as amazing as ever. Different brands transformed the rooms in the Venetian Hotel to help us dive right into a spa experience and escape some of the craziness that tends to happen at trade shows. Getting a facial in between running around the expo floor and checking out different education classes would stand out regardless, but the treatment we received this year seemed to be especially satisfying.
Babor Collagen Infusion Facial. This was the very first treatment to kick off ISPA, and quite honestly, it was exacting what the esthetician ordered. I was introduced to certain Babor techniques like alternating hot and cold towels that I had not experienced before in the treatment room. It was incredibly relaxing while also stimulating the circulation in my skin to provide a rosy glow that lasted the rest of the day. Needless to say, I started my day off with some much needed, post-travel relaxation. 
Signature Hydropeptide Experience. While at the show, I was able to experience a signature Hydropeptide facial, which my esthetician customized to my skin. After doing an intake and asking me questions about my skin, she skillfully choose a protocol that deeply hydrated my skin while brightening my tone. I even got to experience the company's new launch, its Restore collection, which seemed like it was formulated just for me (just like the facial)!
Endopheres Body Contouring. New to the U.S. market is Endopheres, an Italian technology designed to promote circulation and help shape the contours of the body using a wand containing rotating spheres. As I prepared to receive this treatment on my abs and legs, I was a little apprehensive, not knowing what sensation I would experience. What I experienced was a rhythmic kneading of my skin, which was soothing, and I left with my body energized to tackle the day.
Sothys Detox Energie Facial. Brand new to the market, the Detox Energie Facial was designed to energize skin and help it defend itself against daily agressors such as pollution. I had the pleasure of experiencing the facial at the hands of one of the company's practitioners, Solenne. The facial combines the antixidant powers of elderberry with the energizing powers of Siberian ginseng peptides. After the facial with Solenne, my skin was noticeable brighter, more even and hydrated for days after.
Universal Companies Ashiatsu Massage. I had never experienced ashiatsu before, but was pleasantly surpised by how wonderful it felt. The massage was done by Christy from DeepFeet Bar Therapy, whose voice was just as soothing as her skilled touch. She asked if I had any trouble areas before climbing up onto the table and beginning the massage. I couldn't tell at any point that she was using her feel, and I left the table in a state of massage euphoria.
Comfort Zone Sublime Skin Facial. They aren't kidding when they say sublime. I almost fell asleep during this facial with the Comfort Zone experience center staying so quiet and serene. My favorite part of this facial was I got to customize the intensity of the exfoliation used in the treatment so that it was perfect for my skin. My neck and shoulders really got worked out during this facial as well, which was incredibly needed after some busy days and stressful traveling. 
Lemi 50-minute Relax and Restore Massage. I mean can you blame us for ending the day with a massage treatment. I didn't know a person could have as many knots in their back as I had, and more importantly, I never knew what a necessity an amazing massage was at the end of a trade show. She worked my hands, my arms, my feet, my neck, my back and my shoulders into pure perfection. I felt like melted butter hopping off that table, and it was incredible. 
And the Innovate Award Goes To...
Another amazing and inspiring part of ISPA is to see the different awards that are distributed throughout the conference. While we already told you all about the Innovate Award Winners, so many other inspirational people also received awards at this year's event. 
Bryan Williams. Starting the awards off strong this year, ISPA awarded Bryan Williams, D.M., long time speaker for ISPA, the Dedicated Contributor Award. Williams spoke of how important it is to mentor and encourage those around you. He referenced his youth mentor and likened the journey to that of gardening, one that requires work but is fruitful with dedication.
Jeremy McCarthy.As someone who has vision when there was little around him, Jeremy McCathy was the perfect choice for the ISPA Visionary Award. Director of Spa & Wellness for Mandarin Oriental Hotel Group, Jeremy McCarthy shared some amazing experiences he had encountered through his career. Most specifically, he shared how he was told there was no market in the spa industry when he first wanted to venture into it, and how we continue to prove that thought wrong every day.
Quincy Reynolds. This year ISPA announced Quincy Reynolds, senior at the University of Houston, as the winner of the ISPA Foundation Mary Tabacchi Scholarship. Reynolds had this to say about winning the award, "As I conclude my hospitality education, I know that I am following greatness in the spa industry. I am proud to uphold the legacy of service and advancement that Dr. Tabacchi began as we all lead this industry into the future."
Noel Asmar Group. Finally, the awards concluded this year with the Noel Asmar Group winning the 2019 ISPA Innovate of the Year Award. This group's creative process of making athleisure uniforms that use recycled fabric made from repurposed plastic bottles made it a shoe in for this year's award. 
Mick Ebeling. While he went on to give a tear-jerking keynote presentation, we were first introduced to Mick Ebeling, founder Not Impossible, by Deborah Szekely. She presented Ebeling with the 2019 ISPA Alex Szekely Humanitarian Award, and believe us when we say it was incredibly well deserved. 
Inspiring Presentations
There is so much to be inspired by while attending ISPA from new launches to emerging trends to amazing classes. However, one inspirational speaker we will not be forgetting is the final keynote speaker of the conference. Ebeling started the conference on a note that is still resonating with us at Skin Inc. today. 
During this keynote presentation, we were all taken on a journey that had us laughing and crying in an hour and a half span. We learned about Ebeling's mission of teaching the world that nothing is impossible, and how he is doing this by creating amazing initiatives. While we were asked to not discuss the specific technologies created, Ebeling's work has helped individuals overcome obstacles and live a life that they never thought possible. His work was selfless, and he continued to seek answers when confronted with problems.
He ended the conference with this quote that has continued to resonate with us well after ISPA had ended, so now we want to ask you the same question he asked us. "If you are here, staying in this nice hotel, you are blessed. Are you going to keep those blessings to yourself? Or share them with others?"