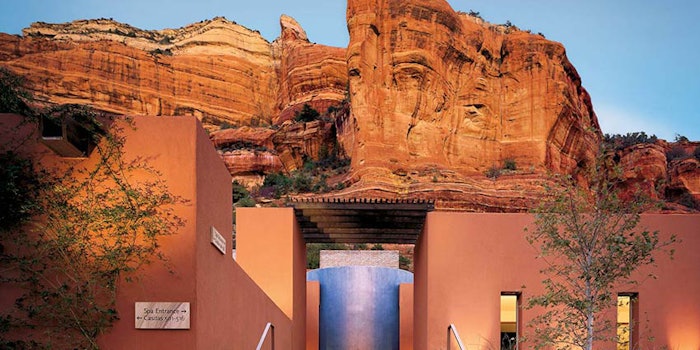 Why just hike through a canyon when you could bathe in it? Mii Amo Spa, located in Arizona's Boynton Canyon in Sedona, is giving guests the opportunity to do just that, giving guests a chance to truly immerse in their surroundings.
Inspired by the Japanese practice of forest bathing—spending time under the canopy of a forest—canyon bathing "encourages guests to seek in and find a personal connection with the famous canyon" that Mii Amo is situated in, reports Lonely Planet.
The one-hour treatment includes a quiet walk along the canyon bathing path, with views of surrounding meadows and canyons, and, according to the spa, also draws inspiration from traditions of the local Native American nations.
Canyon Bathing is well suited to Mii Amo's menu of services, which includes multi-day bespoke itineraries called "Journeys." Over the course of three, four or seven nights, guests participate in or enjoy fitness classes, workshops, spa treatments and dining according to a pre-arranged schedule. They can also visit the spa's Crystal Grotto for morning meditation.
"Mii Amo and Boynton Canyon offer many opportunities to connect and often to reconnect with ourselves, each other and the world around us," general manager Jim Root told the publication. "Canyon bathing is a timeless path to receive and appreciate all that is here for you on your journey."
"Mii amo is committed to the individual journey of each guest that offers genuine opportunities to disconnect from the static of life and meaningfully reconnect with self and the world around them," he continued. "Through mindful programming and individual attention, guests 'seek in' and we hope they leave with a renewed sense of hope, joy and possibilities."