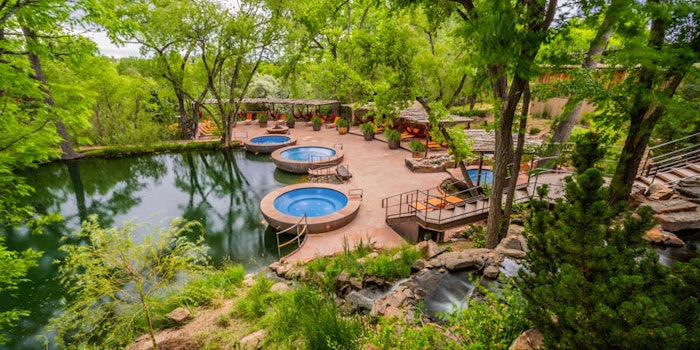 Santa Fe, New Mexico's Sunrise Springs Spa Resort is inviting guests to strike a (re)pose: the resort has kicked off the summer with the launch of Repose Pools.
The gently heated, artesian spring-fed pools are situated among the cottonwood trees, springs and greenery of the property.
"There are many medical and scientific articles that engage the benefits of heat and cold exposure, many of which emanate out of Europe and Russia, where there is a long tradition of physicians prescribing the spa experience for its health and healing effects," said Sally Fisher, MD, medical director of Sunrise Springs Spa Resort.
She continued: "Multiple aspects of the Repose Pool experience interactively enrich wellness: the heat of the waters and the sauna, the cold of the cold plunge, the exposure to the nature that envelops the pools and the deep state of relaxation that is engendered."
Access to the Repose Pools is complimentary for overnight guests; day guests may access them for $30-$45.