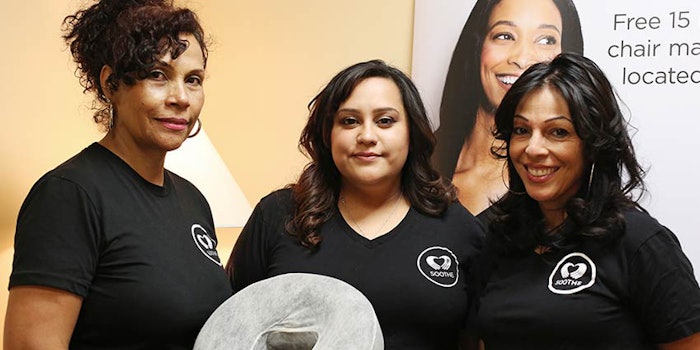 Soothe and City of Hope are celebrating one year of the Soothe Elizabeth Danu Cancer Initiative.
Taking place at City of Hope's Duarte main campus, the program provides licensed therapists certified in oncology massage, offering chair massages to cancer patients, families and caregivers, as well as staff and clinicians.
The therapists massage people in different areas of the hospital for eight hours; each therapist performs four chair massages per hour (or 32 people per day). The program—which was named after Elizabeth Danu, a former Soothe recruiter and breast cancer survivor who passed away from pancreatic cancer in 2019—has proven so successful the company is expanding it to twice weekly.
Related: Soothe Moves—Massage Service Expands Offerings
"It was so wonderful to hear very positive feedback from participants in the Soothe Elizabeth Danu Cancer Initiative at this special event, and we are very glad to hear that this program is making a positive impact on the lives of cancer patients, families, hospital staff and even our Soothe therapists," said Jeff Bishop, VP of Operations at Soothe. "Bringing the power of healing via massage therapy has been emotionally and physically rewarding for all parties."
"Many times I see cancer patients who are dizzy, lightheaded, worried, fearful or exhausted from their treatment, and our massage helps them relax and feel some tangible relief," added Soothe massage therapist Denise Gonzales. "The initiative has taken off because patients and caregivers really trust us, and we are always welcomed by the hospital staff, who exhibit tight necks and shoulders."