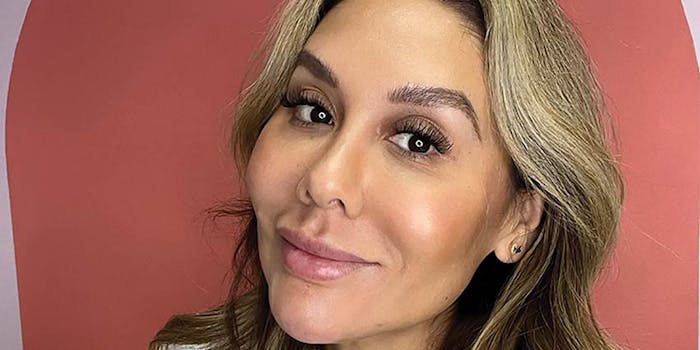 If you're looking for someone in the industry who encompasses all things beauty... we've found your girl! Shannique Austin, founder and CEO of Glam Spa By Shannique, started her career as a hairstylist and is now a licensed esthetician and lash technician. After working in multiple salons, Austin knew she wanted to do more in her industry, so she decided to expand into waxing, eyelashes, microdermbrasion and more. Austin's goal is to "help bring out the inner beauty in her clients" and she quickly accomplished this by opening Glam Spa by Shannique. Although she keeps her knowledge fresh to keep up with techniques and industry standards, like many spa owners, COVID threw her business a few curve-balls. After adapting to new sanitation procedures and the momentary loss of physical touch in her treatments, Austin now has practices in place to help her spa run seamlessly. This includes going out of her way to contact clients to ensure they are in good health before every appointment, and providing a safe environment by doubling their cleaning processes. Now the "beauty guru" wants to focus on expanding her team with passionate individuals who are trained in treating all skin types. She also wants to make sure her staff knows their worth and is compensated accordingly, a problem she has faced in previous salons. Austin sat down with Skin Inc. to share her experience of owning a "beauty spa," educating estheticians in treating a diverse clientele and what she predicts will be popular in the lash industry moving forward.
Skin Inc. (SI): How did you get started in the industry?
Shannique Austin (SA): I actually got started in the beauty industry right from college as a hairstylist. I went to cosmetology school in Los Angeles, got a job at a great salon in Santa Monica and ended up as a hair stylist at Sebastian International doing hair and styling for runways.
SI: What were some of your first jobs out of school?
SA:I was an apprentice at a salon in Santa Monica, and that was my first jump into the pool of beauty! I also worked at a salon in Malibu where I cut and styled hair for movie stars such as Adam Levine.
SI: What opportunity taught you the most?
SA: I learned the most from working at Sebastian International. I had a great mentor named Diana, who taught me to be strong, tough, confident and not be put down. She was a strong woman who made me confident in myself; I will always be indebted to her!
SI: Who are some of your biggest mentors?
SA: Diana will always be my biggest mentor! She taught me so much, pushed me hard and made me the strong business woman I am today!
SI: How did you decide to get into lash artistry?
SA: I have always pushed myself to learn more. Hair was fun for me to be creative, but it was a lot of work standing on your feet with repetitive motions, and I wanted to do more. So from there, I learned how to be an esthetician, starting with waxing and moving to eyelashes, microdermabrasion and many other services followed. I love learning new things, and I'm always reading and taking classes to help grow my expertise. My goal is to help bring out the inner beauty in my clients!
SI: What made you want to start Glam Spa by Shannique?
SA: I had worked at one salon after another as an esthetician, and each place had this or that issue. It was a crazy time! This was all just around 2008 when the economy was dying! I noticed my services weren't stopping, but there were some changes happening at the places I was working out of, and I decided to just take it on all by myself. I rented a room at the Regency. It was just one of those collections of rooms for beauty industry people to rent out for their services. I created the name, the business, and as things kept growing, I decided to find a more permanent place to make my own. Once I got a place with my friend/co-worker Dixie, we even cleaned it out and painted the place ourselves!
SI: What does a typical day at work look like for you?
SA: Well, things are a lot more strict due to COVID. I'll always text my clients to make sure they are still healthy for the day, I get to work early to clean up regardless of how much we cleaned the night before just to make sure that our clients feel safe in a sterile environment. I'm pretty much slammed each day with back-to-back eyelash extensions and facials; these are my specialties! In between lunch and getting back to our phone calls, I'm usually also editing videos for social media! By then it's the end of the day, so it's time to clean and disinfect the salon before heading home to my family for dinner.
SI: What do you think is the biggest hurdle for spa/lash practitioners today?
SA: Right now it's the COVID restrictions and procedures. Other than that, it is definitely finding the right place to work if you are dedicated. I have definitely heard of places where lash artists are paid very poorly. Because of this, I'm sure they are not as passionate in the work they do. I have had people work for us that have told us how hard some of these places can be, how much they get percentage-wise, and my only advice is to get started and find a place where you can be treated for what you are worth!
SI: How do you keep your knowledge of the industry fresh?
SA: As I mentioned earlier, I love to learn new services. Partly because I want to stay creative, but it's also the old saying, "When the learning stops, the fun stops." I want to have new machines to use and new services to take advantage of! I'm a vegan and definitely love anything that helps provide an experience for people that is good for the environment whenever possible. In the end. it's whatever I can do to help bring out people's beauty!
SI: What sets Glam Spa by Shannique apart from other spas?
SA: We are super proud that we serve a diverse clientele! It's great to have anyone come in our doors no matter who they are and make sure they feel at home. We want them to come back after their first experience because they feel comfortable, and we have knowledge of every skin type!
SI: What advice would you give to those wanting to get into lash artistry?
SA: Learn all you can to be able to serve any client that comes in. Each person is unique, and we all need to help make everyone feel welcome no matter their eye shape and lifestyle! Take the time to find different types of glue and products! Test all post and after care on models because some clients can be allergic to certain glues, tapes, shampoos and even lashes! The worst thing you can do is put lashes on someone and after they spend money to feel glamorous they then have to take all their lashes off due to swollen eyes and discomfort!
SI: Where do you see the future of the spa/lash industry going?
SA: We as a spa keep trying new things! We personally at the spa are open to creating a lash company, a makeup line and even a skin care line! Where we see the lash industry going is more natural… maybe to the point that no one will ever know that they are fake!
SI: What does Glam Spa have planned for the rest of the year?
SA: Right now, I'm looking to expand my artists. I would love to have more passionate people working for Glam Spa by Shannique, and earning what they are worth!
SI: What do you like to do in your free time?
SA: I spend time with my family, and my dogs! I love taking the dogs on walks, kayaking in the ocean with my boys and going to concerts with my family! We are going to see Tame Impala as a family in November at the Hollywood Bowl, after a year of being in lock down this has been an exciting event to look forward to!