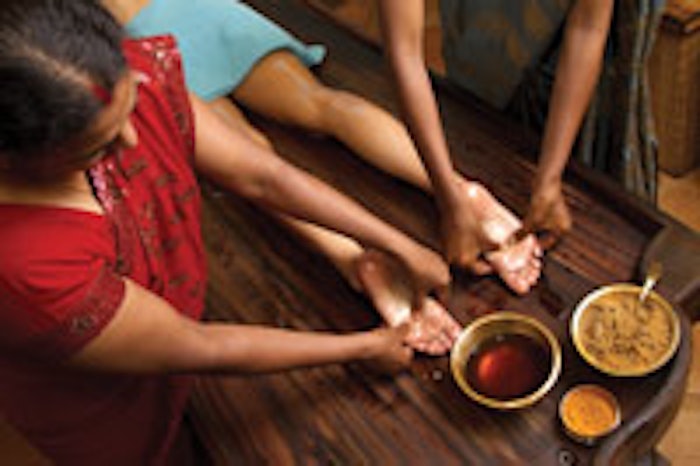 The wellness industry is thriving in India, and right alongside of it is the country's quickly growing spa and skin care industry. "Health and wellness, which until recently was a relatively niche concept targeting a select few, has now gained a mainstream audience," according to the Winds of Change wellness report created by PricewaterhouseCoopers (PwC) and the Federation of Indian Chambers of Commerce and Industry (FICCI).1 The report states that the wellness market in India reached roughly $9.5 billion in 2011, which is an impressive 20% increase over 2010.
The general movement toward wellness has opened many new doors for the skin care and spa industry. Based on the country's ancient, long-standing traditions of yoga, meditation, ayurveda, and other spiritual and healing practices, spas in India are the perfect setting to provide wellness to clients.2 "Spas are already providing wellness, even if they don't recognize it or claim it. The tradition of the spa industry as a place for healing, renewal, relaxation and 'feeling well' positions the spa industry as one of the most logical sectors to take advantage of (and help lead) the wellness movement," according to the Spas and the Global Wellness Market: Synergies and Opportunities report from the May 2010 Global Spa Summit.3
Although destination, and hotel or resort spas are hot spots in regard to tourism, combined they only make up 50% of the rejuvenation and spa market in India. Day spas account for the other half, and are growing more rapidly to compete with the latter by expanding spa franchises to reach a larger consumer base. The majority of large day spa chains in the region have an average of 15–25 locations, and a number of them have further expansion in the works.1
What is fueling the area's spa growth?
According to Jasmin Arethna, director of Pevonia India, "People are becoming more aware—and the growing population, rising income levels and lifestyle concerns have majorly influenced growth in this space." Consumers in India, who Arethna says are mainly members of the growing middle class, are increasingly seeking out wellness practices and products to meet their needs, and the spa industry is the perfect outlet.1
Prevention as health care. India's population of individuals 40-and-older reached 340 million in 2011, which was 29% of the country's total population and equaled more than the entire population of the United States that year.1 As an individual's age increases, so does the number of health issues they are at risk to develop. Preventive care has gained awareness among India's consumers, due to greater coverage in the media and the increasing cost of medical care.1
The Spa & Wellness Association of India's definition of spa covers many platforms, including health: "A business for the promotion of health care and wellness. Its main services consist of massage and water applications, but may include steam, sauna, exercise, nutritional therapy and dietary programs, yoga, meditation, herbal medicine, along with traditional and complementary medicine."
As in the United States, the spa is no longer seen as only a luxurious indulgence, and consumers are beginning to learn the concrete health benefits associated with the spa, explains Anurag Kedia, director of The Four Fountains De-stress Spa group in India.1
Gender confines have diminished. The United States and Europe have seen more and more men increasingly placing focus on their appearance, as is evidenced in frequent spa visits, cosmetic procedures and at-home skin care regimens—and men in India have followed suit. Dhiren Chawla, founder of Health Trust International, explains that, specifically in the metro areas, men have become more interested in receiving treatments and are dominating the market. "That [gender] shift culturally has changed, it's become more mainstream," he says.
The men's grooming market in India is thriving and has been growing at an incredible rate of 30–40%, most likely due to the growing level of consciousness of the Indian male's image. Sixty-to-70% of the branded salon market in India is unisex, and skin care brands with a history of focusing on female consumers have presented product lines specifically for men.1
Media and celebrity influence. Consumers in India have a strong interest in celebrities, and the media details their wellness habits, including their nutrition, fitness and overall health. Social media has made information about celebrities and their wellness lifestyle details even more easily accessible.1 Members of the wellness, skin care and spa industry are increasingly utilizing consumers' fascination with celebrities by featuring them as brand ambassadors. At the time of the PwC/FICCI report, 40–45% of television commercials launched in the previous six months for health and wellness products and services had celebrity appearances.1 Shilpa Shetty, a popular Bollywood film actress and model, even opened a spa chain with four locations in India called iosis. The franchises focus on skin care, body slimming, and spa and salon treatments.
Ancient meets modern
According to the PwC/FICCI report: "There exists strong consumer connections with traditional products and services … Consumers trust and believe in the goodness of natural and herbal products and ingredients." Although traditional products and services have continued to be alluring for the Indian consumer, offerings have begun including modern advancements.
Linda Harding-Bond, founder of Moontide Consulting and award-winning master esthetician, traveled to India to lead retail training for more than 80 skin care professionals at the Oberoi Hotel Group. Harding-Bond explained that Oberoi didn't just utilize Eastern or Western skin care; instead, it featured a combination of an ayurvedic product line and a European one. Spa menus also feature traditional and modern treatments.
Spa treatment focuses. "The spa and skin care industry has evolved over the recent years and has shown phenomenal growth. Spas in India are now offering extensive service menus with various therapies to indulge and pamper the client, making it possible for the leading skin care brands to enter the market," explains Arethna. (See Let India Inspire You for ideas on how to incorporate the popular treatments and services from India into your spa menu.)
Traditional Indian services still appeal to Indian clients and tourists alike, and are a major part of spa menus, including ayurveda, which was originally recorded 2,000–4,000 years ago, potentially making it the world's oldest health care system. Its practices strive to "create harmony between the body, mind and spirit; maintaining this balance prevents illness, treats acute conditions, and contributes to a long and healthy life," according to the Spas and the Global Wellness Market: Synergies and Opportunities report. Other practices include meditation and yoga, as well as homeopathic and naturopathic treatments.
Although controversial, skin-lightening treatments and products continue to remain popular, due to centuries of women in South Asia being raised to believe fairer complexions are more beautiful, and the maintenance of this belief by the media.4
The fitness and slimming market has grown at a strong rate of nearly 25–30%, and most leading fitness chains have doubled the number of locations.1 Spas are incorporating fitness and slimming treatments and services into their menus to address this robust market. According to Arethna, body polishes, exotic wraps and massages are among the most popular treatments in India spas.
Anti-aging skin care is the second-fastest growing category in the consumer goods sector.1 From 2010–2011, the number of nonsurgical cosmetic treatments has grown more than 100%.1
Strengths
Those in India who are currently in their late-20s and 30s are already inclined to invest in health and wellness solutions. As they age, they will continue to actively seek out ways to maintain their youth and well-being. With the number of people 40-and-over expected to reach 500 million by the year 2025, the anti-aging and rejuvenation market will continue to benefit greatly.1
The vast population growth, along with rising incomes, is a major strength of the industry, says Arethna. The number of working women in India has amazingly doubled in the past five years, and the average monthly income of the urban Indian woman has risen from $72 in 2001 to $152 in 2010.1 It is valuable to note that $1 in the United States is worth 61 Indian Rupees. More women are seeking ways to address the stress of having to balance their work and home lives, which has positively affected the wellness industry.
Arethna adds that with the increase in wellness tourism, India's cultural history and its brand advantage in wellness helps meets the needs and wants of Western travelers in search of wellness, spiritual and health retreats. India's Ministry of Tourism has invested in the development of major spiritual tourism destinations, as well as the development of wellness centers.2
Take Eat, Pray, Love (Penguin Group, 2006) by Elizabeth Gilbert, which was recently turned into a film starring Julia Roberts, for example. The book tells the story of a woman who, following a divorce, embarks upon a journey to find herself, including taking a trip to India to take part in a spiritual retreat. She stays at an ashram where she learns to practice meditation, yoga and prayer, while gaining the insight of a famous guru.
Weaknesses
Although India's history of cultural wellness has helped the spa and skin care industry thrive, there is a shortage of skilled professionals, explains Arethna. She adds that there is also a lack of quality accreditations for those interested in the entering the spa and skin care industry in India.
In an interview with India Hospitality Review, the president of the Spa Association of India, Rajesh Sharma, states his priority is gaining government support. "Legitimate businesses and trained personnel is the need of the hour—we are really short on skilled workers. Getting academies regulated and holding proper training sessions for the students and for the professionals as well, who have been in the trade for many years … they want to grow. Awareness is very important; awareness toward employees and awareness towards the consumer."5
Harding-Bond explains that lack of knowledge about treating skin of color is a weakness around the globe—India included. "Even though a lot of estheticians in India have brown skin, the foundation of their learning was not based upon their own skin." While training skin care professionals in India, Harding-Bond also noticed that culturally, they are more reserved. "That can be a limitation when it comes to engagement and selling," she says. "There's not as much of an exchange as when you're talking to estheticians in the West."
Arethna adds that cross-gender treatments, such as massage, are in demand by clients, but not permitted at many locations and regions due to cultural customs.
What the future holds.
National government authorities have been working on accreditation standards to improve the quality and professional aspects of the industry for wellness centers, which include ayurveda centers; spas and centers for skin care; cosmetic care; fitness; preventive health; and yoga.2
The wellness industry is expected to continue to grow at a compound annual growth rate of 19–20%, reaching approximately $15.2 billion by 2014. Specifically, the rejuvenation category, which was at $800 million in 2011, is expected to touch an astounding $1.8 billion by 2014.1
Only time will tell where the spa and skin care industry will land in India's rapidly growing wellness industry, but as long as it continues to evolve and innovate, tailoring services, treatments and products to the needs of their clients, it is likely to continue to blossom.
REFERENCES
(All accessed Sept. 24, 2013)