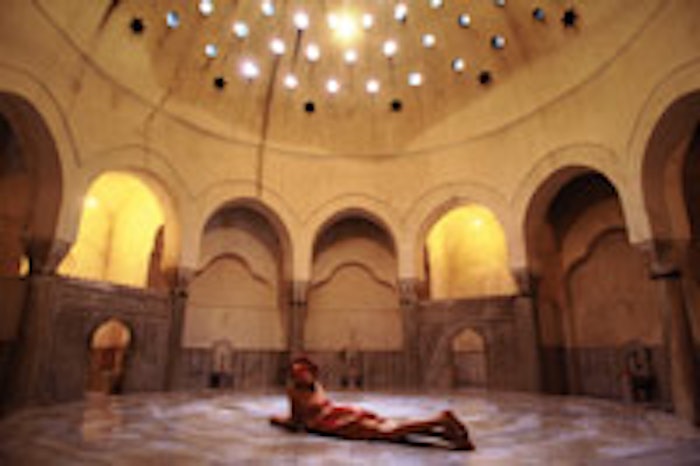 Hamams, or Turkish baths, are a hot trend in spa services today, and yet they are as old as yoga and have been part of a cleansing ritual in many lands for thousands of years.
The origin of the word hamam, which is specifically spelled with only one "m" when referring to a Turkish facility, comes from the Arabic word for "heat." With Turkey's unique position as a country occupying both Asia and Europe, this special tradition spread far and wide, to Eastern Europe, the Middle East and North Africa.
The hamam concept
Having the good fortune to meet with Zeki Karagulle, MD, and his wife Mena during a recent trip to Turkey, I had the best possible insiders' guide to the hamams of Istanbul. We met over a gastronomic array of traditional Turkish fare at lunch near the University of Istanbul, where both practice medicine. Here, I learned about the wellness benefits of hamams, and the history of Turkish baths.
For those who have never heard of or experienced a hamam, the concept was derived from the Roman bath. Muslims were quick to inherit the tradition to be clean in body and soul in the hamam. The major components of a traditional hamam are a hot room, known as a hararet, a warm, intermediate room and a cool room. The hararet is an essential element for every hamam construction, and houses a centrally located, flat, marble heated platform known as a göbek taşı, or belly stone. This is the crowning glory of the hamam, and people lie on it to sweat and detoxify; the belly stone defines the hamam experience. A humid atmosphere is created by the water that runs from the side wall fonts called kurna. These faucets also supply water for washing and rinsing. The hot air temperature helps relieve pain by encouraging physical and mental relaxation while the high humidity (80–100%) produces intense sweating, aids in detoxification and also has positive effects on the nose, throat and pulmonary airways.
Cemberlitas Hamam
I arranged an appointment at Cemberlitas (pronounced chem-behr-LEE-tahsh) Hamam. Upon my arrival, Turkish hospitality and tea were extended as the facility's manager and I talked about the great architect Sinan, the designer of Cemberlitas, known for his outstanding contribution to Ottoman architecture. Soon, I was escorted into the women's hamam to begin my treatment; I chose the Luxury Style Hamam Treatment, which cost $63. I was given a warm, thin cotton-fringed towel called a pestemal and changed. Tokens that corresponded to my service and a small cloth bag were handed to me. The attendant was wonderful in guiding me through the process, and welcomed me into the main chamber. I marveled at the amount of marble, and the richness of the combined architectural elements. At the center was the gray, marble belly stone on which some women were lying on their pestemals while others were being scrubbed or massaged in clouds of soapy bubbles. This particular belly stone can accommodate 30 bathers at once. Along the perimeter, bathers were using ornate metal bowls from the faucet to rinse themselves. Scanning the room, there were women of all shapes and sizes, colors and ages; it was a comfortable feeling. My attendant asked for my pestemal and instructed me to lie down.
The warmth of the marble relaxed my muscles, and I felt transported to another time as I marveled at the large dome above and natural light streaming through glass pinpoints called elephant eyes. It was easy to understand why this is a popular treatment because it provides an escape from daily routines, work and life stresses. Called back to the present by my attendant and asked to sit on the edge of the belly stone, the spa professional administered vigorous strokes that sloughed away dead skin. A surprising amount of exfoliated skin was rinsed away, giving way to a fresh new layer. Next, I was led by my wrist to a faucet for a shampoo treatment and asked to sit.
I was then escorted to a small room housing two hot tubs. One was small and rectangular, built out of stone and outfitted with a sitting area, and the other was a more modern smaller pool with jets. Both enhanced relaxation. For my final treatment, I was directed upstairs to the third floor where I experienced a head-to-toe massage that included long strokes along the length of the front and back of my upper legs, followed with small, circular, energetic strokes. Knuckles were used to work out the knots in my shoulders and neck, and the head massage was incredible. I took note of the facial massage, and the trigger points used around the temples and sinus area. Acupressure was also applied to my feet and hands.
Cemberlitas was magnificent in its authenticity, its architectural grandeur and its services, and every ounce of my tension had disappeared into the humidity.
Galatasaray Hamam
My second hamam visit led me to a different part of Istanbul, requiring a taxi ride and journey into the more urban residential area called Beyoglu. As the taxi made its way down the narrow commercial street, straight ahead was the entrance to Galatasaray Hamam. I couldn't help but notice graffiti on the wall and realized that this was going to be a different version of an authentic experience.
Built more than 500 years ago, the hamam is adjacent to a school that for many years was used primarily by the boarding students. The women's hamam is located on the side of the building, and was an add-on to the original hamam in 1965 as a means of income to support the local school. Before 1965, the hamam space was shared by both women and men, but each had separate schedules.
During my visit, I noticed that the staff consisted of all older women who wore loose-fitting smocks and used a combination of nonverbal communication techniques consisting of smiles, head nods and gestures. Asli Avcu, the facility's public relations manager, explained that all staff members know each other from the neighborhood, and their profession has been passed down from generation to generation.
The belly stone in the women's section of the hamam can accommodate approximately 10 females at a time, while the men have a larger marble platform that allows for 50 bathers. The elephant eyes of the dome in this hamam were large and colorful, giving the natural lighting of the hararet a hypnotic, mystical look. Most hamams feature clear elephant eyes that are smaller glass domes and create the look of stars or pinpoints of light. The faucet shape and fixtures had a more modern look, which served as an interesting backdrop for the attendants who seemed to harken from another era.
I took my attendant's cues in terms of transitioning through the hamam experience; this time, I also chose the Luxury Style Hamam Treatment, which cost $80 at this facility. Kese, the scrubbing and peeling of the skin, is rejuvenating, and the foamy, soapy massage is unique to the hamam, with the purpose of promoting mental relaxation. The manipulation and bodywork performed acted as a good send off on my last day in Istanbul.
A hamam like no other
Each hamam was distinct in its design and style of service. What I enjoyed most was the incredible architectural design, history and culture all available in the thoroughly modern and beautiful city of Istanbul. When I asked Dr. Karagulle about the difference between hamam with two m's and with one, he explained it is like ordering coffee. Hamam with one "m" denotes it is more Turkish than Arabic. You have to stress that you want Turkish coffee since there are a variety of coffee types, but a Turkish hamam is a hamam like no other. His analogy could not have been more perfect.
Camille Hoheb has performed strategic planning and directed both operations and marketing in the health industry for two decades. She earned her master's degree in health care administration, holds several certifications from the National Institutes of Health and currently sits on the Innovation Council of the Medical Tourism Association and on the advisory boards of both Health Tourism Magazine and Corporate Health Magazine.
To learn more about the history of Cemberlitas, and to view additional images of Cemberlitas, Galatasaray and The Spa at Trump at Trump Soho, New York, log on to www.SkinInc.com/hamam.