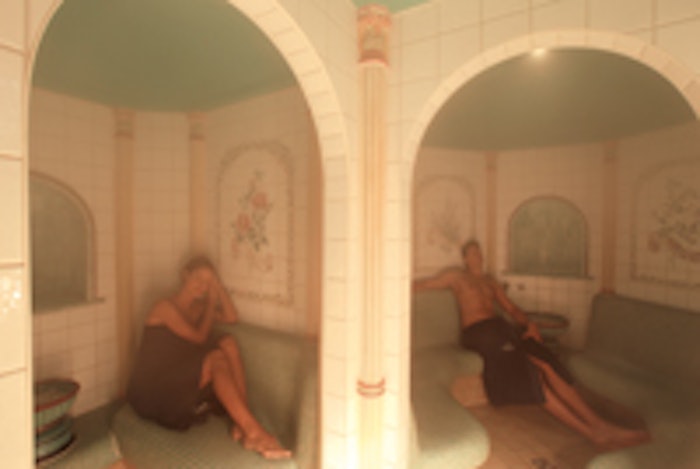 Legend has it that even the Neanderthals would migrate up the mountains in the summer to enjoy the healing waters and pure alpine air in Austria. That was 40,000 years ago, and the country's people have been at it ever since.
Some Austrian spas are incredibly remote. I've visited some, arriving into Kleinwalsertal by driving first into Germany and then back into Austria. It is certainly well worth the trip for the smaller spa experience. The larger spas are a little higher up the mountains toward Salzburg and Vienna, and are somewhat easier to reach; here you can find the top luxury resort spas. These include the Quellenhotel & Spa in Bad Waltersdorf; Schloss Fuschl Resort & Spa, built in the year 1450, which offers wellness and beauty treatments in a landscape straight out of The Sound of Music near Salzburg; Hotel Schloss Pichlarn, a five-star spa and luxury hotel that promotes wellness of mind, body and spirit in harmony with nature; and Palais Coburg, which has provided the Viennese people with spa services for the past 600 years. These are only a few of the many fabulous Alpine spas that appear on the Austrian landscape.
The Austrian difference
There are many kinds of spas in Austria. According to Miranda Allard, CEO of SpaAustria.com, there are small mountaintop spas and glamorous city spas, but what are hardly ever found are day spas. Austrian spas are mainly resorts, allowing for several days of treatment from a holistic health approach. Guests come to them not only for the spa services, but also for the associated outdoor or cultural activities. Winter snow and summer hikes draw guests from every continent.
Although the differences between American and Austrian destination spas are becoming fewer and fewer, there are some distinct trends. American destination spas traditionally have been more oriented toward diet, weight loss, fitness, behavior modification and beauty, and Austrian spas focus more on natural health, rejuvenation, wellness and healing. You can find everything from laugh therapy to yoga at an Austrian spa, and those that do offer beauty treatments do so in a holistic fashion. For example, the Quellenhotel & Spa has its Feng Shui Beauty Center, which approaches beauty from the outside and from within. Peter Moser, from Mavida Balance Hotel & Spa in Zell am See, categorizes the difference as: "In America, you work to get better; in Europe, you let others work on you to get better."
What most distinguishes Austrian spas from others—besides the thin Alpine air—are the thermal springs, which are scattered throughout the mountainous land. Many cities include the word bad in their names, which in English means "bath." Boiling up from the roots of the rocky crags, these hot mineral waters have double-action health benefits: natural minerals that make their way through the skin into the circulation, and natural heat that relaxes and stimulates simultaneously.
The old and the new
Austrians are an innovative people; not satisfied to simply enjoy their ancient thermal resources, they constantly strive for new and inventive techniques, resulting in spa experiences unique to Austria. The recurring theme is a synergistic blend of the old with the new: traditional procedures with modern technology.
Some of this modern technology includes the concept of bio-activated, or "revitalized" water, which sprang from the springs of Austria. Native son Johann Grander's discovery of revitalized water, which instills life energy into water helping make it immune to external influences, was developed here and is offered in many spa relaxation rooms. Other inventions include Mavida Balance Hotel & Spa's Blue Box, which stimulates mind and body using a unique combination of vibrations, color and sound therapies, and the floatarium—a room filled with saltwater that offers such benefits as loosening severe tension and having a soothing effect on the skin.
The modern spa
Austrian spas are reporting an increase of male guests seeking treatments, such as pedicures, manicures and facial masks. The modern spa guest is also looking for services that can be continued at home, including cosmetic, as well as nutritional and dietary supplement products. As is the case in the United States, retail sales have become a very important source of revenue for the Austrian spa.
One of the major distinctions of the Austrian spa is the personal guidance guests receive from highly trained professional personnel. Mavida Balance Hotel & Spa, for example, works with mental balance coaches who guide guests through the spa's many offerings. Every visit begins with an exploratory interview with a mental balance coach.
Other important aspects in Austrian spas include saunas, relaxation rooms, herbal traditions, medical influences and environmental sustainability.
Saunas. The sauna is an integral part of the spa experience throughout Austria. It is not uncommon to find 10 or more different kinds of saunas in one spa. These can include traditional hot Finnish saunas, rock saunas, steamy iodine baths, alpine herbal saunas, Roman saunas, brine steam saunas and, of course, Kneipp water treatments are available everywhere. Be prepared, however, that all sauna-goers, like their Neanderthal precursors, do not don clothing. After an initial five seconds of awkwardness, you will soon realize that nakedness increases the sauna's experience and health rewards.
Relaxation rooms. The relaxation room—in German the ruheraum—of an Austrian spa has taken on its own special importance and become an integral part of the therapy. Austrians have an ancient history in herbal remedies, and there are many botanical products based on these unique Alpine herbs. The ruheraum of many Austrian spas offers a smorgasbord of herbal teas to be taken hot or cold that are often based on local, wildcrafted plants made into therapeutic teas to help with the relaxation, detoxification, purification and revitalization processes. Ayurvedic teas have also become very popular in many facilities. Regular fare in relaxation rooms includes organic snacks of veggie slices and delicious dips that showcase local produce.
Also unique to the relaxation room are the many various opportunities to unwind, including waterbeds, massage chairs, crystal lighting, light therapy, classical music and sound therapy.
Herbal tradition. Some spas take herbal remedies even further. The Quellenhotel & Spa, for example, has developed its own medicinal treatments based on locally grown products. Thus was born traditional Styrian medicine (TSM), which "combines ancient naturopathy and natural medicine with the latest modern knowledge and methods. This range of treatments has a holistic effect. Body, mind and soul profit from the therapies and cosmetic applications formulated from regional Styrian products," according to the property's Web site. Other treatments use products derived from the Alpine vegetation, such as the mountain pine, which has a unique composition of essential oils. This theme of holistic health, well-being, the traditional and the innovative is common throughout the land.
Medical influences. Another result of the strong botanical tradition in Austria and elsewhere in Central Europe is the acceptance and endorsement of the medical industry. Medical spas in Austria employ real physicians who embrace and utilize the spa treatments to diagnose, treat, cure and prevent disease, and make their guests healthier. In fact, the therapeutic treatments provided by Austrian spas are supported by medical insurance companies, based on the concept that a gram of prevention is worth a kilo of cure. Physicians actually prescribe stays at therapeutic spas, which are covered by patients' insurance.
Because of the support of the medical industry, the spa experience is not restricted to the wealthy. All people, rich or poor, can enjoy the healing waters of an Austrian spa if their physician writes the prescription. This makes the spa more of a mainstream concept than in the United States, where it is still more esoteric and limited to those who can afford it.
Environmental sustainability. Another issue dear to the Austrian heart is environmental sustainability. Not only is organic fare the main type of food offered at Austrian spas, but many of the buildings and facilities are built with sustainability as a central concept. Heat is geothermal, and wood surfaces are treated with natural paints and varnishes. The typical alpine architecture is designed to make the most use of the natural resources available, especially from solar and geothermal sources.
Traditional and modern
Austrian spas are unique, steeped in centuries of tradition and experience, and spiced with modern technologies. They offer an escape from everything mundane for anyone in need. A visit to an Austrian spa is well worth the trip; this unique blend of old and new high up in the Alps is an experience that can be found almost nowhere else.