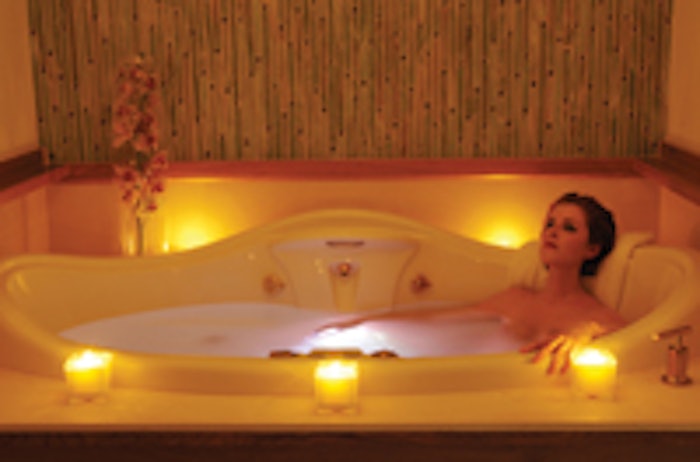 This is the tale of two sister spas in the middle of Boston: Emerge Spa and Salon, and G2O Spa + Salon. Both properties were born of Giuliano Day Spa, which opened its doors in 1993. "There weren't very many day spas, and people didn't know what it was. We spent almost a year answering the phone 'Giuliano Day Spa,' and there would be a pause at the other end of the line and the person would say, 'What?' You had to take the time to explain it to them," says owner L. Joyce Hampers.
The property grew from its original 5,000 square feet into two businesses with more than 10,000 square feet each when Hampers recognized her spa was serving two very distinct clienteles at its extremely posh Newbury Street location. "Newbury Street is an eight-block long street that is the premiere shopping area of Boston, akin to Rodeo Drive. It's known for having a collection of small upscale shops, such as Valentino and Chanel, as well as boutiques, salons and small spas. It's like two worlds at either end of the street. The western end is toward the universities and is more bohemian; it's upscale, yet eclectic. The other end is near TD Banknorth Garden—the arena formerly known as Boston Garden—and is really elite and very streamlined," explains Hampers.
Giuliano was located on the last block at the bohemian end and, because of its location, was attracting younger spa-goers who saw the experience as a social one. This type of atmosphere was beginning to clash with the business's more mature, results-oriented clients, so Hampers made the decision to divide into two distinct locations. In 2006, the split was made, forming G2O and Emerge. G2O remained in the old building and started catering to its younger clientele by offering a more modern, more social space that featured trendier treatments in a fun atmosphere.
Emerge opened down the street, supplying the clients who preferred private experiences with treatments that focused more on results. "Emerge's atmosphere is minimalist, modern and sleek," explains Hampers. But perhaps the most interesting part of this tale is how it began, proving spa professionals come from all walks of life.
Hampers is no ordinary entrepreneur—she began her career in law and later became the assistant secretary of commerce for former president George H.W. Bush. During her stint, Hampers traveled throughout the United States encouraging small towns to embrace small businesses instead of relying so heavily on large factories for their livelihoods.
When Bush wasn't re-elected for a second term, Hampers found herself back in her home state of Massachusetts, wondering what her next step would be. "I thought I could go back into practice and realized that I'd been bitten by this small-business bug. And here I am, just like another government bureaucrat telling people how to do this, and I've never done it," she laughs. "I decided I would like to start a business and was sitting in the chair of my colorist and asked him if he'd ever thought about owning his own business. He said, 'Yeah, every day,' but he needed capital." The two partnered up and the rest is history, even though Hampers admits she didn't realize what she was opening would be categorized as a day spa. "I didn't know what a day spa was, so I kept calling it one-stop shopping," she says.
No matter what you call the empire Hampers has built, there is no denying it has become successful because it adhered to a basic secret of spa success: catering to the needs of clients. The benefits of this strategy will continue to be reaped in 2010 as the entire operation becomes once again housed in a single building that is intended to serve as an urban day spa destination for its varied clientele. And, when all is said and done, Hampers can count herself among the government bureaucrats who actually practice what they preach.