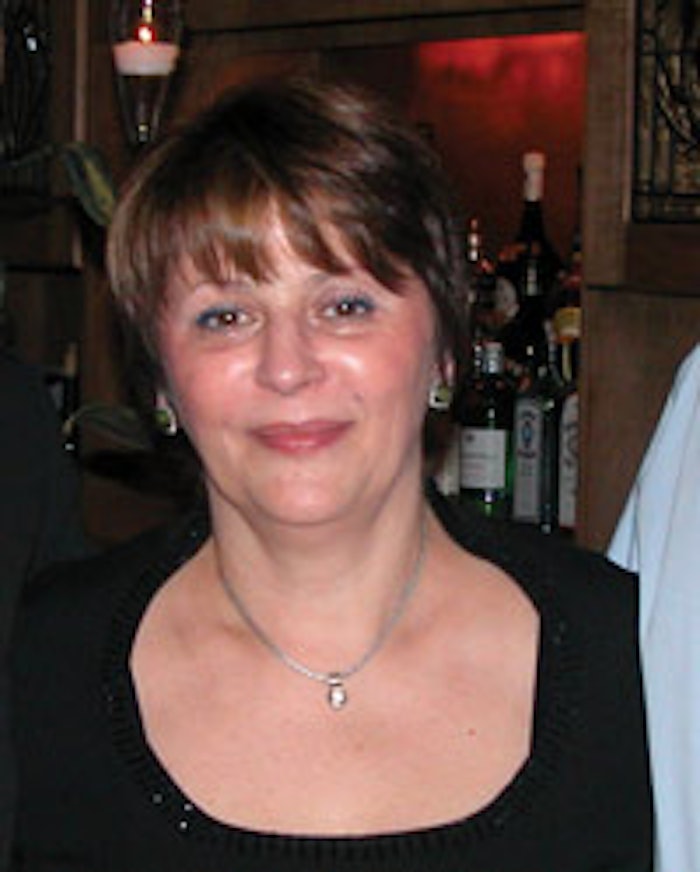 One of Valentina Chistova's greatest esthetic inspirations is her grandmother. Emphasizing the continually changing nature of life, Chistova, now the owner of Aquamedica Salon & Day Spa in Long Branch, New Jersey, explains, "My grandmother always said 'You learn all your life and you die foolish.' "
As an esthetician herself, Chistova's grandmother provided skin care and homemade products to local residents in the Ukrainian village of Kharkov, where Chistova grew up, and although Chistova was around skin care much of her young life, it wasn't her intention to go into it as a profession of her own. She took up studying history and opera in college, as well as medicine as part of her military education requirement. This medical education marked one of Chistova's first steps back toward esthetics, becoming a nurse through Kharkov State University. She notes, "At that time, I don't think you could be an esthetician without being a registered nurse."
Not initially using the training for skin care purposes, Chistova got married, had two sons and moved to Moscow, but still longed for something more. In 1991, her family immigrated to the United States as Jewish refugees, settling in Old Bridge, New Jersey., Knowing little English and having no job, Chistova began cleaning houses to help support her family. "I definitely met with a lot of challenges when I came to the United States," she says.
However, Chistova was still set on chasing her American dream and enrolled in a nail technician program at the Rainbow Beauty Academy in North Plainfield, New Jersey, eventually also studying esthetics at the Capri Insitute while learning English and continuing to work. She earned her esthetic license in 1995 and began working at a series of small spas and salons.
With time, her clientele grew and became dedicated enough that people began questioning why she didn't open her own spa. "My English was still not strong, so I thought it was not a good time yet," Chistova says.
Then, after a seven-year stint as the spa manager, director of education and head esthetician at Avanti Salon and Day Spa, now Avanti Day Resort, in Manalapan, New Jersey, Chistova decided to open her own space. Counting Avanti owner Luda Conti as one of her mentors, Chistova says, "I am thankful to her for giving me an opportunity to grow as a businessperson." Using those skills, Chistova opened Aquatica Salon & Day Spa in Shrewsbury, New Jersey, in 2001.
"I started from scratch," Chistova says of her first facility, which focused on the cleansing and renewing power of water. Joined by her younger son Anatoliy as a co-owner, the business became a popular destination for quality skin care due to Chistova's focus on continuing education and treating clients as she would guests in her home. "Many people are intimidated when they come into a spa," she explains. "They think these are services for queens and kings, but I want to show them that they are for regular people. A spa should be so comfortable and cozy that it feels like home."
Aiming to grow her success even more, Chistova next opened Aquamedica Salon & Day Spa in Long Branch in 2006. Eventually she sold Aquatica to focus on her new business venture, bringing with her Anthony S. Lombardi, MD. Lombardi, a plastic surgeon, became involved after simply stopping in Aquatica to buy a gift certificate and found himself entranced with the friendly atmosphere of the facility. "We bonded while building the new space," Chistova notes, and now, along with a range of skin and body care treatments, the spa's clients can also receive noninvasive aesthetic treatments as part of this partnership.
"My goal was to bring my skin knowledge to clients not based on books, but on observation and experience," she says. "The personal touch is so important."
Perhaps this is the reason working with clients is Chistova's favorite aspect of the business. "That's my relaxation. I like difficult facials, when I can help clients and suggest different things. I love working with someone one-on-one, with her coming to me because she believes I can help her," she says.
Of course, Chistova also enjoys the business side, staying integrally involved in marketing efforts, educating staff and developing the spa's Web presence. "I love learning how to work with the computer and am doing the Web site myself," she says. "I'm a student forever."
She's also created a book where the spa's estheticians make notes about each service they perform, which is then reviewed at staff meetings to help the whole team learn, and is currently discounting treatments for loyal clientele.
"Because we are facing such a difficult time in the economy right now, I understand that skin care can still be seen as a luxury. Feeding your children and paying your mortgage comes first," she says.
In spite of any economic rough roads, however, Chistova's commitment stays true. "Skin is my passion—I will never leave," she says. "You can't compare it to anything else. It's not always about money. When people remember us, that is our reward."
It's an attitude that would make Chistova's grandmother proud.