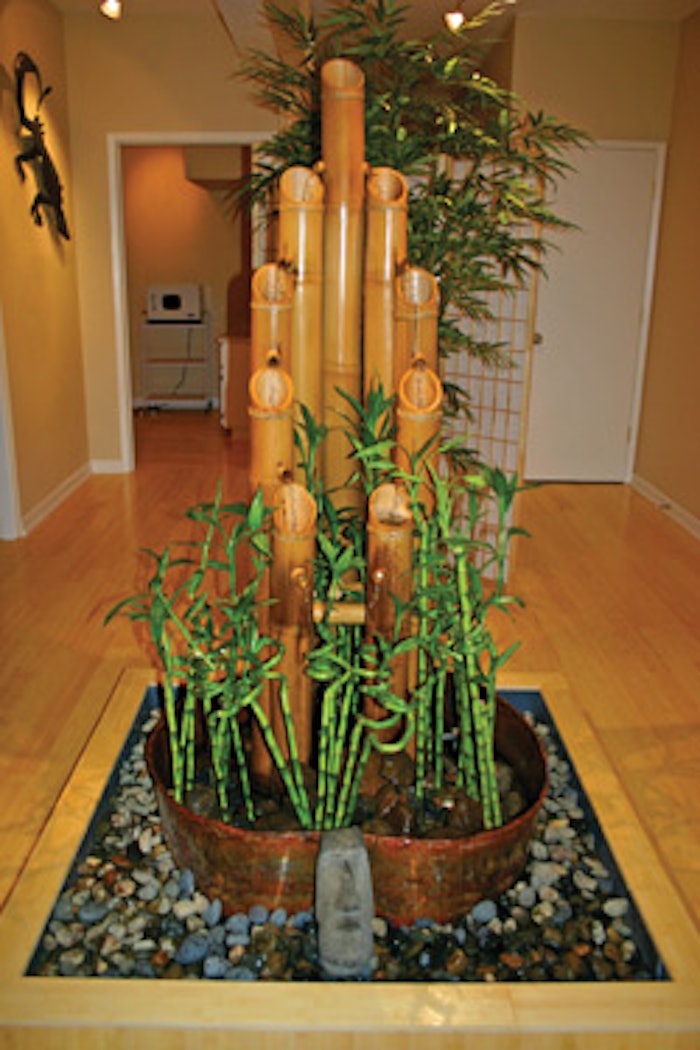 Tucked among the shops, restaurants and resorts in Incline Village, Nevada, a scenic town on the mountainous shores of Lake Tahoe, lies a quiet, serene Hawaiian escape. Aloha Skin Spa, which first opened its doors in Incline Village in September 2006, welcomes clients with authentic Hawaiian décor that features bronze statues, native vegetation and a soothing water fountain.
However, if you're looking for grass skirts and plastic leis, this isn't the place. Even though the spa is located in a town that is more equated with snowboards and skis than scrubs and skin care, both tourists and locals seek out the soothing, rejuvenating ambiance the spa has to offer. Owner Nicoa Wood, who lived on the big island of Hawaii and operated a skin care clinic there for five years, wants clients to feel the spirit of the island, but distinctly avoids anything she dubs "cheesy Hawaiian."
"I definitely feel like the spa offers the aloha spirit that I learned from the locals in Hawaii," Wood says. "When you walk through the doors, there's just that sense of the word aloha's comfort and warmth." Each element of the spa is designed to evoke the Pacific tropical paradise, from the soft, sensual music, to the faint, lingering aromas, and the traditional treatment offerings.
Melding its signature theme with a renewing atmosphere, Aloha Skin Spa's team members are trained to provide an all-encompassing experience with each of its treatments. "Our signatures are probably our body treatments and massage, the lomi lomi in particular," says Wood. "It's kind of got a motion like the ocean's waves. I also have perfected my custom facial through my years of practice in Hawaii, using education and aloha in every treatment."
Of course, with 13 years of practice under her belt, Wood also knows the importance of providing services that offer results. "Your face is the first thing people see, so it's important to be skin therapists to people and not just relaxation therapists. We want to provide the whole healing experience," she says. And with offerings such as Hanu and Maka facials, Mana, Kei and Pele body wraps, and Makai, Laiki and Kona coffee scrubs, clients can experience serene relaxation while still receiving quality skin care. "I want everyone who comes in to feel like their individual skin care needs are being addressed," she explains.
Sometimes, though, it's as easy as simply taking the time to give someone the attention they deserve. Wood remembers when a client who came in for a wax later told Wood her life was changed through the experience. "I never realized the power of touch could be so healing, but sometimes just spending time with people and having them be the focus of the attention is what they need," Wood says. "You may not even realize you're helping, but it just shows that it's key to treat every single person as important."
"What really sets us apart is that we care about our clients and their specific facial and body needs," Wood explains. "We spend quality time with our clients to ensure their happiness and satisfaction, and we also show that spirit of aloha, which can mean 'love' in Hawaiian." By continuing to offer the authentic, unique services of Hawaii paired with a genuine caring and dedication to the client, Aloha Skin Spa is likely to provide a breath of soothing, tropical air on the shores of Lake Tahoe for years to come.