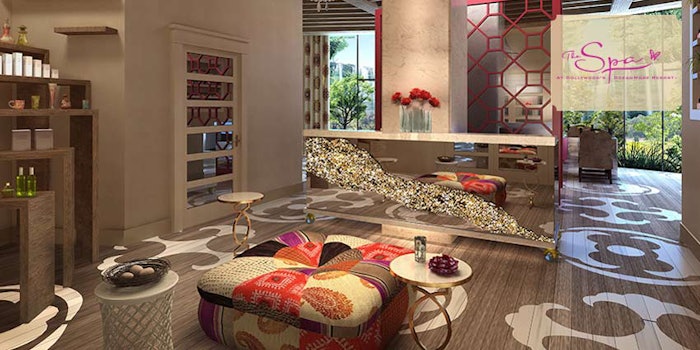 Dolly Parton has always spoken honestly about her high-maintenance beauty routine, and she now owns a spa to help others look and feel beautiful. As part of the new DreamMore Resort, which opened July 27, 2015 in Pigeon Forge, Tenn., adjacent to Dollywood and Splash Country, there is a 1,861ft2 spa that is family-friendly and full of glamour.
The Spa at Dollywood's DreamMore Resort is ran by spa manager Billy Smith. The decor is colorful and classy with a little glitz reminiscent of the songstress. It encourages families to attend the spa together, offering treatments for kids as small as four.
Skin Inc. was able to talk exclusively to Smith to learn about their design inspiration, customer service positioning and treatments.
Smith brings 35 years of experience in the salon and day spa industry to his new role.  He most recently was salon director at Fernando Romero Salon in Beverly Hills. "You might say I made the transition from Hollywood to Dollywood," he said. "I am excited about our great team of spa technicians who are focused on giving guests the ultimate relaxation experience as part of their family vacation."
Speaking of relaxation, clients can receive the Glamour & Glitter facial and massage combo or the Scents of the Season body treatment. "If it's a girlfriend's getaway for a special weekend, we can accommodate everyone as they select from a variety of treatments and experience pampering with the best in Southern hospitality," noted Smith.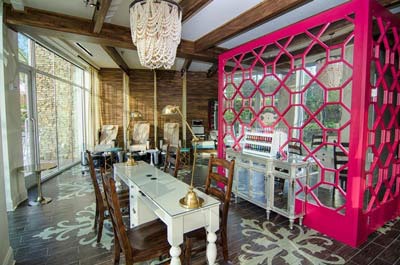 For children ages 4 to 12, the spa offers Bedazzled Butterflies, a manicure or pedicure designed especially for them. Clients 13 and older can enjoy a Pampered Pair massage with their parents or have manicures, pedicures and facials as long as a parent is present and has signed a consent form.
"The variety of treatments that we offer, including services geared specifically for men, teens and children, are part of our unique focus here at Dollywood's DreamMore Resort on family and shared experiences. While Mom is getting pampered with a pedicure, she can watch her daughter– whether she is 4 or 14–enjoy a manicure with special My Bath Bakery products that are designed specifically for doing children's services," explained Smith.
The spa uses Skin Authority products for the face, Farmhouse Fresh products for body treatments, La Bella Donna makeup and My Bath Bakery products for children's pedicures and manicures.
"The top-notch products being featured by the spa add to the treatments and services experienced by guests, and the spa's retail area offers those products to take home and continue the pampering of the spa's experience at home. "We have placed samples of the Farm House Fresh body lotion in every guest room so that everyone can experience a little bit of the pampering from our spa during their visit," added Smith.
Commenting on the inspiration behind the spa in a press release, Parton noted, "Seeing DreamMore Resort open really is a dream come true for me. It brings me back to when my whole family would get together on the front porch catching up and swapping stories. I want families to spend the day experiencing the fun of our parks, then come to this beautiful resort to spend time together making even more family memories."  
When asked about his favorite treatment in the spa, Smith added, "I'm really excited about the opportunity to share our four beautiful seasons here in the Great Smoky Mountains with our seasonal treatments, the Scents of the Season body treatment and Touch of the Season manicure and pedicure. The natural beauty that we see all around us translates into a multitude of colors and scents that are unique to each season, so we will translate that into a unique seasonal experience. If a Spa guest receives a treatment that captures the hues and aromas of autumn, for example, we think they will want to come back to visit and see what the holiday season has in store for them with a new seasonal treatment."