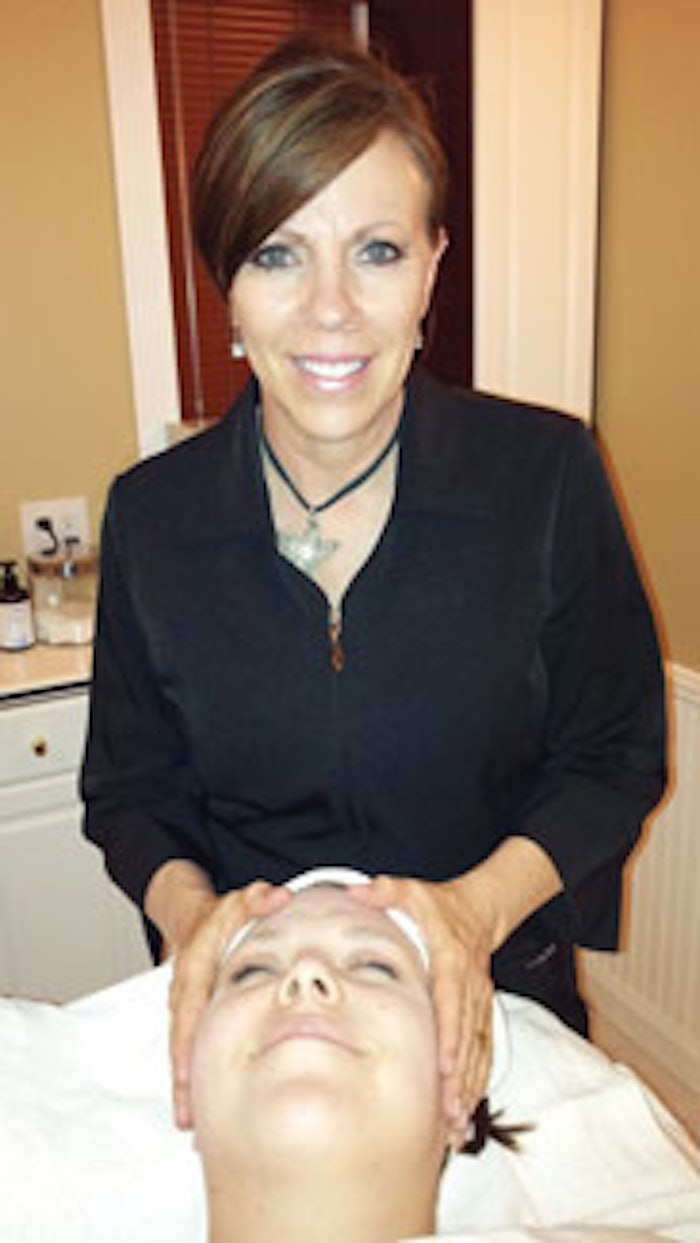 Business owner Becky Kuehn knows all too well the importance of specialized skin care. Diagnosed with a rare type of uterine cancer at the age of 18, she suffered many skin issues as a result of the sickness and treatments. Kuehn was rid of the cancer after one round of chemotherapy and much prayer, but the impression of the experience was enough for her to want to make a difference.
Kuehn founded Evergreen SkinCare Solutions, Inc. in 2008, a spa that runs out of two local Washington state hospitals—St. Francis Women's Health and Breast Center in Federal Way and Jane Thompson Russell Cancer Care Center in Gig Harbor—to help cancer patients deal with the symptoms that arise from cancer treatments. "I knew back then that at some point somewhere in my life I was going to give back to that particular client base," Kuehn says.
The spa also specializes in other forms of compromised skin, working with clients suffering from rosacea, acne and aging skin, as well, and Kuehn uses products featuring "clean" ingredients from Advanced Minerals, Dermaviduals, Green Goddess Organics, Osmosis, SkinScript and Tecniche. The 30-year skin care veteran is very passionate about what she does and to show that, she writes personal handwritten thank-you cards to each client. "I have a heart for what I do; I absolutely love what I do. I always tell people that I'm the luckiest person in the world because I get up every day and go: 'Yay, I get to do this again,' " Kuehn says.
Her beginnings in skin care came after she received her Washington cosmetology and esthetics license in 1982 from Renton Beauty School for Cosmetology. After holding various jobs for the next 10 years, she began working for Nordstrom, where she started as a makeup artist and finished her stint with the store as its cosmetic buyer for San Francisco and Northern California.
It was during this time that Kuehn learned the most about customer service; however, she believes it is both education and the intrinsic value of caring for people that matters the most. Realizing her love for skin care, she decided that, in order to be the best, she would have to get more education. To do this, she took a refresher course on esthetics at the Euro Institute in Renton, Washington.
Kuehn then opened Evergreen SkinCare Solutions. Originally running out of her sister-in-law's salon, it was during this time that Kuehn received e-mails about Oncology Esthetics: A Practitioner's Guide (Alluredbooks, 2009; www.alluredbooks.com) by Skin Inc. advisory board member Mórag Currin. The book, which is a guide to using esthetics to help clients with cancer manage their skin concerns, provided her with a method to give back to a client base that meant so much to her personally. She bought the book and attended one of Currin's courses on oncology esthetics and fell in love with the practice.
Kuehn took her education, her experiences in the field and the memories of her struggles with cancer, and went straight to a local hospital in Washington to pitch the idea of running her spa inside the hospital. For Kuehn it was about taking care of clients at a time when it was most needed.
"As estheticians, I believe we play a part in the circle of care for a client—especially one that is going through cancer treatments. We can help how they feel about themselves," she says.
The success of Evergreen SkinCare Solutions at the first hospital prompted a new beginning at a second hospital. The company is funded through grants and fundraisers that allow Kuehn to charge at a reduced or free rate to her clients.
In the midst of running two spas, in 2010, Kuehn also earned the title of director and national educator in the United States for Oncology Esthetics, Currin's company.
Kuehn has high hopes for the future, with plans to increase oncology esthetics training and to set up more spas in hospitals. "When you work with this type of client, your see people who have such horrible health issues; yet, they're strong and happy, and that's an incredible lesson to see every day when you work with them," says Kuehn.

Gabriela Coix is a journalism student at Chicago's DePaul University. About to graduate in June, she has high hopes for what the future has in store as she pursues a career in broadcast journalism.