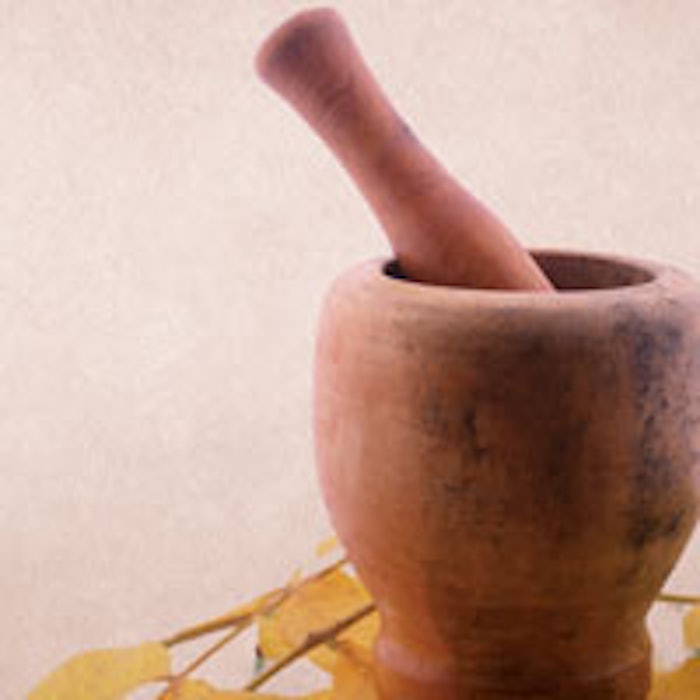 Editor's note: This article is Part II in a three-part series about the evolution of the skin care industry. Part I, which detailed the beginnings of skin care and cosmetics in the United States, was included in the October 2011 issue of Skin Inc. magazine. Part III, which will address the growth of wellness as a focus in spas, will appear in the December 2011 issue.
As time passed, competition in the skin care industry never abated, but instead heightened from the 1950s through the 1970s. When cosmetic chemistry technology ascended to even higher levels, each skin care company rapidly opened its own research and development department and laboratory, where state-of-the-art ingredients were compounded endlessly. These not only served to enhance company credibility, but also boosted desirability, which impacted sales.
Companies had to initiate radical changes or lose their footing in a highly cutthroat marketplace. Newer concepts and terminology rapidly replaced cold creams and vanishing creams with more alluring terms, such as "hydrating," "toning," "firming," "nourishing" and "age-defying."
For a time, the most coveted ingredient had been lanolin, a derivative of sheep's wool. It was used in formulations for its skin-softening properties, but eventually faded from the scene.
The next fad involved packaging, which became the main focus, with more money spent on the container and advertising than on the actual ingredients included in the formulation. This changed when the development of sophisticated single and double emulsions quantitatively forced companies to rethink their strategies.
"New and improved" was the popular claim; it was an anachronism that the fight for the apex was in treatment items, particularly anti-aging, because traditionally makeup had always outsold treatment, but consumers were aging and were turning increasingly toward lines offering anti-aging solutions.
The primary ingredients
Ingredients once again became the No. 1 focus. Collagen was the new royal child. Of animal origin, it was hydrolyzed—made soluble with water—and touted as the latest answer to true and significant hydration of the skin. It was also claimed to be able to retain hydration in the skin for a longer period of time, which meant that foundation did not dry as quickly as it normally would.
What ensued was the development of even more rarefied derivatives. The market became glutted with new silver bullets, including chinchilla oil, swan oil, mink oil and squalene. Most had a brief day in the sun, and, in the late 1960s and early to mid 1970s, cosmetic companies were in abundance, all with their own message of hope—even movie stars launched their own skin care lines.
However, everything did not remain rose-colored for long. The consumer and cosmetic companies were on a collision course. The new animal-origin ingredients, when included in cosmetic formulations, needed masking agents to disguise their multifarious odor in its raw state. The most popular masking agents were perfumes. Other chemical agents, such as preservatives and stabilizers, were added as well, and alone or together, created a synergistic dermal time bomb.
The consumer was soon plagued with sudden rashes, blisters and redness that resulted in the medical classification of moderate to severe allergic reactions. The culprits became identified as certain agents in the cosmetics that were directly responsible for these reactions, which were inevitably responsible for the origination of a new medical category: cosmetic contact dermatitis. There are now more than 20 classifications of this condition.
Amid all the clamor, the U.S. Food and Drug Administration (FDA) released a list of known ingredients that potentially could manifest these reactions, and ranking highest on the list were masking agents, preservatives, detergents, stabilizers and emollients. Strict manufacturing laws addressing purity were yet to emerge, but sensing potential economic disaster, manufacturing companies began producing hypoallergenic cosmetics. The name struck a chord with consumers, so future formulas, which excluded the offending agents, emerged.
One of the first on the market was Estée Lauder's Clinique, introduced in 1968, which claimed to be dermatologist-tested and fragrance-free. Other companies followed suit. The dermatologist and allergist went from being obscure to becoming recognizable, and some enjoyed celebrity status. Anecdotally, for a while, it was a badge of honor to declare that you had extremely delicate and sensitive skin, so visiting the dermatologist on a regular basis became the zeitgeist of the day.
Equipment and tools of the day
Meanwhile in the late 1960s through the 1970s, on the educational side of beauty in the United States, things remained rather status quo. Although some earlier cosmetology manuals featured facials with electrical modalities—and they were in place at a number of schools and salons—skin care professionals who could operate the equipment were more the exception than the norm, and were usually of European origin and training.
Cosmetology hours emphasized hair and nail services, and the allotted time spent on a facial procedure was minimal, and leaned heavily on makeup application. So, there was little or no existing awareness in the area of scientific skin care.
Whenever equipment was employed, it often consisted of the use of an ominous-looking black box named the wall plate, which was able to generate three currents: galvanic, sinusoidal and faradic. Because knowledge of their use was abstract, their application often resulted in highly disagreeable, unexpected reactions. The hazard lay in that the wall plate had an output of anywhere from 15–25 amperes, compared with the present use in today's equipment of microamperes and milliamperes, which rank below one full ampere. Thankfully, the wall plate eventually became obsolete for use in cosmetology schools.
When the FDA finally stepped in, equipment used in the practice of skin care was strictly categorized, and stringent definitions for their use were put in place. These read in part: "No equipment or any part thereof for use in Cosmetology or Beauty Practice may generate any current that creates any form of a chemical reaction that can alter, change or interfere with the body's normal systemic function, otherwise it is be to considered in the category of 'medical devices.' "
Another popular tool of the time was the comedone extractor. Still around today, it consists of a metal rod with an oval end that surrounds a small aperture in the center. The intended purpose of the tool is to excise blackheads and milia during a facial procedure, with pressure exerted by the skin care professional. However, even this apparently harmless tool has not been without its own set of problems; if undue pressure is exerted during use, the client inevitably exhibits a complexion peppered with red marks, bruises, blotchiness and, in some worst-case scenarios, broken capillaries and angiomas.
Tesla high frequency was also in use, but the equipment was cumbersome and noisy. All too often, it produced an unexpected electric spark that startled and alarmed both client and skin care professional, so its use was understandably infrequent.
Standard facial procedure
The standard facial taught in cosmetology schools at the time followed a generally uniform procedure.
1. The skin was cleansed with a thick cream that consisted abundantly of petroleum jelly and then was removed with witch hazel.
2. A quick analysis of the skin took place.
3. The pores were softened through the use of some form of heat, usually hot towels.
4. Manual extractions with the aforementioned extractor were performed.
5. A massage took place with another thick, gelatinous concoction, with the pressure and duration left to the operator.
6. A toning mask was applied, often of a bilious green in color, which was carefully removed after it hardened to the consistency of cement.
7. Voila; madame was done!
This type of curriculum was universal in most cosmetology schools well into the 1970s and early 1980s. Most instructors and cosmetology school owners were simply following criteria set by the state's cosmetology board and, for many years, curricula never changed or adapted to fit the times. This was due, in part, to the fact that board members were often politically appointed and were not necessarily cosmetology instructors or school owners. The main focus of these boards was on public safety, not education.
As luck would have it, new changes were looming, and schools would have no choice but to expand in a different direction or remain dinosaurs in a career field that was on the brink of a new frontier. Fortunately, many of the schools became esthetic pioneers and implemented esthetic curricula that impacted the skin care industry positively. Curiously, the very same thing is occurring today, but with happier results as more and more schools are adopting readily to changes.
The introduction of the estheticienne
In Europe, education, beauty products, equipment and practitioners were burgeoning at a prolific rate, so North America was in perfect alignment for the introduction of the estheticienne, and two female pioneers, Edith Serei and Christine Valmy, were destined to make esthetic history in North America.
Edith Serei. Based in Canada, Edith Serei was a Hungarian-Frenchwoman who received her first formal training in Paris under Dr. Simon-Alban Peytoureau, considered one of the founding fathers of modern esthetics. In 1956, Serei opened her first beauty institute in Montreal. Realizing that there was very little formal esthetic training there, she soon opened the first of four schools in Montreal. Serei devised one of the first training programs for esthetics in North America and together with Fernand Aubrey, created a makeup method application based on psycho-morphology. In 1962, she founded the Canadian Aesthetics Committee, which was affiliated with CIDESCO.
Serei received many awards and merits for her contributions to the field of esthetics, education, fashion and beauty. To date, the Académie Edith Serei has thousands of graduates who work internationally. Her efforts left an indelible contribution to esthetics in North America and around the world. Serei passed away on October 24, 2005, and her many friends, colleagues and students miss her dynamic energy and love: "A bientôt, cher ami, Edith!"
Christine Valmy. In the United States, another esthetic icon, Romanian-born Christine Valmy, made her own historic contribution to beauty therapy. After working in France, Greece and Romania, she fearlessly forged into a field previously dominated by beauticians and cosmetologists. Chic, attractive and charismatic, with a knowledge heavily steeped in science, homeopathy and natural philosophy, Valmy opened one of the first esthetic schools in 1965 in New York.
Fortified with an array of equipment and her own formulations for scientific skin care, her fame spread like wildfire, and she soon opened skin and face salons in department stores, such as Bamberger's, Macy's and Bloomingdale's, which also carried her line of beauty products. She rapidly garnered a clientele that read like a veritable who's who of New York, and her school also acquired recognition and was soon filled to capacity. Many familiar faces and names in esthetics in the United States attended her school. In fact, I had the distinct honor and privilege of being Valmy's first male instructor at her school, and also the first male to be licensed by the University of New York to teach esthetics in the United States.
In 1968, Valmy became the first president of CIDESCO USA, and, in 1973, she was recognized at the 91st Congress in the United States " ... for her contributions to education in America and for creating a new and exciting avenue of careers for the young people of America." She also fought for more than 25 years to make esthetics a licensed profession and was instrumental in New York state becoming the first to have a specific license for the practice of esthetics.
Today, along with her daughter, Marina Valmy de Haydu, they continue to expand her fame. The Valmy name spans several countries throughout the globe, and the Valmy Academy in New York is still in existence.
Wellness on the way
In Part III of this three-part series, which will appear in next month's issue, the history of wellness and holistic therapies will be revealed, providing information about how the U.S. consumer's interest in wellness began, how spas and wellness became one and how this history may help the skin care industry move forward into the future.
Mario Montalvo is a consultant to the health and wellness industry. A licensed esthetics instructor, he has been active in beauty therapy for 35 years. He is a pioneer in esthetics and is a CIDESCO Diplomate D'honneur and International Examiner. He has the distinction of being the first male instructor to be licensed by the University of the State of New York to teach esthetics in the United States. Montalvo specializes in creating beauty therapy programs, training, product development, manuals, curriculums and more for spas and schools.