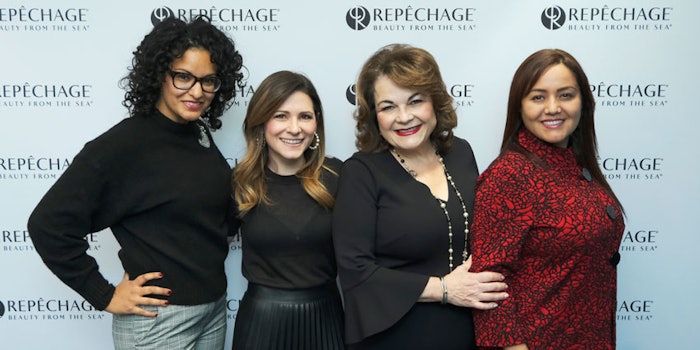 The spa industry owes much of its success to the efforts of some amazing women, and it is the actions of these women that will propel it into the future. One of those women is Lydia Sarfati, founder and CEO of Repêchage, and she recognized female leadership in the company's 2020 Power Lunch, where female entrepreneurs were highlighted to inspire strong business decisions into 2020.
The Art of Retail
The day was kicked off by Sarfati herself with a presentation on boosting retail sales. According to Sarfati, your clients trust you, and it is your "duty and responsibility" to recommend the client's at-home program. Sarfati noted that depending on the type of spa you operate, retail should account for 50% of your gross sales. She recommended hiring people who specialize in sales and making sure you put selling retail in employees' job descriptions because "if you don't they won't." Sarfati broke down the science of the recommendation, adding that you must know the product, be able to customize your choices and keep it honest to recommend what the client truly needs. She added that while 78% of purchasing decisions are made in the chair, it is imperative that your retail area is poised for the sale. This, of course, also includes your front line--your front desk staff. Sarfati recommends training them on what to say and motivating them to sell and rebook for your spa.
Inspiring Women In Spa
After Sarfati set the stage for female leadership, attendees at the Power Lunch enjoyed a tasty lunch and champagne toast, fueling their bodies for an amazing panel of female entrepreneurs.
A panel discussion was then held, where Fabiola Carr of MassageLuxe (Florida), Tanja Catoe of Salon Inga' (Florida) and Lisa Dominguez of Spa O On The Go (N.J.) shared their journeys as well as inspiration for future female spa owners.
On achieving success in her business, Catoe added that is important to create a space where clients are comfortable and not rushed. She added, "We've created that feeling of time. Whether they have 2 hours or 45 minutes clients feel like they have time, and time has become a luxury."
Carr recommends knowing your business inside and out. She noted, "I know how to do every aspect of this business from selling memberships to cleaning the toilets." Carr continued that her employees respect her because they know she knows every aspect of her business. "If you're passionate and well prepared, your team will perceive that," added Carr.
When it comes to taking the leap to open up a new business, the panelists agreed that it was wise to do your research first. "Leap while knowing what defines your success—what is your success? Is it money? Is it time? Is it being voted the best spa? Once you have figured it out, then you take that leap,"explained Catoe. Carr added,"Before jumping into something, do your research" to make sure you're the person to do it."
To be a good leader, each of the panelists had recommendations on what traits were required. Carr noted that it was important to be a good listener, educate yourself, work hard and pay attention to details. Catoe added to approach everyone with kindness and to keep a good perspective "because there will always be employees that quit and roofs that leak." Finally, Dominguez furthered that honesty and compassion were two important traits for leaders.