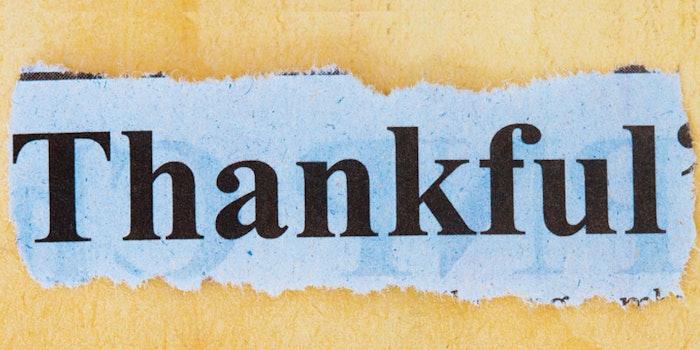 'Tis the season to be thankful! This month I asked estheticians, brow specialists, makeup artists and industry leaders one simple question, "What are you thankful for this year?" Here is what they had to say.
1. Mark Lees, president/CEO, Mark Lees Skin Care
"I am very thankful that I love my job so much! I feel sorry for people who hate their jobs because most of their waking hours are spent doing something they don't like. I know very few people in beauty that don't love their jobs."
2. Leon Shannon, skin bar manager at Skin on Market
"I'm thankful for friends, coworkers and clients that believe in the vision."
3. Lisanne Wilcox, national director for schools & education at Alexandria Professional
"I'm thankful for the camaraderie and community formed in our industry to unify over these licensing issues this past year and to tackle going into the new year."
4. Stacy Hanes, education development manager for Bio-Therapeutic
"I'm thankful for spontaneous adventures, saying yes, finding balance, good work, good love, good art, good learning and good health to an equally good life!"
5. Aimee Gordon, VP of sales and operations for MuseBeauty Pro
"I am grateful for my family, friends and good health, but I am also grateful for companies in our industry that focus on doing what is right for their clients and employees and promote diversity and inclusion by embracing individuality all while delivering results with integrity."
6. Megan Linney, VP of operations and business development for Redmint
"I'm thankful for everything—every last thing! But, [I'm grateful for] my health and above all else my friendships."
7. James Vincent, education and artist relations for The Makeup Show
"I am grateful for the opportunity our industry allows people to become a part of…a community pursuing their own individual passion with support and purpose."
8. Shelley Constantini, founder of Shelley Skin Care
"I'm thankful for people who I work and pass on the street who nod, smile and say good morning. It really brightens my day!"
9. Kelly Higgins, lead esthetician for CODE Salon
"I'm thankful to have hit year three as an esthetician at CODE Salon, and for the amazing people in this industry who have supported me from day one.".
10. Andrea James, advanced instructor for Dermalogica and the International Dermal Institute
"I'm thankful for my loved ones and good health that allows me to move my body and a career I'm excited about every single day!"
The best part of writing this article was hearing how happy the professionals in our industry are with their careers and life. We have so much to be thankful for, and we should share it and write it down. Try this exercise with your co-workers, friends and family. It's good to remember why we are thankful; it keeps our spirits high!