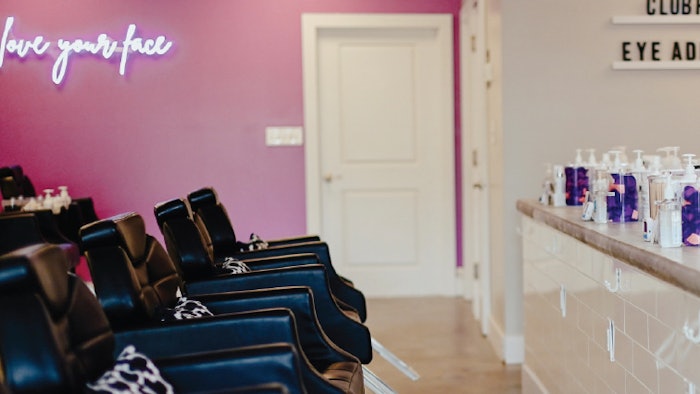 Traditional spa spaces have put relaxation at the forefront, but what if a spa instead provided a social experience for guests? Fizz Facial Bar is doing just that with their "spa meets social hour" concept. Skin Inc. sat down with licensed esthetician and founder of Fizz Facial Bar, Crystal Booth, to discuss how to liven up your spa space with personality and functionality.
1. Tell us about the aesthetic of your spa's interior and the emotion you are looking to evoke from customers?
The Fizz Facial Bar aesthetic is "spa meets social hour," creating accessible experiences in a welcoming atmosphere with a bubbly burst of personality.
2. What inspired your design components and process?
I began with selecting an accent color, the requirements were that it be found in nature but also have pizazz. Lavender is a staple in the spa world, which took me into the purple realm, and I kicked it up a notch for the signature Fizz purple, which we call "Electric Lavender." Once I had my fun and fabulous accent color, the goal was to keep the rest of the space more neutral focusing on a clean and crisp aesthetic, while blending elements of industrial and glam.
3. What is the most important thing to remember when designing a successful spa space?
Remember who you are designing the space for. The client experience should be considered from beginning to end while also focusing on superior ergonomics for practitioners.
Related: Spa Event Planning 101
4. Does your spa have any unique features or design aspects?
Everything about our studio is unique in the fact that it's not a traditional spa. The salon-style setup allows for a welcoming and social space, while bringing a comforting transparency to the experience. We also love our photo-worthy areas which includes selfie-walls and pops of neon.
5. What advice would you give to someone who is designing their spa's interior?
Consider who you are serving, the experience you are creating, and don't forget to add a dash of your own personality.