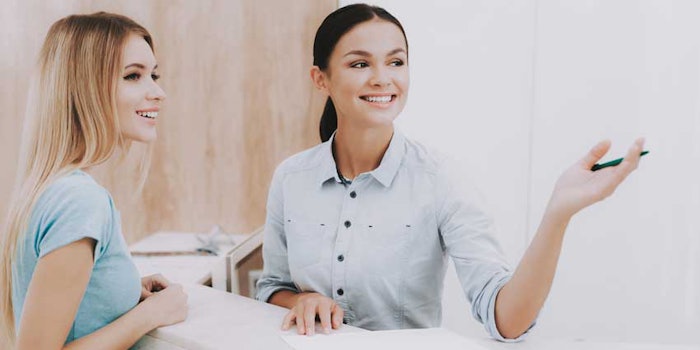 Do you know what's going on at your front desk? Does every client receive a warm greeting as soon as they walk in the door? Are they offered a beverage and relaxing place to sit while waiting for their treatment to begin? While things are typically expected at the front desk/reception area—and they're perfectly fine—to be honest, stopping there is sort of "old school." The "new school" way is to also use your front desk as an opportunity to boost sales—in a non-salesy way.
Take Your Shot!
Many of us are hesitant to use the front desk area as a selling spot because "we don't want to bother our customers" and, "if they wanted to buy something additional, wouldn't they tell us?" We make excuses such as, "shouldn't product sales occur in the treatment room, anyway?" and, "what if the customer turns me down?" But how will you know if you never try? Famous hockey player Wayne Gretzky is quoted as saying, "You [will] miss 100 percent of the shots you never take."
This is true not only in business, but also in our personal lives. If you have a crush on someone, but never work up the courage to ask them out, how will you ever know whether she/he is the one? If you never swing the bat, as the saying goes, how could you possibly score a home run?
Non-salesy Sales
Let's look at some ways to take your current approach up a few notches. Especially if you have multiple front desk staff members, it's a good idea to implement new strategies one week at a time, so that each employee can practice using them before moving on to the next one.
Week One
Instead of a surface-level, pleasant greeting, ask more personal questions about your client's family, job, pets, what they did for the holidays, and upcoming vacation plans. Instead of asking them questions from behind the desk, sit next to them in your waiting area. Okay, it's still COVID as I write this, so you'll need to be six feet away, wearing a mask, but you get the idea. Make your greeting more personalized. Most people appreciate others showing authentic interest in them.
Week Two
When the client has finished their treatment, offer them a free sample of a product recommended by you and/or their esthetician. Tell them about your (or other clients') personal experience with the product and why you love it so much. You're not actually asking them to buy anything; you're simply offering them something they will probably enjoy using. Who would turn that down? And if they like the product enough, they will probably purchase a full-sized version—either during that visit or the next one. Boom! You just made a sale.
Week Three
After every service—whether it's a facial, peel, microblading, etc.—assume the client will want to rebook at the time of checkout. Of course, you'll want to first ask the client how they enjoyed their treatment. When they offer positive feedback, it's time to get them back on your books. This is also the perfect time to add in special offers for pre-booking that same day. For example, you can say something like, "I'm so glad you enjoyed your anti-aging facial today. If you'd like to go ahead and schedule your next appointment, I can offer you 20 percent off a series of three facials. We're offering this for a limited time, though, so we're filling up quickly if you're interested." Hopefully, they'll schedule on the spot, but if not, they may very well go home, think about it, and call you the next day or so.
Summary
With just a few tweaks in your typical front desk routine, you can easily add significant sales to your bottom line—no pushy sales tactics required. Instead, your focus will be on getting to know your clients better, developing relationships with them, finding out which types of products they like best, and offering them a fantastic deal on something they already want. This is what I call front desk perfection.
Louis "The Laser Guy's" Three Tips for Better Follow-Up:
If you have multiple front desk employees, hold contests to see who can make the most sales based on the strategies described above. Prizes can be gift cards, cash, products, etc.
Write down a few notes about your client's personal life and keep it in their file. If you have a steel trap memory, you can probably skip this step, but if not, your notes will help you keep details straight when speaking with them.
Check with your product vendors to see whether they will give you free samples to pass on to your clients. Many vendors are happy to do this as ultimately, it increases their sales, too.