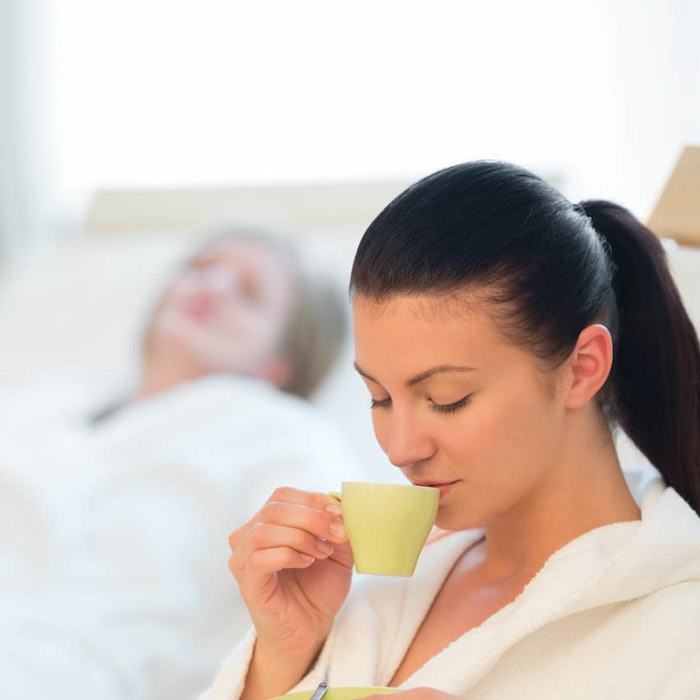 There are more than 20,000 spas now in the United States alone. This allows the client to be able to research and find spas that will give them exactly what they want. The spa industry is a competitive market and your spa has to stand out among the rest.
Become more competitive by setting the bar higher for your spa with multi-benefit treatments, wellness beverages, better retail, add-ons, staff training and clear communication. Taking these extra steps and focusing on the details will play off in the long run by meeting client goals and making them want to book again.
Upgrade Treatments with Multiple Benefits
While many spa services help clients de-stress, these same clients are also looking for services that offer a variety of benefits in less time. Clients want to walk away feeling instant results with long-lasting effects without spending all day at the spa. How do you accomplish that in a one- or two-hour treatment? Do so by thinking of how you can customize your services to offer more value and benefits.
The most requested massage is Swedish. Most Americans want the consistency of a full-body massage and have come to trust that Swedish will meet that requirement, but all spas offer a Swedish massage.
Taking this into consideration, we added a Himalayan Salt Stone Massage to our menu at Spa Shiki, and it has become as popular as the Swedish massage. But what gives this massage added value? The Himalayan salt uses heat to allow the organic trace minerals to penetrate into the skin and body, which allows the body to rest, repair and relax.
The massage does not add time onto the client's treatment. It begins like a typical massage, after which a warmed Himalayan salt stone is massaged over the body to ground and balance the body's electromagnetic field. The pressure, motion and thermal effects used during the treatment work to replenish nutrients in the connective tissue while creating deep relaxation.
With the limited benefits of traditional hot stone massage, Himalayan salt massage gives the client more of an opportunity to improve their overall health and wellness through the 80 naturally-occurring minerals and elements in the pure salt stone, as well as being antibacterial, antifungal and antimicrobial. It also has benefits to the therapist.
Beverage Service
After receiving a service or spending time in a spa facility, the client is thirsty. Cucumber spa water is traditional, but there are other drink options that hydrate the client while providing additional benefits.
At the end of the service at Spa Shiki, the guest is given a mixture of Himalayan salt and sole water to drink as they are escorted into the meditation room.
Sole is known to improve energy and circulation, balance the body's pH, help with skin conditions, regulate sleep and balance sugar levels, among other benefits. All of this is explained to the client, who walks away with a better understanding of exactly what the service has done for them. The details matter. By offering sole at the end of a massage treatment, you are giving your client something tangible to walk away with and more for their money at little cost to you.
There are a number of health beneficial beverages that your spa can serve from teas to alkaline water.
Better Retail
The client wants personalization with some education about taking care of their skin and bodies. The end of every treatment should include a recommended retail product so the client can continue their treatment while at home. Take a look at what type of retail items you have available for purchase. How do they fit with the services you offer, and what type of changes need to be made so your clients can take what they experienced at the spa and carry it over into their everyday life?
Offering items like essential oils and self-help books in addition to skin care lines allow clients to make better choices on a daily basis. If a product is used on them at the spa, offer it in your retail store. Keep in mind, it's more than just making a sale. Clients look to their practitioners to provide them with reliable information that will benefit their health.
Adding Add-Ons
Offering add-ons is one way to personalize a treatment and meet the client's needs. Reflexology, aromatherapy and exfoliation are a few things that can easily be added to any service.
We recently began offering a booster to any massage or wrap service to help the client with cellulite. An application of niacin to the buttocks, hips, thighs and back of arms before any massage or wrap treatment gives the client better results for a simple add-on service.
You can also make sure that there are a few extras laying around the spa for people to enjoy. Personal touches like cool towels with rosemary oil will make the spa a place they don't want to leave, and most importantly, a place they can't wait to come back to.
Staff Training
Anytime a spa offers new services or retail products, it is necessary to have highly-trained staff to not only execute the treatment but to also take the time to educate clients. Make sure staff are knowledgeable about the description and outcome of the treatment. The skin professional's time with the client is a good opportunity to try and schedule their next appointment, which can be tailored to meet their specific needs and goals. Help them along the path to wellness and prevention, and they will keep coming back.
Any time you offer a signature treatment, make sure you have ample staff to perform it. You don't want to turn a potential client down for a treatment because only one or two on your staff are qualified to perform the service. It could result in a lost client who may not call back.
Communicate Clearly
Many people have a hard time trying something different from their normal routine, but that is why education is so important. Clients will more likely book something new if they understand it, so make sure your website and printed materials fully explains each service and why they need to try it.
Use your company's Facebook page to regularly explain your services and benefits, and offer monthly specials. You can also send out this information in a newsletter. Use a number of pathways to get the word out to your community and network to clients.
In this service industry, you have to deliver and meet client expectations. So it is not just about offering a new service. It all starts with good communication and an explanation of your offerings in detail. Spend the time to discuss the goals of the client with them so you can ensure the outcome is a win-win. You will learn a lot from your client by asking a few simple questions, and in turn, you'll be able to make personalized recommendations that may have more of the benefits they are looking for.
A Pleased Client
The spa consumer is savvy when it comes to the amount of time and money they choose to spend on spa services. That is why it is more important than ever for spas to take a hard look at the types of services being offered to clients, and make sure they are filling those ever-changing needs.
A pleased client is the best advertising you can have. If they are truly happy, many times they will write a review, tell a friend or post on numerous websites that try to help a spa consumer know which spa really does what it says.